Zynga Doesn't "Like" Facebook's Big Gaming News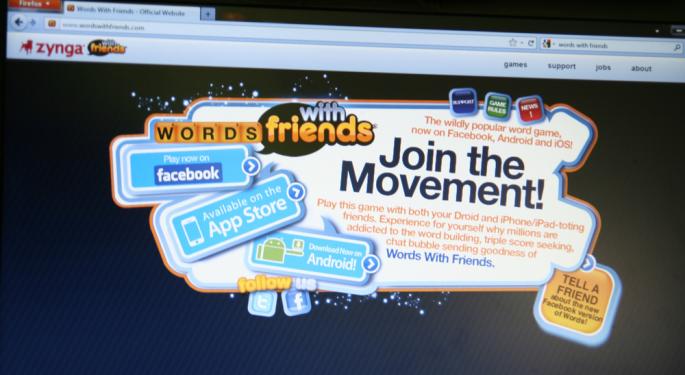 Zynga (NASDAQ: ZNGA) is taking a dive this morning after Facebook (NASDAQ: FB) amended its agreement with the company, allowing the social network to develop its own games.
If this announcement had involved any other game company, investors wouldn't have taken notice. Facebook said that it currently has no plans to make its own games. And even if it did, there are no guarantees that the venture would be successful.
The problem is that Zynga relies almost exclusively on Facebook to distribute its games. Apple's (NASDAQ: AAPL) App Store and Google Play (NASDAQ: GOOG) may be promising alternatives, but few consumers are interested in paying for Zynga's games. Most simply want the free-to-play content offered by the likes FarmVille and CityVille. And while Zynga could simply jump ship and move its software to another platform, consumers are frequently exposed to these games because of Facebook. Without the social network, Zynga would lose out on a mountain of free advertising. It would also lose its primary distribution platform.
Zynga declined as much as 10 percent in pre-market trading, marking the company's most prominent decline since October. While the losses have leveled off slightly, Zynga is still trading down more than seven percent this morning.
From November 1 through November 29, the company gained more than 17 percent. This was somewhat of a surprise for the ailing game publisher, which has been spiraling out of control ever since its IPO.
Despite the gains, Zynga has yet to recover from its three-month decline of more than nine percent. The company experienced its steepest drop from March 2 to August 2, at which time Zynga lost more than 81 percent of its value. Year-to-date the FarmVille maker has declined more than 72 percent.
The social games company continues to lose millions of players every month. From October 1 to October 24, Zynga lost 24 million players. At that time Zynga had 316 million Monthly Active Users. According to AppData, Zynga now has 301 million MAUs.
Players were not the only thing Zynga lost in October. The company axed more than 100 jobs after it closed its Boston office and eliminated two-thirds of its employees in Austin. Despite the massive layoffs, Zynga.com features a plethora of new jobs in San Francisco. It is not clear if the positions are current.
Follow me @LouisBedigianBZ
Posted-In: Facebook ZyngaNews Tech Best of Benzinga
View Comments and Join the Discussion!