Investing is a constant challenge, and it's worth it to investigate any tools that can help reduce risk, maximize returns, and come out on top of the roller coaster we call the stock market. ETFs (exchange traded funds) and mutual funds are 2 tools that have this ability.
While there are similarities between ETFs and mutual funds, there are also important differences.
ETFs vs. Mutual Funds: Overview
ETFs and mutual funds are both "baskets" of stocks, meaning that they allow investors to buy and sell multiple stocks (generally with something in common) all at once. Purchasing or selling a basket of stocks has a number of advantages over stock picking, or buying and selling individual stocks.
For one thing, trading a basket of stocks can reduce transaction costs compared to trading each of the component stocks individually (consider, for instance, the time and expense it would take to buy or sell every stock in the S&P 500).
Buying a basket of stocks also has the advantage of mitigating volatility; the typical price movement of an ETF or mutual fund is going to be an average of the movements of multiple stocks, some of which will go up and some of which will go down, so the price action of a basket of stocks is typically going to be smaller than that of a single stock.
For this reason, some investors will consider ETF and mutual fund investing to be safer than individual stock picking. It's also true that both ETFs and mutual funds are overseen by professional portfolio managers, who are considered experts in choosing the most appropriate securities to include in a fund as well as how much weight each security should have in that fund.
The Differences between ETFs and Mutual Funds
ETFs and mutual funds differ in how they're priced and traded. Sure, they are both baskets of stocks by definition, but they offer investors and traders distinct advantages and disadvantages
Fees and expenses
First of all, we must understand that the fees and expenses are different between the two. With ETFs and mutual funds, an investor will indirectly pay for the expense ratio, which is what it costs the managing organization to manage the fund. Mutual funds' expense ratios tend to be somewhat higher, typically ranging from 0.5% to more than 2%, while we can expect the typical expense ratio of an ETF to range from 0.1% to 1.5%. This might seem like a slight difference, but it does add up over time.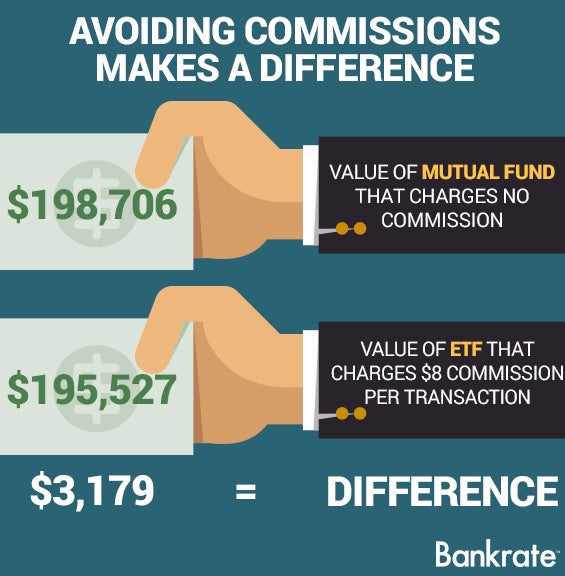 Mutual funds vs. ETFs
Source: Bankrate.com
You can expect to pay ETF commission costs to a broker as well as any difference between the ask price (what you might expect to pay for the ETF when buying via a market order) and the bid price (what you might expect to receive for the ETF when selling through a market order). Depending on the broker and the liquidity of the ETF, these costs can be minimal or substantial.
Loads
On the other hand, ETF purchasers don't have to bear the expense of loads, which are associated with some mutual funds. These loads are basically sales charges, and there are front-end loads (charged upon purchase) and/or back-end loads (charged upon fund redemption) associated with many mutual funds.
Other mutual funds are no-load funds, meaning that they do not charge these fees. Mutual funds might also involve a redemption fee that would be assessed before a specified time period. Mutual funds are priced, bought, and sold once per day, typically at the close of the market.
In contrast, ETFs are continuously priced throughout the trading day (and oftentimes in premarket and after-market sessions as well) and offer greater flexibility insofar as they can be traded much like stocks. As a result, active traders might consider ETFs a better choice than mutual funds.
Active vs. passive
There's also the consideration that active traders can often do things with ETFs that aren't necessarily possible with mutual funds. Examples include short-selling, options trading, and trading on margin.
For passive investors, these factors might not mean much, but active traders are very likely to prefer ETFs over mutual funds due to their flexibility. Meanwhile, passive investors may be able to take advantage of automatic investing plans that allow people set up regularly scheduled purchases of mutual funds; these plans are typically not offered with ETFs. So, if you're thinking about buying ETFs, it's really a matter of if you prefer active vs. passive investing.
Tax efficiency
In general, ETFs involve a lower turnover rate in their holdings when compared to mutual funds. This means that there will likely be fewer taxable events, and thus less tax liability for investors with ETFs than with mutual funds.
Moreover, mutual funds pay a greater portion of their net asset value (or NAV) in capital gains out to shareholders. More capital gains typically means greater tax liability—another tax-time disadvantage with mutual funds, compared to ETFs.
Investment minimums
While individual brokers might require minimum investments, ETFs themselves do not generally have such requirements. Mutual funds, in contrast, sometimes have investment minimums, which might range anywhere from $500 to thousands of dollars. This can make mutual fund investing challenging or even prohibitive for those with small accounts.
Best Brokers for Investing in an ETF or Mutual Fund
Whether you're investing in ETFs or mutual funds, a great online broker is easy to use, has low commission, and amazing customer service. Check out our top picks below.

1 Minute Review
This publicly listed discount broker, which is in existence for over four decades, is service-intensive, offering intuitive and powerful investment tools. Especially, with equity investing, a flat fee is charged, with the firm claiming that it charges no trade minimum, no data fees, and no platform fees. Though it is pricier than many other discount brokers, what tilts the scales in its favor is its well-rounded service offerings and the quality and value it offers its clients.
Best For
Novice investors
Retirement savers
Day traders
Pros
World-class trading platforms
Detailed research reports and Education Center
Assets ranging from stocks and ETFs to derivatives like futures and options
Cons
Thinkorswim can be overwhelming to inexperienced traders
Derivatives trading more costly than some competitors
Expensive margin rates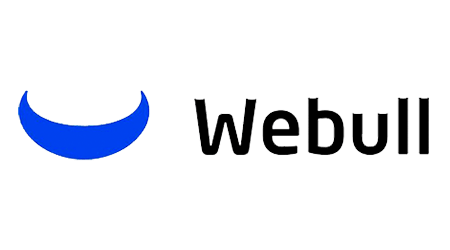 Best For
Intermediate Traders and Investors
1 Minute Review
Webull, founded in 2017, is a mobile app-based brokerage that features commission-free stock and exchange-traded fund (ETF) trading. It's regulated by the Securities and Exchange Commission (SEC) and the Financial Industry Regulatory Authority (FINRA).
Webull offers active traders technical indicators, economic calendars, ratings from research agencies, margin trading and short-selling. Webull's trading platform is designed for intermediate and experienced traders, although beginning traders can also benefit.
Webull is widely considered one of the best Robinhood alternatives.
Best For
Active traders
Intermediate traders
Advanced traders
Pros
Commission-free trading in over 5,000 different stocks and ETFs
No account maintenance fees or software platform fees
No charges to open and maintain an account
Leverage of 4:1 on margin trades made the same day and leverage of 2:1 on trades held overnight
Intuitive trading platform with technical and fundamental analysis tools
Cons
Does not support trading in mutual funds, bonds or OTC stocks

1 Minute Review
Robinhood is the broker for traders who want a simple, easy-to-understand layout without all the bells and whistles other brokers offer. Though its trading options and account types are limited, even an absolute beginner can quickly master Robinhood's intuitive and streamlined platform. On the other hand, more advanced traders might be frustrated by Robinhood's lack of technical analysis tools, a feature that's now nearly universal across other platforms.
Best For
Beginner traders
Mobile traders
Pros
Streamlined, easy-to-understand interface
Mobile app with full capabilities
Can buy and sell cryptocurrency
Cons
Almost no trading analysis tools available
Only taxable brokerage accounts available
No option to open a retirement account
No access to mutual funds, forex or futures trading
Limited customer service
Turn to Webull
0 Commissions and no deposit minimums. Everyone gets smart tools for smart investing. Webull supports full extended hours trading, which includes full pre-market (4:00 AM - 9:30 AM ET) and after hours (4:00 PM - 8:00 PM ET) sessions. Webull Financial LLC is registered with and regulated by the Securities and Exchange Commission (SEC) and the Financial Industry Regulatory Authority (FINRA). It is also a member of the SIPC, which protects (up to $500,000, which includes a $250,000 limit for cash) against the loss of cash and securities held by a customer at a financially-troubled SIPC-member brokerage firm.