Want to claim 6 FREE stocks? Head over to Webull to get started.
Cobb County, Georgia-based Home Depot is the world's largest retailer of home improvement products. The company owns and operates 2,290 stores in the United States, Mexico and Canada and stocks over 35,000 different products in each store and over 1 million products online.
Home Depot stock (NYSE: HD) is a leader among consumer cyclical stocks that follow economic cycles and it is a component of the Dow Jones Industrial Average (DJIA), the Standard and Poors (S&P) 100 and the S&P 500 indices.
Main Takeaways: How to Buy HD Stock
Pick a broker. We recommend Webull, E*TRADE and Interactive Brokers.
Fund your account. You can do this via a bank transfer, personal check or debit card.
Place your order. Buy your Home Depot (NYSE: HD) stock.
HD: Company and Stock History
The Home Depot opened its first 2 stores in Atlanta, Georgia, in 1979. These retail outlets dwarfed all hardware stores at the time with its 60,000-square foot warehouses filled with over 25,000 home improvement products.
The stores were a retail revolution at the time. Because the focus of the stores was on the customer, trained associates could explain building and construction procedures to help their do-it-yourself customers. The stores were also a source of materials and advice for building professionals and contractors.
Home Depot stock has made phenomenal returns for its original investors, after its initial public offering on the New York Stock Exchange (NYSE) in 1981 was at only $12 per share.
After adjusting for 13 stock splits, dividends and price appreciation, $5,000 invested in HD stock in 1981 would have bought 416.6667 shares, which would have turned into 214,127.7967 shares through stock splits. This initial investment would now be worth $44,752,709.51 at today's price of $209 per share, showing a whopping increase of 894,954%!
Home Depot currently has a market capitalization of $232.43 billion. This dwarfs its largest competitors, including Lowe's (NYSE: LOW) with a market cap of $79.41 billion, Fastenal (NASDAQ: FAST) with $19 billion and Beacon Roofing Supply (NASDAQ: BECN) with $2.41 billion.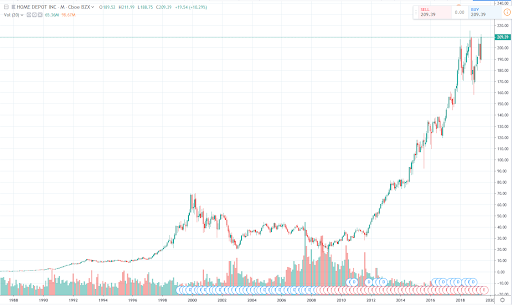 Future Outlook for Home Depot
During the most recent economic expansion, Home Depot stock has continued to appreciate along with the market. Home Depot stock has made many people wealthy over the last 34 years, which can be attributed to a number of factors, such as dividend growth, excellent management and long-term double-digit earnings.
The stock has also had some significant declines, which you can see from the price chart above. It can be expected with cyclical stocks during recessions and stock market corrections. Over the long term, Home Depot stock has performed extremely well despite its cyclical nature.
More recently, housing indicators show that the real estate sector is currently under pressure. Another issue Home Depot faces is tariffs that could be imposed on imported building materials. This would adversely affect the whole building and construction industry and could have a negative impact on Home Depot's stock price.
The Home Depot has been extremely resilient during economic downturns, showing earnings growth even in hard times. The company's yearly diluted earnings per share over the last 10 years have shown consistent growth, from $1.34 in 2009 to $7.29 in 2018. Also, Home Depot's yearly dividend has consistently risen every year since 1989.
Timing is one of the most important elements that contribute to successful trading and investing. While Home Depot stock has shown great results for people who invested early, the current business cycle and softening of real estate prices could put pressure on Home Depot's business and the entire building material sector.
Although a decline in Home Depot's stock price would probably be a buying opportunity, regardless of the state of the economy. This is because the company has maintained the highest return on invested capital (ROIC) in the industry and one of the highest of any company, averaging 40% per year over the long term.
For the first quarter of 2019, Home Depot reported earnings per share of $2.27 compared to an analyst expectation of $2.18, while revenue came in at $2.381 billion versus the $26.378 analyst consensus. "Comps," or same-store sales of stores open at least 12 months, increased +2.5% globally and +3% domestically versus an expectation of +4.5%.
Q1's lower sales were attributed to an especially wet month of February and lower lumber prices. Along with its earnings release, Home Depot reaffirmed its full-year 2019 guidance, with expected full-year earnings of $10.03. That projects an increase of 3.1% year on year (YOY), with same-store sales also expected to grow 5% on a 3.3% increase in revenue.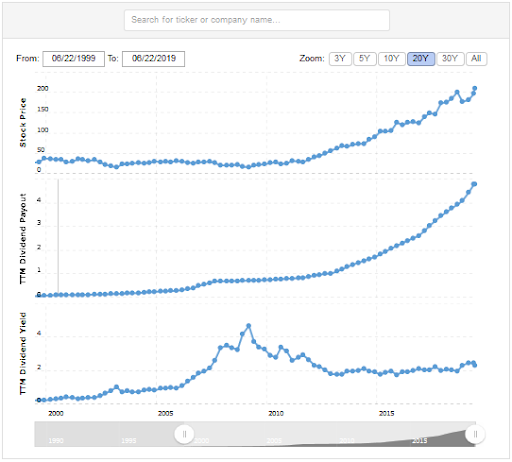 Why You Might Want to Buy HD
Consistently good long-term investment: Very few stocks have provided long-term investors with the consistent returns that HD stock has. This well-run company meets all the qualifications of a SWAN, or a "sleep well at night" stock, according to some analysts. The stock's ROIC was 44% in 2018.
Industry leader: Due to the Home Depot's business model, the company's more than 400,000 trained associates (employees) and a solid online presence makes Home Depot one of the largest and best-run companies in the world.
Consistent dividend growth: The long-term returns on HD stock don't just come from capital appreciation, but also from a steady stream of increasing dividends that the company has paid out since 1989. Dividend growth for HD stock has averaged 22% per year. The current trailing twelve month (TTM) dividend payout for Home Depot stock is $5.44, yielding 2.6% at its current price level.
Considerations Before You Buy HD
Stock market and economic downturn: As a cyclical stock, Home Depot is directly affected by economic factors, especially in the construction and home building sectors.
The stock market is currently trading near all-time highs, although weakness in real estate prices and other indications may signal the end of the typically 10-year business cycle. That could mean that a patient investor might be able to buy HD stock at a lower price level down the road.
High stock price: Home Depot stock has risen to meet analysts' expectations, but it appears to have stalled just above the $205 per share price level.
The sideways price action suggests the stock is consolidating, so you could wait for a breakout to signal the next major move, which could be lower since when the stock reached analyst expectations in 2017. HD stock subsequently dropped by 15%.
Tariffs and trade risk: The current trade disputes the Trump administration has picked with China and Mexico could affect Home Depot's bottom line on some imported merchandise, although most of the products sold by Home Depot are manufactured domestically, which would tend to mitigate any effect caused by international trade disputes.
How You Can Buy Home Depot Stock Today
You can buy Home Depot stock through any reputable stock broker with access to trade stocks on the New York Stock Exchange (NYSE). Plan on buying Home Depot stock for a long term investment with the goal of capital appreciation and dividend income? You might want to open an account with a discount broker.
The discount broker would charge you a lower commission, but you would probably not be able to access research and other premium features provided by a full-service broker. Keep in mind that how you buy Home Depot stock is just as important as where you trade, so make sure you pick the right broker.
Pick a Broker

In order to buy Home Depot stock, you must first have a funded account with a reputable stock broker.

First, determine what you need from the broker. For example, if you need a bank account associated with your brokerage account, E*TRADE could fill this need, in addition to providing an intuitive trading platform.

You might want to consider a broker that caters to more seasoned traders like Interactive Brokers if you plan on actively trading commodities, options or other tradable assets. 

Try Different Trading Platforms with Demo Accounts

One of the best ways to assess a broker's execution services and trading platform is to open a virtual or demo account. You can trade risk-free with virtual money to check out its services and platform with most brokers. 

You can also develop and try out different trading strategies without risking your money in this type of account. Opening several demo accounts with different brokers would let you assess Home Depot's services before you open a live, funded trading account. 

Fund Your Account

Once you've assessed several demo accounts and selected a broker, you're ready to fund a trading account. You'll have to deposit some cash in a trading account if you want to buy HD stock.

Make sure to find out about the broker's requirements and methods for funding an account. Most brokers will accept bank transfers, verified personal checks and debit cards to make an initial deposit. 

Start Buying HD Stock

Once you've completed all the steps necessary to buy HD stock, you might want to watch the stock for a few trading sessions to determine when to buy.
Best Online Stock Brokers
Is HD Stock for You?
Home Depot has made many millionaires out of ordinary investors. Nevertheless, most of the large gains in the stock have been made over a period of 5 to 20 years.
Does your investment time horizon fall within that window? HD stock would probably be a good bet for the long term. The somewhat risky outlook for the business cycle and the overall stock market should be taken into consideration since HD is a cyclical stock.
Keep in mind that HD stock is currently trading near all-time highs, so it may stage a pullback before resuming an uptrend, especially with weakness in the housing sector. The stock should present a buying opportunity at lower price levels if you consider its past track record.
Want to learn more about trading stocks? Check out Benzinga's guides on the best investing courses, the best investing books and free stock trading.