Want to claim 6 FREE stocks? Head over to Webull to get started.
If Americans as a whole were required to take a series of basic investment knowledge tests, it's likely that we'd fail miserably. It's easy to see why. After all, schools certainly don't require students to know the intricacies of cryptocurrency or forex, or even know the difference between a stock or a bond. In addition, many parents don't (or can't) pass on investment advice to their children. So, it's up to you to learn what you haven't been taught. Hit the library, surf the web, and pick up one of the 14 books Benzinga recommends for investment success.
Best Investing Books:
Best Investing Books of All Time
Best Investing Books of This Year
To help you out, we compiled a comprehensive list of the best investing books from 2018, as well as historical all-time bests. You can read all the forex books you'd like when you sign up for a Kindle Unlimited account that you can access on Amazon's free Kindle Reading App.
1. The Intelligent Investor by Benjamin Graham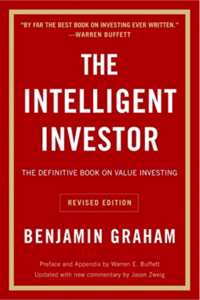 Originally published in 1949, The Intelligent Investor is fondly called the stock market Bible. Author Benjamin Graham is considered to be a proponent of "value investing," which focuses on the merits of long-term investing by unearthing the merits of overlooked gems.
All the more appealing is Graham's approach of taking minimal risk along the road to profitability. For what he has contributed to investment education, Graham is called by different monikers such as the "Father of Value Investing," "Dean of Wall Street," etc.
Graham's theory shunned the herd mentality of investors, who flock toward widely followed securities, and instead calls for an investment style based on fundamental analysis.
The Intelligent Investor teaches investors to manage risk through asset allocation and diversification. It also teaches valuation analysis and margin of safety, which is the difference between the fundamental value of a security and the actual price one pays for it. The greater the margin, the safer your investment is in times trouble.
Alternatively, under favorable conditions, your profits will grow exponentially. The latest revised edition was audio-released in July 2015. The book is rated with 4.5/5 stars (based on customer reviews) on Amazon and is the number one best seller among Amazon business books.
Get it on Amazon
Hardcover edition: Buy it now
Kindle edition: Buy it now
Audiobook: Free with Audible Trial
2. A Random Walk Down Wall Street by Burton Malkiel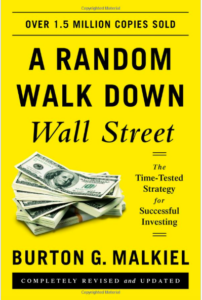 Written by Princeton economist Burton Malkiel, this book has become the foundation based on which the random walk theory is built.
This theory questions the veracity of the theory behind technical analysis, or that the direction or magnitude of a past movement of a stock/market is a predictor of future movement.
Instead, the random walk theory assumes that stocks go about a random and unpredictable path. Malkiel's book advocates the buy-and-hold strategy, and in the process shuns any kind of analysis, be it fundamental, technical or other.
Therefore, it automatically alienates Wall Street participants, who vouch by analysis and stock picking. Apart from dealing with base-level securities such as stocks and bonds, the book also walks one through other investment avenues such as money market accounts, real estate investment trusts, insurance, ETFs, tangible assets such as gold and collectibles, as well as homeownership.
It has a 4.7/5 star rating at Amazon, while at Goodreads it has a 4.06/5 star rating.
Get it on Amazon
Hardcover edition: Buy it now
Kindle edition: Buy it now
Audiobook: Free with Audible Trial
3. Irrational Exuberance by Robert J. Shiller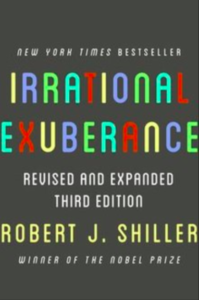 Irrational Exuberance, written in 2000 by Detroit-based American economist Robert J. Shiller, a Nobel laureate and Yale University professor, explores the reasons for the illogical rally in the markets during the dotcom era.
Among the causes outlined by Shiller was the emergence of Internet stocks, the mutual fund industry gaining popularity, easing of inflationary pressure, mushrooming growth of analysts and self-proclaimed pundits, who issued optimistic assessment concerning investing in stocks.
In short, the book discusses how asset price bubbles develop, evolve and finally deflate. Goodreads has a 3.9/5 star rating for the book, while Amazon has rated the second and third editions of the book 4.3/5 stars and the revised third edition at a lower 2.9/5 stars.
Get it on Amazon
Hardcover edition: Buy it now
eTextbook edition: Buy it now
Audiobook: Free with Audible Trial
4. One Up On Wall Street by Peter Lynch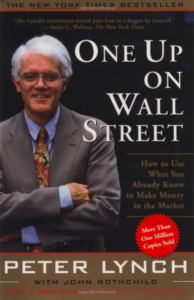 One Up on Wall Street is primarily a call to do your homework and not trust analysts and experts. Instead of doing complicated economic and technical analysis, the book recommends doing one's own research, looking at industries and companies you're familiar with and taking suggestions from people you know.
Once a company is shortlisted, the book suggests gleaning all information that is available about it: its management, balance sheet, competitive dynamics, etc. Then, use some basic criteria such as low P/E ratio, insider buying and a relatively low debt-to-equity ratio to pick the potential winners.
The book also discusses portfolio building and timing buying and selling. The average customer rating on Amazon is 4.4/5 stars, while Goodreads rates it 4.13/5 stars.
Get it on Amazon
Paperback edition: Buy it now
Kindle edition: Buy it now
Audiobook: Free with Audible Trial
5. The Little Book of Common Sense Investing by John Bogle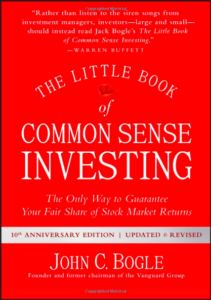 The Little Book of Common Sense Investing was published in 2007. Written by the founder of the Vanguard Group, an investment management company, this book explains the ins and outs of index funds.
These funds fetch you average market returns, while also keeping the cost of investment low. Therefore, this investment option helps one generate higher returns after costs.
The tenth anniversary updated and revised edition of the original book was released in October 2016 with two new chapters about asset allocation and retirement investing. Customer rating on Amazon is 4.6/5 stars.
On Goodreads, the rating is 4.1/5 stars.
Get it on Amazon
Hardcover edition: Buy it now
Kindle edition: Buy it now
Audiobook: Free with Audible Trial
6. Security Analysis by Benjamin Graham and David Dodd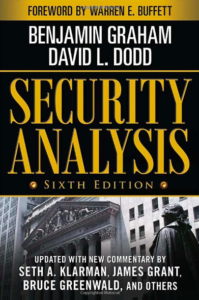 Security Analysis could qualify as an investment book classic. Written by Columbia Business School professors Graham and Dodd, the first edition of the book was published in 1934, just after the market mayhem that led to the Wall Street crash.
The authors shunned the earnings-focused approach of market participants and recommended that they focus on value investing, for which the book provided a solid foundation.
Another basic tenet of the book: armed with facts and financial analysis, one needs to scout bargains. They honed in on some basic analytics such as interest coverage, zeroing in on an appropriate margin of safety, analysis of financial statements, balance sheets, and cash flow statements. More importantly, the book focused on all investment classes.
Average customer rating on Amazon is 4.5/5 stars; on Goodreads, readers have given it a rating of 4.1/5 stars.
Get it on Amazon
Hardcover edition: Buy it now
eTextbook edition: Buy it now
Audiobook: Free with Audible Trial
7. The Essays of Warren Buffett by Warren Buffett and Lawrence Cunningham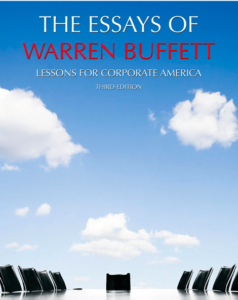 Buffett's book is simply a collection of his annual shareholder letters to Berkshire Hathaway's shareholders. These letters, compiled by noted author Lawrence Cunningham, is a must-read for investors and managers who are seeking to replicate the success of Buffett as an investor.
It contains the best piece of informal investment advice arising out of the business acumen and investment savviness of one of the most successful investors of our time.
The letters are organized theme-wise, catering to different categories of audience. It also contains Buffett's biography and a self-help investing book.
The fourth edition of The Essays of Warren Buffett: Lessons for Corporate America was published in 2015. The book notches a 4.7/5 stars rating from Amazon customers.
Get it on Amazon
Paperback edition: Buy it now
Kindle edition: Buy it now
Audiobook: Free with Audible Trial
Best Investing Books of This Year
The market rally, progressing unhindered throughout 2019, has attracted more people to investing. It's no surprise that 2019's new books aim to quench the thirst of a spawning investing community. Check out Benzinga's top 7.
1. Unshakeable: Your Financial Freedom Playbook by Tony Robbins
Book Details
Rating: 4.5/5 stars
Brief Summary
Written by life and business strategist Tony Robbins, Unshakeable is a step-by-step playbook to lead investors toward financial freedom. The book explains in a simple manner how investors can go through market volatility with the ultimate objective of not only protecting their investment but also maximizing wealth. The book was the number one bestseller on Amazon's personal finance section.
Get it on Amazon
2. A Man for All Markets by Edward Thorp
Book Details
Rating: 4.2/5 stars
Brief Summary
A Man for All Markets, written by renowned mathematics professor Edward Thorp, tells the world about how the author conquered blackjack, ventured into Wall Street and using quantitative methods, became hugely successful. Rightfully, Thorp is called the father of quants. In the book, he vividly recounts how he managed to be successful by going against conventional wisdom and devising game-changing solutions.
Get it on Amazon
3. Liberated Stock Trader PRO – A Complete Stock Market Education by Barry D. Moore
Book Details
Rating: 5/5 stars
Brief Summary
The Liberated Stock Trader PRO training course provides comprehensive training which educates traders in the four core pillars of investing.
The first pillar is Fundamental Analysis which teaches students how screen and find growth stocks, value stocks and defensive stocks. The second is Technical Analysis which will help you you to master Stock Charts, Indicators, Trendlines, Volume and supply and demand. The section after that covers Market Sentiment Indicators and the psychology of trading.
Lastly, you'll get insight into portfolio management, trade execution and creating your own trading system.
You get a print book shipped, and 16 hours of detailed video training by the author a certified market analyst. You'll also get lifetime access to a private Facebook mastermind group all included in the price.
Get it here
4. Good Stocks Cheap by Kenneth Jeffrey Marshall
Book Details
Rating: 5/5 stars
Brief Summary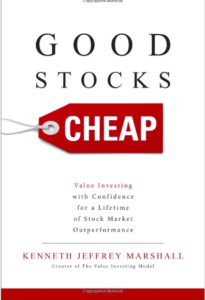 Good Stocks Cheap dives deep into value investing. The book also teaches portfolio building and how to take advantage of value investing by identifying good, cheap stocks. Some of the aspects covered by this book include fundamental analysis of companies, looking at company's value relative to its stock price, zeroing in on the right price to buy stocks in a successful company and how to hold good stocks amid market turbulence.
Get it on Amazon
5. The Truth About Your Future by Ric Edelman
Book Details
Rating: 4.5/5 stars
Brief Summary
The Truth About Your Future discusses the all-pervasive potential of science and technology, and the role it is likely to have in the fields of investment, personal finance and money management. It is a futuristic take on how science and technology will reshape the world. It's a good read for anyone interested in learning how to adapt to the constantly evolving financial landscape.
Get it on Amazon
6. Money Machine: The Surprisingly Simple Power of Value Investing by Gary Smith
Book Details
Rating: 3.8/5 stars
Brief Summary
There is no shortcut to success, and speculation is not the right way to chase profits. Money Machine emphasizes these themes and advocates the time-tested concept of value investing to generate better returns. The book teaches investors how to calculate the intrinsic value of a security, use ratios such as P/E and dividend/price ratios and the Bogle and Shiller models, assess the investment worthiness of a stock using the cash flow it generates and how to identify asset price bubbles.
Get it on Amazon
7. Cryptoassets: The Innovative Investor's Guide to Bitcoin and Beyond by Chris Burniske and Jack Tatar
Book Details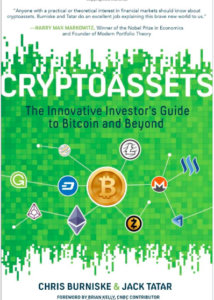 Rating: 4.5 out of 5 stars
Brief Summary
Naturally, investors gravitate toward cryptoassets now, since these digital currencies have been generating staggering returns. Cryptoassets, co-authored by Chris Burniske and Jack Tatar, gives a simple and effective presentation on this investment avenue.
Get it on Amazon
8. Big Money Thinks Small: Biases, Blind Spots, and Smarter Investing by Joel Tillinghast
Book Details
Rating: 4.2/5 stars
Brief Summary
In Big Money Thinks Small, fund manager Joel Tillinghast underlines some common investing mistakes, such as trading based on incomplete information, adopting a herd mentality, etc. While explaining these mistakes, Tillinghast also details on how an investor fix them, and quick. This, according to the author, can be achieved by following a few steps, including avoiding investments you don't understand, steering clearing of murky investments and focusing on underpriced stocks.
Get it on Amazon