Benzinga Money is a reader-supported publication. We may earn a commission when you click on links in this article.
Learn more.
Want to jump straight to the quotes? Compare here and find the cheapest premium with the best coverage.
Short term health insurance plans are available in many states for as little as $100 per month, which provides a quick and affordable solution if you're between jobs or if you've just gotten off your parents' health insurance. What exactly does short term health insurance cover and is it right for you?
Benzinga created a comprehensive guide with everything that you need to know about short term plans. We've also rounded up the best health insurance companies that offer these affordable options.
Best Short Term Health and Medical Insurance:
What is Short Term Health Insurance (also Called Temporary Health Insurance)?
In theory, the term "short term health insurance" should be a simple concept. A short term plan is one that's not intended to cover you for a long period of time. For the most part, this definition is true. However, the legality of short term health insurance plans varies year by year.
In 2017, strict limitations on the duration of short term plans were put into place by the federal government to prevent consumers from using short term plans as a substitute for insuring themselves long-term through their employer or through open enrollment with the Affordable Care Act. Short term plans prior to late 2018 were limited to three months' duration.
However, this limitation was a minimum restriction on length and a number of states went on to pass narrower limitations on the length of short term plans. Before 2018, a short term insurance plan would also net you a fine, as short term and temporary plans do not meet the requirements laid out by Obamacare, or the Affordable Care Act (ACA). As a result, many health insurance providers dropped short term plans either because state restrictions made them illegal or they simply weren't bringing in enough money to justify the cost of employing staff to manage and underwrite policies.
This all changed on Oct. 2, 2018, when the Trump administration began to introduce restriction cuts to policies laid out under the Obama administration. President Trump signed an executive order in late October that eliminated the individual mandate requirement of the ACA and extended the definition of short term health insurance plans to include plans up to 364 days, one day less than a full year. As a result, some health care providers then began to reintroduce short term plans to their policy lists. Though short term plans are now more widespread and won't require a fee, short term plan availability continues to vary wildly depending on where you live.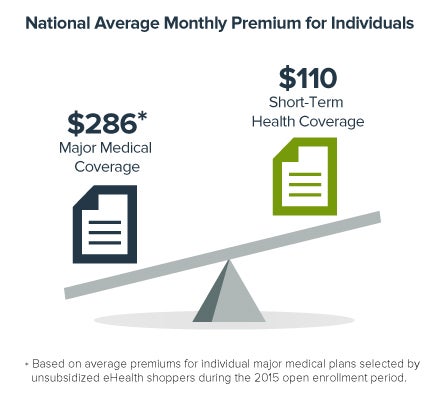 The current restrictions on short term plans are as follows:
Policies can be sold with initial terms of up to 364 days.
Policies can be renewed and can even have automatic renewal terms written into the contract, but the total duration of the plan may not exceed 36 months.
Policies must explicitly specify that short term plans are not ACA compliant, plans do not have to cover a number of essential benefits or preventive treatments, plans may have annual or monthly limitations and termination of a short term plan does not trigger the necessary requirements to qualify for a special enrollment consideration under the ACA.
The definition and legality of short term plans constantly changes as the debate between proponents of single-payer and multi-payer health care continues to rage on in the United States. The information contained in this article may become outdated very quickly, especially following a major federal election. Make sure you stay up to date with federal laws regarding short term plans as well as individual restrictions put in place by your state.
Who Needs Short Term Health Insurance?
You may want to consider enrolling in a short term plan if:
You've got a gap in coverage due to a new job. Let's say that you've recently been promised a job with a new company, but due to a move, a new baby or another factor, your actual start date is a few weeks from now. A short term plan is an affordable option to keep you covered without committing to a year-long plan.
You don't qualify for a special enrollment period. If you're waiting for open enrollment to begin but want quick coverage for emergencies, short term plans provide the perfect solution.
You simply cannot afford an ACA-compliant plan. As of 2019, there is no longer a tax penalty for not having an ACA-compliant health care plan. Maintaining some form of health insurance, even if limited and temporary, is better than having no protection at all, and short term plans are much more affordable than their ACA-compliant counterparts.
What to Look for in Short Term Health Insurance Policy
Short term plans are not available in every state. Though federal limitations place the maximum duration for short term health insurance plans at 364 days, many states have instituted their own limitations or banned short term plans altogether. Currently, you cannot purchase a short term health insurance plan in New York, New Jersey, Maine, Massachusetts, Rhode Island, Vermont, California, Colorado, Connecticut, Hawaii and New Mexico.
In other states where short term plans are sold, individual limitations on plans must be observed on a case-by-case basis. For example, you can buy a short term plan for up to 364 days in Pennsylvania (which defaults to the federal rules) but you're limited to only 90 days in Oregon and Maryland.
Short term plans won't cover everything. Short term plans have restrictions on care and coverage that can make them quite strict when compared to ACA-compliant plans. According to research from the Kaiser Family Foundation, Some plans do not cover mental health solutions, substance abuse treatments, maternity care or outpatient prescription drugs.
Even when plans do cover mental health care or prescription drugs, short term plans almost always have limitations that exclude them from ACA compliance. For example, some plans have a prescription drug coverage limit that stops paying after you've reached $3,000 worth of bills even after you've met your deductible.
Short term plans may reject you for having a preexisting condition. Because short term plans are not ACA-compliant, they do not have to follow all the rules and regulations. You may be denied a short term plan for any preexisting condition, including those that you do not know that you have when you sign on. Short term plan providers also routinely deny claims for chronic conditions like asthma and acne because it's impossible to pinpoint exactly when these conditions originated.
Marketers have a high incentive to sell short term plans. Health insurance companies are less regulated when selling short term plans and they can exclude conditions that would be considered illegal under the ACA. Companies are more motivated to sell these plans because the chance that they'll have to pay is drastically decreased. Research from the Kaiser Family Foundation has found that brokers pay an average of 20 percent commission to associates who sign on clients with a short term plan compared to the standard 5 percent for an ACA-compliant plan. Beware of heavy-handed marketing tactics and boiler room sales pitches when shopping.
You might be able to get long-term coverage. Open enrollment for ACA exchanges is usually held at the end of the year in most states, beginning around early November and ending mid-December. However, you may qualify for a special enrollment period if you've recently lost your job and in the mix, have also lost your employer-sponsored health insurance enrollment. You could also qualify if you've just gotten married, had or adopted a child. If you aren't sure if a short term plan is right for you, check out our article on how to get health insurance to see if you qualify for a special enrollment period.
The Best Short Term Health Insurance
Benzinga has compiled the best short term health insurance companies based on affordability, customer service and other factors. Get quotes from 2 to 3 companies and compare so you get the best deal available.
1. HealthCare.com
Healthcare.com is basically the Mall of America of health insurance. From ACA-compliant plans to business insurance and Medicare supplement plans, Healthcare.com offers an impressive selection of health insurance options available in nearly every state that offers short term insurance options.
Simply enter your ZIP code, fill out a short profile on yourself, your employment situation and your family information (the profile takes less than 5 minutes to complete) and Healthcare.com will serve you a list of short term providers in your area along with prices and flexible coverage choices.
Deductibles, co-insurance rates and premiums are laid out and upfront, so you won't have to worry about signing up for a plan to later find out that you aren't able to afford the price.
Plans are available for a low cost in many states. Healthcare.com also cleverly divides plans by initial length so you can quickly sort through your options, depending on how long you need coverage. Comprehensive and easy to use, Healthcare.com should be an initial stop when shopping for short term insurance.
2. HealthInsurance.net
Another easily navigable health care marketplace, healthinsurance.net can assist you in getting covered with a short term plan immediately.
When you log onto the site, you'll first be asked to fill out a simple questionnaire that can be completed in less than 1 minute. HealthInsurance.net will then match you up with the most affordable and most popular plans in your state, organizing choices in descending order by price.
Policy options are clearly laid out in front of you, with length, exclusions, maximum lifetime payouts and network choices easily visible before you apply. Plans are available to view without signing up for an account or committing to a purchase.
Like Healthcare.com, HealthInsurance.net is a great first option when you're first debating whether or not a short term plan is right for your needs and you aren't quite ready to make a commitment.
3. National General
National General is a general insurance provider; along with short term health insurance, it also provides home, auto, and RV insurance options as well.
Unlike Healthcare.com and HealthInsurance.net, National General provides insurance options directly instead of offering you a selection of plans.
Co-pays range between $50 and $250 and deductibles can be set between $1,000 and $25,000 depending on whether you'd like to accept a higher premium or not.
Though National General's network is extensive and its coverage options are affordable, the company's insurance policies are for emergencies only. National General's plans offer no coverage for outpatient prescription drugs and most plans only cover non-routine doctor's visits, ER visits and ambulance fees. If you have any form of a chronic condition, consider other short term options.
4. The IHC Group
The IHC Group is a short term health insurance provider that claims that applications are processed within 24 hours of submission. Though IHC plans are not ACA-compliant (not everyone will be approved for coverage) prices are as low as $51 a month for those who do qualify.
IHC's short term insurance also includes a number of benefits that are typically excluded from temporary plan coverage, like routine check-ups and diagnostic exams like X-rays.
One of the most unique benefits offered by IHC is that you may keep your current health care provider. You are not forced to see a primary care physician inside of IHC's network to maintain your coverage, though policyholders who do choose to see an in-network doctor or specialist may qualify for additional discounts. With more depth and coverage than most short term plans, The IHC Group is a viable option for short term insurance if you are within its range of service.
5. UnitedHealthcare
UnitedHealthcare is another short term insurance provider that offers multiple plan customization options. You will likely be able to find coverage for less than $60 a month if you don't smoke.
UnitedHealthcare offers a wealth of plan options for consumers of every age, and you have multiple options when considering your premium-deductible ratio to secure a plan that offers the right balance of value and protection.
You can even view a complete PDF of inclusions, exclusions and costs after filling out a short survey so you can make an informed decision without committing to a meeting with a policy specialist or handing out very personal information. United Healthcare can get you insured in less than 24 hours.
6. Pivot Health
Designed for flexibility, Pivot Health offers different price points, coverage levels and policy lengths to provide flexibility. Pivot Health is the operating coverage unit of HealthCare.com. Whether you prefer to pick up the phone or communicate online, Pivot Health can help you find a health insurance plan that makes sense for your lifestyle and budget.
Pivot's easy online enrollment option keeps the digital consumer in mind, and telehealth options are included in all plans. You can visit your doctor from the comfort of your home.
Plans offer coverage for a variety of medical services like doctor office visits, emergency room care, hospital stays, surgery and more after a deductible is met. Some plans offer doctor office copays for primary care and urgent care. Each plan also includes coinsurance, which is the portion an insured is required to pay after the deductible is met.
Get the Right Short Term Health Insurance Plan
Your short term health insurance options will vary by state. Not all health care companies are authorized to offer plans in every state and in some states, getting a short term plan is impossible. The most important thing to remember when shopping for a short term plan is that temporary solutions are not intended for long-term health considerations.
Short term plans have much more leverage when it comes to terminating coverage or denying a claim so they should be your last resort if you don't already have a plan to secure a long-term ACA-compliant plan. If you're worried about the cost, know that the ACA has introduced subsidies to help low-income Americans afford permanent coverage. To learn more about health insurance subsidies, check out Healthcare.gov's outline for subsidized coverage.
Looking to learn more about health insurance? Check out Benzinga's guides to finding the best affordable health insurance companies, how to choose health insurance policies and how health insurance works.
Frequently Asked Questions
1) Q: Is health insurance required?
2) Q: What does health insurance cover?
Most health insurance plans provide the 10 essential health benefits that were part of Obamacare requirements. Coverages include preventive and wellness services, prescription drug coverage, emergency services, ambulatory services, lab services, pediatric services, and more. Many plans cover a wider range of healthcare expenses but may cost more than basic plans or may have higher out-of-pocket costs for some services.Get a custom health insurance quote to cover you and your family today.
Answer Link
3) Q: How can I save money on health insurance?
For healthcare plans that comply with the Affordable Care Act, only a handful of rating factors affect your premium. These include age and location, at least one of which can't be changed. Smokers will pay more in most cases and your choice of plan level can affect premiums as well. Choosing a high deductible health insurance plan can reduce the cost of premiums. These plans can be combined with a health savings account to take advantage of tax-free savings for healthcare expenses. Get the cheapest health insurance premium from top providers.
Answer Link
Find More Providers in Your Area
Tip: Click 2-3 Companies for the Best Quote
Hire a Pro: Compare Financial Advisors In Your Area
Finding the right financial advisor that fits your needs doesn't have to be hard. SmartAsset's free tool matches you with fiduciary financial advisors in your area in 5 minutes. Each advisor has been vetted by SmartAsset and is legally bound to act in your best interests. If you're ready to be matched with local advisors that will help you achieve your financial goals, get started now.