Want to jump straight to the best? Most of our users prefer Interactive Brokers for stock trading.
You don't have to be rich to benefit from tracking your finances, and now there are convenient finance apps that can help you save money. Finance apps can connect you to your bank, help you budget, track your investments and more. You can monitor your bank account with just a few taps and save money for a vacation or home insurance.
Quick Look: Best Finance Apps
Best overall: Mint
Best for banking: Bank of America
Best for budgeting: Digit – Try Digit
Best for news: Marketwatch
Best for iPhone: Acorns – Try Acorns
Best for Android: MoneyFy
Best for Stock Trading: thinkorswim from TD Ameritrade – Try thinkorswim
What Can Finance Apps Help You Do?
According to a study by the American Bankers Association, four out of 10 Americans manage their bank accounts online. Because mobile banking has increased in popularity, banks have adapted by providing more online services and apps.
Finance apps can help you do a number of tasks that'll save you money and make your life easier. Here are just a few things you can do.
Manage Your Bank Account
Most banks offer a wide range of mobile banking services. By downloading your bank's app, you won't have to log onto a website or go into a physical bank branch. You can:

Check your account balances
Transfer money between accounts
Pay for goods and services online
You can also set up security alerts triggered by large purchases and customize your login security questions as well as add multiple layers of login requirements to ensure your money is protected.
Budget Your Money
Budget apps can help you come up with a plan to save money, pay your bills on time and track purchases for items such as groceries, rent and clothing. You can:

Set up alerts so you won't miss a bill payment
Receive tips on how you can stretch your dollars
Share the app with a spouse or significant other to track shared expenses
If you're not the best budgeter, a budget app makes it easy for you to see where your money is going and how you can save more each month.
Plan for Retirement
A retirement app can help you calculate how much money you'll receive depending on the date you want to retire. The app allows you to enter info such as your age and rate of pay and will show you several scenarios based on possible retirement dates. They also allow you to:

Calculate annual interest earned on retirement funds
Read success stories and strategies from other app users
Chart your desired retirement goals
It's never too early to start planning for retirement, and an app will make it that much easier to determine when you'll be able to retire.
Track Your Investments
Whether you have a little or a lot of money in an investment portfolio, there are apps that can help you effectively monitor your investments to maximize your money. These apps help you:

Set up alerts if a stock trades above or below a threshold you determine
Follow market movements in real-time
Find a financial advisor in your area
You'll be able to view your entire portfolio at a glance at any time. They serve as a one-stop shop for up-to-the-minute news that affects your investments.
Monitor Your Credit Score
Your credit score can impact many things you do in life, from applying for a home loan to purchasing car insurance. That's why it's important to know what your credit score is at all times. If you download a credit monitoring app, you can do a number of things, such as:

View your free credit report
Explore credit offers based on your credit score
Discover ways to correct errors and boost your credit score
The app will also give you real-time notifications if you receive a negative mark on your credit score or if your score goes up.
Features of the Best Finance Apps
You might have multiple needs when it comes to finances, so it makes sense to try more than one app to cover your bases. A good place to start is by downloading a banking app which gives you access to your bank accounts 24/7. Here are a few standout features of the best finance apps we've reviewed.
Easy-to-Read Budget Goals
We like budget apps that feature colorful buttons for financial goals such as a vacation, saving for retirement or paying off student loans. You can easily see how your goal has progressed with just a glance.
Virtual Financial Assistant
Some banking apps include a digital virtual assistant that's available to assist you 24/7. You can ask questions via text chat, talk-to-text and through an instant messenger.
Your virtual financial assistant can help you find the nearest ATM location or can even lock your debit card if it becomes lost.
Easy to Navigate
There shouldn't be a huge learning curve once you download a finance app. It should be simple and straightforward. The easier it is to navigate, the more you'll use it.
Complex apps can make your online banking and budgeting experience frustrating.
Our Top Picks
We've researched and reviewed hundreds of finance apps to bring you our top picks in a number of categories, including banking, budgeting and investing.
We looked for apps that are easy to download, are free or low cost and offer the features you need to help you achieve your financial goals. Here are our picks for the best of the best.
Best Overall: Mint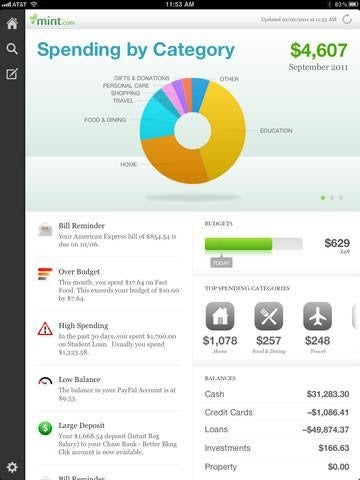 Mint is a free app that's been rated outstanding by a number of reviewers. Easy to use and highly automated, Mint features:

Simple download and setup
Excellent mobile support
Simple budgeting tools
Customizable alerts
Mint is great for bill reminders, too, so you can receive alerts when an upcoming bill is due. Mint stores all of your financial information, from investments and loans to your bank account balance and credit score.
It's a one-stop-shop so you can see your entire financial situation at a glance. Mint color codes and categorizes your spending so you can quickly see where your money goes.
A few categories include auto and transport, shopping, utilities, bills and loans.

Best for Banking: Bank of America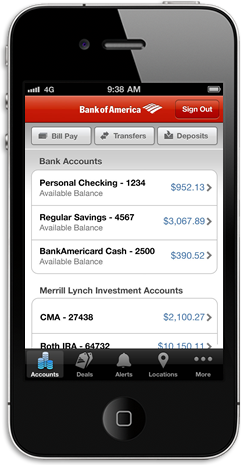 Mint even analyzes deals on credit cards, loans, bank accounts and investment opportunities, and based on your numbers, presents you with the best offers to consider.
Bank of America's banking app has been recognized by J.D. Power for outstanding customer experience.
Its app is easy to download and includes mobile app alerts to make you aware of any unusual account activity, free credit score monitoring and cashback deals.
Cashback deals offer up to 15% cash back at popular stores and restaurants.
Bank of America's virtual financial assistant, Erica, is also available around the clock to answer your questions.
Best for Budgeting: Digit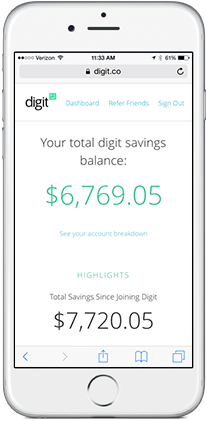 Digit is our pick for best budgeting app.
It's a user-friendly, highly secure app that allows you to set and monitor any type of financial goal you can think of, from an emergency fund to a spring break vacation.
It's easy to navigate and understand. The first 30 days are free, and $2.99 a month after that. A few Digit features include:

Easy-to-read display tracking money saved for rent, clothing and a rainy day
Icons for financial goals you set up for vacations and large purchases
Automatic transfer from rainy day fund if your checking account becomes low
One Digit user boasted savings of over $20,000, so it's worth checking out.
Best for News: MarketWatch
MarketWatch, a free app from Dow Jones & Company, provides updates on all your favorite news categories such as retirement, investments, stocks, and personal finance.
MarketWatch features:

Financial news from all over the world
An interactive top stories bar you can customize to get the news you want
Market data center so you can access stocks, commodities, currencies and rates, all updated in real-time
MarketWatch is great for keeping up to date on all the latest financial news wherever you go.

Best for iPhone: Acorns
Acorns is an easy-to-download app that allows you to make both small and large investments with just a few taps.
Acorns will automatically round up your spare change to the nearest dollar and invest it for you. For example, if you buy a coffee for $3.50, Acorns will automatically invest $0.50 for you.
It's perfect if you're a new investor since it walks you through all the steps. Acorns costs $1 per month for a subscription but is free if you're a college student.

You can link your debit and credit cards, customize your portfolio and even get cash back if you make purchases with an Acorns-endorsed partner.
Best for Android: MoneyFy
MoneyFy offers a quick and easy app setup you can download on Google Play.
You can track expenses daily, weekly, monthly or yearly. Users on Google Play described it as "simple and easy to use." MoneyFy offers:

Built-in calculator so you can accurately track your spending
Multi-currency support
Handy widgets
Tracking your spending on-the-go is easy with MoneyFy. It's free to download, but if you want a more enhanced version it costs $2.99 a month.
Best for Stock Trading: thinkorswim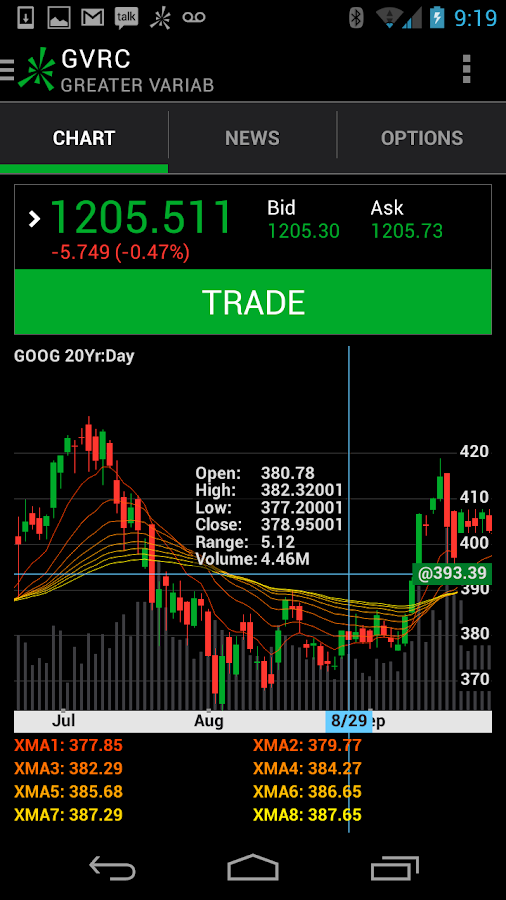 Our top pick for stock trading is thinkorswim, an app from TD Ameritrade.
This user-friendly app allows you to trade options, stocks, forex and futures.
You can easily access your investments using a variety of colorful charts such as a bar or line chart, and all the info you receive is in real-time.
It takes just 15 minutes to set up a new account.
Once your account is set up, you enable automated clearing house (ACH) payments with your bank so you can fund your brokerage account. Thinkorswim features:

High-security features
Intuitive and fully customizable trading platform
Scanning tool that automatically finds stocks right based on your needs
Live broadcasts from the S&P 500 pit
Chance analysis tool to inform you of the risks of potential or existing trades
If you're a new thinkorswim trader and deposit $10,000, you'll get free trades for 90 days. If you deposit $25,000 or more, you'll receive cash bonuses up to $1,200. If you're a new trader, thinkorswim features a practice trading account so you can get your feet wet without any risk.
thinkorswim trader and deposit $10,000, you'll get free trades for 90 days. If you deposit $25,000 or more, you'll receive cash bonuses up to $1,200. If you're a new trader, thinkorswim features a practice trading account so you can get your feet wet without any risk.
Best for Free and Affordable Trading: TradeZero
When you use TradeZero, you have more options than you could ever imagine. You can download the app for free and use a free account, or you are welcome to upgrade to a Pro account for $59 per month. The platform works on both the mobile app and your desktop browser. You can trade for free, and any trades requiring a commission are very affordable.
TradeZero also brings you 24/7 customer support so that you can always get answers to your questions. With access to free limit orders, advanced charting technology and up to 6 times the leverage of other platforms, you can use TradeZero to build your portfolio, increase your net worth and save for the future. Plus, you can move from your desktop to your mobile device and back again effortlessly.
Apps Help You Save
Since your mobile phone is always with you, it makes sense to take your finances with you, too. Download a finance app so you can monitor every penny you own.
If you can monitor your bank account, trading accounts or get the best news with just a few taps — and save money to boot, why not go for it?
Want to learn more? Check out Benzinga's picks for the best online brokerages, best budgeting apps and best personal finance courses.
Hire a Pro: Compare Financial Advisors In Your Area
Finding the right financial advisor that fits your needs doesn't have to be hard. SmartAsset's free tool matches you with fiduciary financial advisors in your area in 5 minutes. Each advisor has been vetted by SmartAsset and is legally bound to act in your best interests. If you're ready to be matched with local advisors that will help you achieve your financial goals, get started now.