FREE Trial with Benzinga Pro happening right now!
Best Personal Finance Courses Quick Look:
Find an Online University
What to Look for in a Personal Finance Course
To determine whether a specific course is right for you, here are what you need to investigate:
Who Is Teaching the Course?
You can save time and money if you research the instructor before you choose an online class. It's important to take a look at the instructor's published works.
Even if you don't yet have any experience in the world of finance, reading texts written by the course instructor can give you a sense of their philosophy. But reading online reviews can also be a great way to find out what you can expect.
You can learn about their approach to teaching and personal finance.
How Much Does It Cost?
The price tag on a course is no certain indicator of quality. There are perfectly worthwhile personal finance courses that don't cost a dime. But for advanced-level courses, higher price ranges become more common.
This serves as a sort of prerequisite for course participation. Simply put, these courses are more useful to people who have some money to spare.
Just like with advanced investing courses, expert-level personal finance courses benefit those with enough income to make it worthwhile to grow and protect their personal funds. Note that in many cases, refunds are available. But make sure to understand all the terms before you pay the course fee.
Which Skills Can You Gain?
These courses will give you a great deal of specific advice about tackling personal finance-related obstacles. But ideally, they will do more than that. A beginner's course can introduce you to the basic concepts behind personal finance.
Understanding the theory will help you make decisions with confidence and plan for the future. At the intermediate and advanced levels, you'll gain a more comprehensive understanding of investment portfolios and the best ways to plan for retirement.
Our Top Picks
Here's an overview of nine excellent courses that span different price ranges and experience levels. None of these require pre-knowledge such as previously completed courses.
The Best Personal Finance Classes for Beginners
New to personal finance and searching for foundational knowledge? These course selections below are a great place to start.
The Core Four of Personal Finance including Recession Basics
All Levels • 141 videos • 4.8 hours
1. The Core Four of Personal Finance
Offering 3.5 hours of video, this course is one of the most popular personal finance courses offered by Udemy. If you opt for this class, you'll learn to approach the subject matter from a theoretical perspective.
By learning the four main pillars of personal finance, you'll gain more clarity about what you want to achieve. It can also serve as a motivation booster. But the course also covers some practical advice, such as the best digital tools you can use for monthly budgeting. Additionally, it takes a look at diversified portfolios and the right way to invest in stocks and bonds.
2. Finance for Everyone: Smart Tools for Decision-Making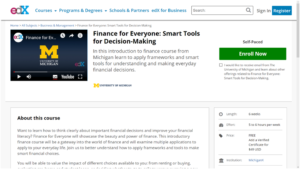 This edX course by the University of Michigan is geared toward absolute beginners with a special emphasis on students. This six-week course places emphasis on improving your financial literacy, and it supplies you with valuable decision-making tools.
A special emphasis is placed on the time value of money. It's self-paced and easy to follow, and it can increase your enthusiasm for the subject. The only prerequisite is high school algebra. The instructor teaches Finance at the University of Michigan.
Acorns' Guide to Personal Finance
Beginner • 32 videos • 0.8 hours
3. Acorns' Guide to Personal Finance
Over a span of 3.5 hours, this course covers an impressive number of specific tips. From building your budget to operating a successful side hustle, this class offers a variety of guidelines and tools that will help you build your wealth.
The instructor has published several easy-to-read books on the subject, and she was a Personal Finance Editor at CNBC. There are no prerequisites for this course. But to get the best value out of it, it's recommended to prepare your personal finance information in advance – find out exactly how much debt you owe and how it compares to your take-home pay.
With this information, you can complete the course exercises, which include calculating your net worth and building a portfolio.
Best Intermediate Personal Finance Classes
If you have personal finance experience, you may find the following courses useful.
1. Personal Finance Tips Weekly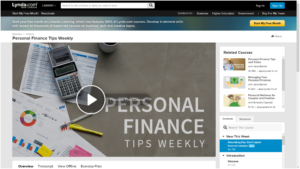 Who's it for? Intermediate
Price: On sale
Every week, this course delivers solid finance advice geared toward freelancers and grad students, with a special emphasis on couples and new parents.
The current duration of the course is 2 hours and 22 minutes. Each tip spans only a few minutes, so it's easy to incorporate them into your busy schedule. The class covers debt, overdraft protection, and the best ways to choose your finance experts.
You can gain insights into your current money management habits. But there are more personal topics covered here as well, such as the best ways to discuss finance with aging family members.
2. Personal & Family Financial Planning
Who's it for? Intermediate
Price: On sale
If you decide to forego the graded content, you can also take it for free with a Coursera subscription. This consists of 14 hours of video, as well as a great deal of written material. While the recommended duration is nine weeks, you can complete it at your own pace.
The lecturer works at the University of Florida. He specializes in family financial management. The course quickly covers the basics of personal finance, so there are no prerequisites to worry about. Topics include risk management, income tax management, and investment methods.
At the end of the course, you can create your own personal plan of action and receive grading and a certificate.
Best Courses For Personal Finance Experts
Are you an expert at personal finance? These courses will enhance your personal finance knowledge.
1. Biases and Portfolio Selection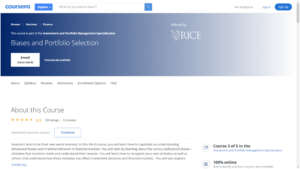 Who's it for? Intermediate
Price: On sale
If you're confident about the state of your personal finance and read stock market books for fun, this class could be perfect for you.
While there are no formal prerequisites, it's best to gain a thorough understanding of personal finance before you enroll. Rice University offers a four-course Specialization on the topic of making smart investments, and this course is the third out of five.
For a certificate, you can complete the entire Specialization, as well as the Capstone Project at the end. Note that this isn't for university credits. But it's possible to enroll in one or more of the classes without completing the entire Specialization. Biases and Portfolio Selection is our top choice because it focuses on frequent investor errors. When you learn to spot biases in investing decisions, you can avoid some major pitfalls. This makes it safer and easier to make investments.
Personal Finance: Financial Security Thinking & Principles
All Levels • 18 videos • 2.5 hours
2. Personal Finance: Financial Security Thinking & Principles
This course is fairly brief, as it offers 2.5 hours of video and some downloadable resources. But if you feel overwhelmed by the financial decisions you have already made, attending this class will help you regain clarity. The main goal here is to change your perspective on money.
If you achieve that, it will become easier to use your time in the best possible way. The instructor used analytical philosophy to plan a program that will help you get unstuck. Get this course
The Complete Personal Finance Course: Save,Protect,Make More
All Levels • 127 videos • 15.9 hours
3. The Complete Personal Finance Course: Save, Protect, Make More
If hands-on work is what you're looking for, this Udemy course could be the best choice for you. Led by an award-winning MBA professor, this class covers a wide variety of topics. This includes health insurance, wills and trusts, credit cards, leases, and many other subjects. Investments are covered as well, and you can learn about mutual funds, commodities, and property investments.
The most outstanding aspect of this course is the attention paid to money-saving methods. You'll gain specific tools that will help you improve your personal budget, whatever your life situation may be. Note: Because this is a hands-on course, you'll need Excel to complete all the exercises.
Extensive Excel experience isn't required.
Final Thoughts
If you're not sure about where to start, you can enroll in more than one beginner's course. There are various approaches to money management and investing, and it's a good idea to listen to a few different points of view.
When you're entirely sure that you've grasped the basics, why not subscribe to a weekly tip program? These are offered by Lynda and some other online programs, and they're generally very affordable. To keep your personal finance on track, keep an ear out for fresh new ideas. Remember that stagnation is always a bad strategy.
Related content: Personal Finance
Southern New Hampshire University Online
SNHU Online Offers:
Flexible schedules
Affordable tuition
Online tutoring
Access to electronic research materials
Specialized academic advising
Supportive online community