What To Expect From Mary Barra's Plan For General Motors Company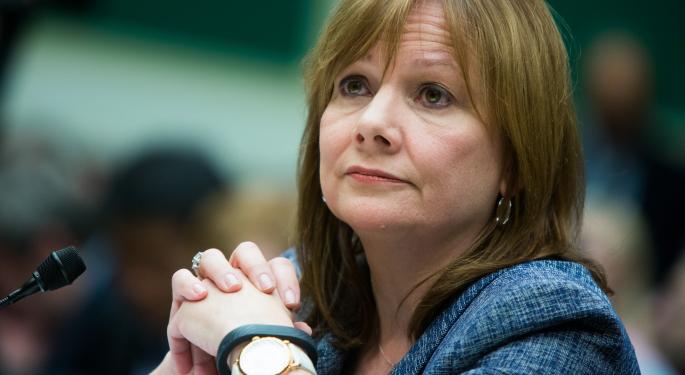 TIME Magazine recently previewed its cover for its October 6 issue, featuring General Motors Company (NYSE: GM) CEO Mary Barra with the headline: "The Mechanic: CEO Mary Barra's plan to fix General Motors."
At 10:30 a.m. ET, GM will host a conference call with CEO Mary Barra and other executives. According to The Wall Street Journal, Barra will be presenting a "multi-year financial strategy" to bolster the company's profits and product lines.
We're taking lessons learned from the ignition switch recall and driving real change across @GM. http://t.co/bhSTzayF0I

— Mary Barra (@mtbarra) July 28, 2014
Before Barra addresses her company's investors, Benzinga reached out to auto analysts to see what exactly her plan could include.
Post-Recalls, Moving Forward
The Detroit automaker is still dealing with negative consumer sentiment and the very high financial cost of the recalls and resulting lawsuits, according to Cars.com Chief Analyst Jesse Toprak.
He told Benzinga that Barra needs to develop an action plan for mitigating the negative consumer impact, as well as minimizing the cost of the settlements and litigation.
Related Link: 3 Problems With General Motors Company Moving Cadillac To New York
Edmunds.com Senior Editor Ed Hellwig told Benzinga that Barra is in a good position because she's been at the company for a long time and probably knows better than anyone how to address the recall problems quickly while also changing the mindset of the people who work there.
"I think she is obviously in a tough spot, because she's starting in a position of digging her way out of a situation that she didn't necessarily cause herself instead of starting with a plan she had going in," he said. "But coming from somebody who has been in the trenches for a long time, I think people will respond to that."
Once Barra gets past the recall issues, Hellwig said he thinks she can make quite a bit of headway.
Cash To Burn
In the second quarter, GM reported having $38.8 billion in liquidity. Tigress Financial Partners Chief Investment Officer Ivan Feinseith told Benzinga that it will be interesting to see whether the company will use that money to buy back stock or increase its dividend.
He hopes it will go to capital expenditures.
"I would like to see cap-ex investments into improving new models and improving production," he said.
IHS Senior Analyst Stephanie Brinley said she would also like to see the automaker use the cash to develop more products.
"It's also really important to make sure they continue to have the fortress balance sheet and make sure they can whether future storms," she said.
Solid Products, Profits
What GM really needs at this point is to create some "home run, gotta have it" products, Kelley Blue Book Executive Market Analyst Jack Nerad told Benzinga.
"GM is competitive in the pickup truck and SUV markets, but despite the fact that it offers some pretty good cars, those cars are not resonating as well as they might," Nerad said. "Frankly, it is not enough to be 'in the mix.' Vehicle products need to stand out to get purchased."
Specifically, Nerad said the automaker needs to focus on creating stellar products for its Chevrolet brand in high-volume segments like the midsize car, midsize SUV and small SUV. Feinseith agreed.
"They need something in the midsize SUV that isn't a crossover that can go head-to-head with [Ford's] Jeep," Feinseith said.
The Associated Press reported in January that Barra intends to stick with GM's goal to achieve a 10 percent operating profit margin in North America by 2015 or 2016. Toprak questioned what Barra's concrete plans were to reach this goal.
"From what we can gather, this seems like an ambitious goal considering the added cost of the new fuel saving technologies as well as the less than efficient supply chain utilization for the company," Toprak said.
TIME's new cover: The Mechanic. CEO Mary Barra's plan to fix General Motors http://t.co/HnhdnfS231 pic.twitter.com/sQSzlhVMpX

— TIME.com (@TIME) September 25, 2014
Posted-In: auto auto sales Ed Hellwig General Motors Jack NeradTravel Media General Best of Benzinga
View Comments and Join the Discussion!