Qualcomm's CEO Acknowledges Business Model Is 'Easy To Attack'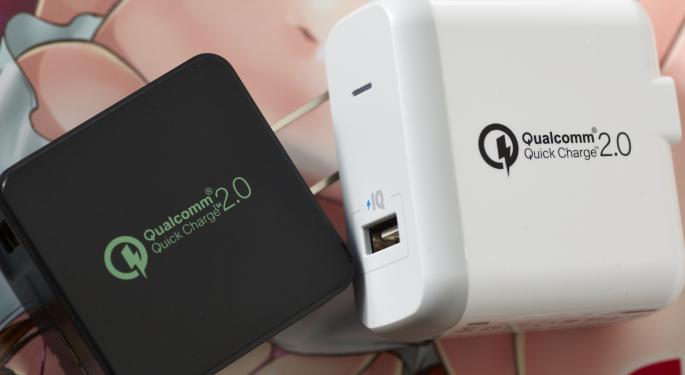 QUALCOMM, Inc. (NASDAQ: QCOM)'s dispute with Apple Inc. (NASDAQ: AAPL) boils down to one fact: Qualcomm's business model is so "unique" to the point where it is "easy to attack," the company's CEO Steve Mollenkopf explained during an interview with CNBC's David Faber.
Qualcomm's business consists of two separate divisions, the first being chips, and the second being licensing, the executive explained. The licensing business consists of licensing its full portfolio of patents, some of which involve chips and some that don't. The dispute with Apple also focuses on the licensing part of the business and what price Apple should pay Qualcomm for its intellectual property.
Without Qualcomm's input, Apple and other smartphone makers "can't do anything from getting a GPS location to taking a picture to accessing the OS to doing video and audio encoding," the executive continued.
"It's unique so it's easy to attack," Mollenkopf said. "It just takes a while to go legally and defend yourself. But it's worth doing. It's very valuable to our shareholders."
Faber described Apple's position as a "battle that is a worldwide attack on an unfair business model, not a little patent dispute." Mollenkopf doesn't necessarily see it the same way and believes the dispute as a "smaller issue as opposed to a worldwide referendum on a business model."
"So if I look at what is happening, we are really just getting somebody to pay on a contract that has been in place for 10 years," the executive answered. "Unfortunately, I think Apple instructed the contracted manufacturers not to pay so we have had to pull them into court and get them to deliver. That is really what is going on."
Mollenkopf added that at the end of the day Apple is likely looking to achieve a lower price from its manufacturers and if there are other issues involved Qualcomm would look to resolve them as well.
"Typically, companies come to agreements out of court. Sometimes on the courtroom steps. Sometimes not on the courtroom steps. And we've had experience over the course of the history — both ways," Mollenkopf also said. "It could also be a situation where a solution just appears. You know?"
Related Links:
Contract Manufacturers Are Joining Apple's Side As Qualcomm Legal Concerns Continue
Legal Battles, Merger With NXP Set Up Catalysts For Qualcomm This Year
________
Image Credit: By Ryo FUKAsawa - https://www.flickr.com/photos/fukapon/21879687510, CC BY 2.0, via WIkimedia Commons
Posted-In: CNBC David Faber Legal Dispute Qualcomm Apple Dispute Steve MollenkopfTech Media Best of Benzinga
View Comments and Join the Discussion!