What's It Like To Interview The Rich And Powerful All Day, Every Day? Behind The Desk With CNBC's Brian Sullivan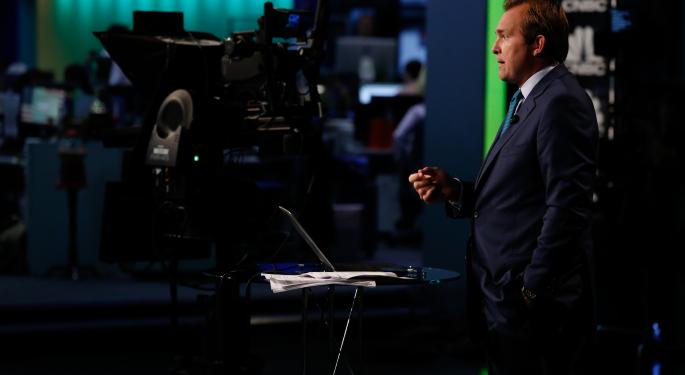 For those of us with an eye on CNBC all day, it seems like the hosts have a Sisyphean task.
The anchors and their teams must pore over the markets and interrogate the masters of the universe on what it all means from early morning until the market closes. Then, they research the next day's news, meet with sources, and maybe even do human things like sleeping.
Then they have to do it all over again the next day.
But Brian Sullivan, host of CNBC's "Power Lunch" every weekday afternoon, wouldn't have it any other way. He's been in the financial media game ever since a fateful temp job at Bloomberg LP exposed him to its fast-paced world after he graduated college. After spending a day in the life of fellow CNBC personality Josh Brown, Benzinga caught up with Sullivan to learn more about what it's like behind the desks at CNBC.
Morning, Noon, And Night
Sullivan starts out most mornings around 6 a.m. as many of us screen addicts do—by checking emails. Then, he scans the wire services and his RSS feed to see what's moving the market and what topics are important that day.
"I don't know if there's a 'day in the life' for me, because that implies a 'day' would imply that it ends and begins again!" Sullivan said in an interview with Benzinga. "I know I sleep when the sun goes down, but the news cycle never ends."
The next big thing on his agenda is the 8:15 a.m. CNBC company-wide conference call. This is where reporters, editors and producers decide which stories are important and who's covering which beat. After this, Sullivan sends notes to his team on stories that he finds particularly interesting and merit a closer look, or sources that would make good interviews, like fund managers that are doing particularly well.
"Most mornings are reading, learning, and communicating," Sullivan said. "Then when I get in, I'm writing. Everything I say I've either written or edited to fit my voice."
See Also: From The Mean Streets Of Scarsdale To Russia And Back: A Chat With CNBC's Tim Seymour
Serving Up A Power Lunch
It takes a village to produce a CNBC segment. Building a bit involves answering some tough questions—who are the guests, what are they talking about, whether that topic is compelling, what graphics go on the screen, and so on.
Putting on a quality news segment is "like being a chef—a chef will spend a lot of time creating a dinner, and then someone devours it and they start over the next day," Sullivan said. "It's kind of ephemeral, and it takes a lot longer than people think.
"The ultimate challenge of TV is to take the complicated and make it relevant and understandable."
The process of how that happens, however, has changed as the news industry painfully attempts to adapt to an increasingly digital environment.
Some Things Change, Some Things Stay The Same
Sullivan thinks the way news organizations interact with their audiences has to change in the digital age. News consumers are hit on all sides by breaking news and headlines, and even if they don't always read deeper, they're generally more aware of what's going on than in decades past, Sullivan said.
"You have to evolve your coverage [in the digital age]," Sullivan said. "Unless something is very new, you have to assume that people already know the headline. You have to do more analysis on it, because the people who consume news are really into it.
"I've got to make sure that we deliver the story in a way that helps them understand it or profit from it."
Sullivan still thinks the fundamentals of delivering the news remain the same, however.
"What's the same are people—business TV is aspirational," Sullivan said. "People want to figure out how to make money, keep what they've got, see people that are inspirational—I don't think any of that has changed. You could set CNBC in 1920 and interview Jesse Livermore, the famed stock trader, and it'd be just the same as it is today."
Advice For Journalists
Sullivan had a piece of advice for those who are looking to make it in the news industry—keep that human touch.
"In the digital age, human relationships matter more, not less," he said. "Get on the plane. Go. Meet people. If you're falling back on a digital platform, you won't have the relationships needed to get the sources and break news. The world doesn't stop and end with New York and LA. There are so many interesting people and companies between the coasts."
Posted-In: Brian Sullivan CNBCMovers & Shakers Top Stories Exclusives Media Interview General Best of Benzinga
View Comments and Join the Discussion!