Retail Exec Says Retailers Are Using Amazon As A 'Convenient Scapegoat'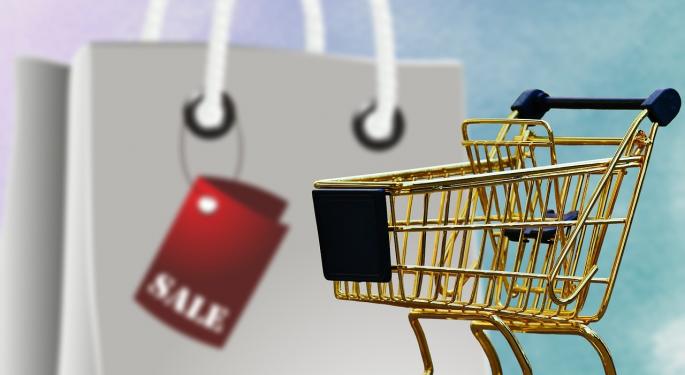 Amazon.com, Inc. (NASDAQ: AMZN) is killing retail, right? Not necessarily, according to at least on retail executive.
Steven Tanger, the CEO of Tanger Factory Outlet Centers Inc. (NYSE: SKT), was a guest on CNBC's "Squawk on the Street" segment on Thursday to explain why retailers are wrong in attributing their woes to Amazon's growth over the years.
According to Tanger, consumers love shopping at his outlet stores, and consumers save up to 50 percent doing so. In fact, his outlet business model takes "price out of the equation" and offers a promise that every item at every store is the lowest possible price consumers can find.
Dot.com To E-Com
Tanger continued that the conversation of the internet killing retail has been ongoing for at least 20 years when it was called "dot.com" but is now called "e-commerce." As such, Amazon is a "convenient scapegoat" as stores in his portfolio are well-priced and give consumers great value.
In fact, some of the hottest names in retail, such as the off-price chain TJX Companies Inc (NYSE: TJX) has such a minuscule online presence but the stores are doing extremely well.
"If you give the consumer the value they want every day they will shop with you," Tanger emphasized.
Finally, Tanger downplayed the threat of a border adjustment tax, noting that his business was created in 1981 and survived a major tax adjustment in 1986, the stock market crash of 1987, various recessions.
Bottom line in good economic times consumers love a bargain and in tough times consumers need a bargain so the executive is confident his physical store retail format will continue performing just fine.
Related Links:
Yet Another Sign Of Amazon's Dominance Over Retail
View Comments and Join the Discussion!
Posted-In: Amazon Amazon Versus Retailers CNBC Department Stores ecommerce Outlets retailMedia Best of Benzinga