Here's What Makes America Great, According To Warren Buffett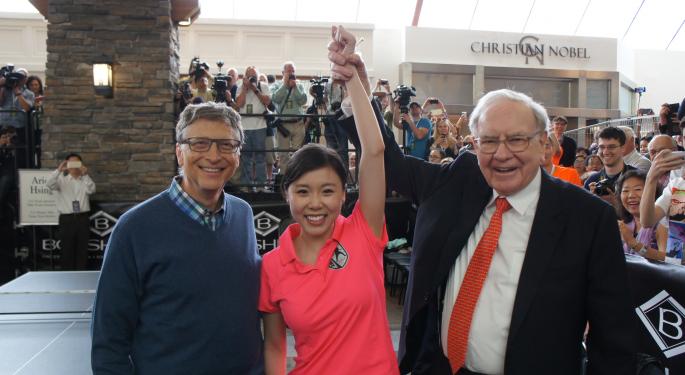 Warren Buffett's explanation of what makes America great dates back centuries.
Buffett explained during a CNBC interview Monday that the population of the United States was roughly 4 million back in 1790. Meanwhile, the population of the entire planet hadn't even hit one billion.
The U.S. population represented one-half of 1 percent of the entire world. But there was nothing unique about the land, as the friendly temperature and abundance of natural resources could have been found in many other countries across the world.
Related Link: Warren Buffett Doubles Apple Stake, Cheers iPhone Maker's Stickiness
The Essential Nature Of American Markets
So, the question is: What is it that these four million people were able to accomplish better than the remaining population of 900 million? The answer is quite simple. The American market system was "absolutely essential" and far superior to a planned economy.
For example, property rights and the ability of individuals to own an idea and then commercialize it "unlocked human potential."
The Role Of Immigrants And The Blessing Of Being American-Born
Buffett added that the rule of law was also more advanced than many other countries, and this also played a role. Immigration policy also played a role in building America as it favored individuals who were ambitious and really wanted a new and better life.
Buffett's gratitude for being born as an American was also evident in his annual letter to shareholders, which was released over the weekend.
"It's astounding when you think about it what has happened in 240 years — that is less than three of my lifetimes," Buffett added during the CNBC interview. "There wasn't anything here 240 years ago, and civilization has gone on for centuries and centuries and centuries with people making very little progress in their lives. And then America showed the way and we have not lost the secret sauce."
Image Credit: By Michael Hsing (Internet) [CC BY-SA 4.0 (http://creativecommons.org/licenses/by-sa/4.0)], via Wikimedia Commons
Posted-In: America AmericanPolitics Topics Top Stories Markets Media General Best of Benzinga
View Comments and Join the Discussion!