What Lloyd Blankfein Had To Say About The JPMorgan Chase Split Idea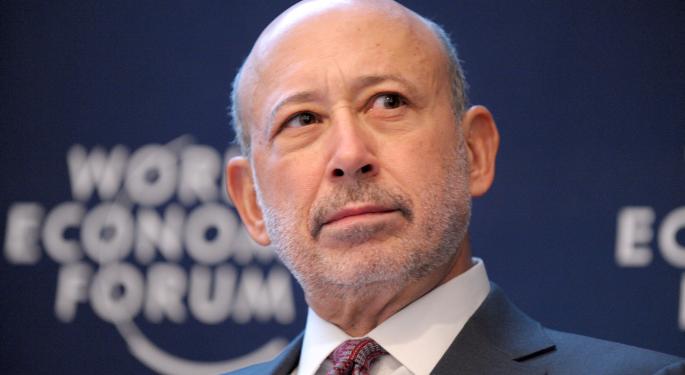 With the Fed putting regulatory pressure and tightening its noose on the biggest names in banking, the Street is rife with speculation that some of the "too big to fail" banks would split up into separate entities.
The research arm of Goldman Sachs Group Inc (NYSE: GS) recently published a report arguing that breaking up JPMorgan Chase & Co. (NYSE: JPM) would provide more value to its shareholders than the bank currently does.
Lloyd Blankfein, Goldman Sachs chairman and CEO, was on CNBC Wednesday to opine on breaking up big banks.
"I would say without JP Morgan specific, I'd say the structure of the capital rules assign a higher capital to your entire enterprise balance sheet, the bigger you are and the more complex you are, for JP Morgan and for Goldman Sachs," Blankfein said. "And so you look at it, what's the value of size and complexity? Well, synergies, but now there is a cost to size and complexity: extra capital that you need to have that capital has a price."
Related Link: Lloyd Blankfein: This Could Very Well Be The Chinese Century
Blankfein continued, "You can look at the value of the synergies versus the additional capital and say, 'you know something, the synergies are no longer worth it' or even if they were worth it for a whole enterprise, my consumer business isn't really helped by affiliation with a European trading business, for example. That's something that would apply to all the large banks that have additional capital charges."
When asked whether he sees big banks breaking up in near future, Blankfein replied, "I would say that in the past there was synergies and no real measurable cost consequence to it. Now there is. So I think that a lot of the basis for a lot of the decisions to aggregate will have to be re-evaluated in light of the discernible cost associated with being above a certain size."
Posted-In: Goldman Sachs Lloyd BlankfeinCNBC Media Best of Benzinga
View Comments and Join the Discussion!