Marcus 'The Profit' Lemonis Explains His Process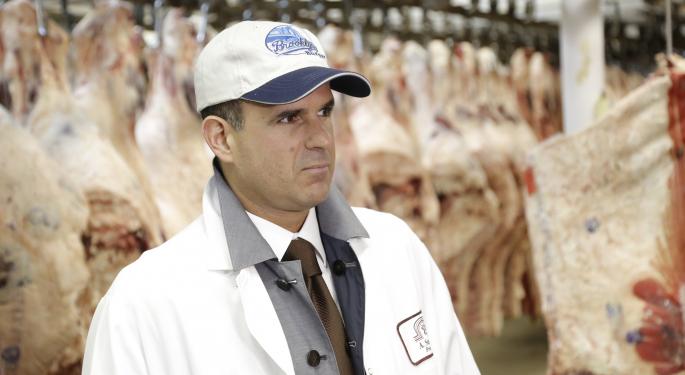 Camping World and Good Sam Enterprises CEO Marcus Lemonis of CNBC's "The Profit" previewed the show's next episode on the network's Squawk Box program Tuesday morning.
The episode revolves around a striving meat packing company in serious debt, and its outcome reveals some of the strategy behind Lemonis' process.
"Hey, guys. We gotta talk. We got a problem," Lemonis said in a clip from the episode.
There's a $3 million hole that the business owners can't explain with just $30,000 in the bank; and Lemonis originally planned on investing his own money to help them dig their way out.
"Are you guys aware of that?" he continued.
They answer: "No."
"The deal that we made was based on $2 million in payables. Not $4 [million]. Right?…Guys, this is bad…This business is two weeks away from closing," Lemonis announced.
The business owners want to move forward and try to work with Lemonis on saving their meat packing company. The 75-year-old business did $50 million in transactions last year and had uncollected receivables on the street of over $4 million. They pack the "Brooklyn Burger," which is in many grocery stores, and are the primary vendor to Peter Luger's Steakhouse.
"You said to me you thought the business was worth $15 million. To me i think it's worth $15 bucks. It's frustrating. And I've lost confidence. Not in you guys as guys, but from a business standpoint, right now, I don't think this is a good investment for me," said Lemonis, ending the clip.
A major theme in thie episode is the strategy of business consolidation.
"It's a $50 million company, but there are 15 to 20 $10 million to $20 million players in the marketplace," said Lemonis.
"And the goal was to take their fixed cost infrastructure, rip out as much SG&A as I could without touching the labor pool, and then go around and consolidate a number of other players and put them into this fix cost structure and really see the EBITDA go from about what I thought I could get it to [$]400,000 on their base to $2 million or $3 million bucks and then have it be, you know, a nice classic sale process," he adds.
Lemonis said that the situations was a "classic case of not knowing their numbers."
Related: Marcus Lemonis Talks 'The Profit' And Tesla
"I describe in the show as an insolvency gap that I thought was $1 million," he continues, "which was what my offer. I thought I could fill that hole. The gap came back at $3 million bucks and their bank loan is tapped out. And, ah, this is a small business, but it's still a $50 million business."
Lemonis doesn't do much due diligence before arriving at a business location. He said that he wants to take the viewer through the due diligence process. This shows them how he arrives at the numbers that he does from episode to episode.
 Jason Cunningham had no position with the mentioned entities while writing this article. 
View Comments and Join the Discussion!
Posted-In: Camping World CNBC CNBCPsychology Topics Hot Media General Best of Benzinga