Is McDonald's Taking on Starbucks in Coffee Wars?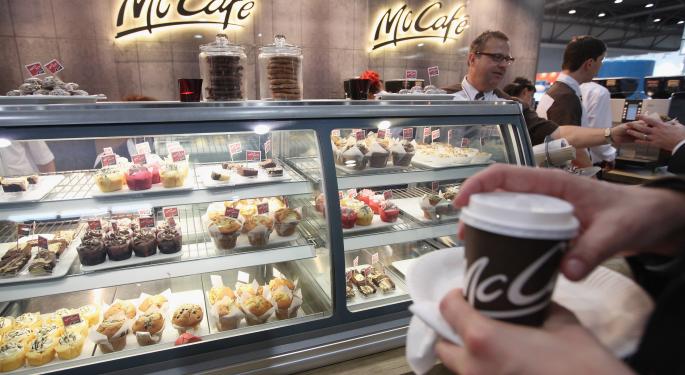 McDonald's (NYSE: MCD) CEO Don Thompson wouldn't name the Seattle-based chain as a competitor when he said Thursday that his company has less than its "fair share" of the coffee market.
To date, McDonald's "share" of restaurant coffee servings in the U.S. is less than 13 percent, according to the company's U.S. brand and strategy officer, Kevin Newell.
This is not to say McDonald's hasn't been trying to push sales higher. Coffee sales for the fast-food giant have grown 70 percent since 2009 when the company first introduced its McCafe specialty coffee drinks.
Still, McDonald's coffee sales grew only 0.9 percent in the latest quarter at stores open at least a year. For Starbucks (NASDAQ: SBUX), sales rose 7 percent in the same period.
Meanwhile, Starbucks has attempted to boost food sales in its stores. The company credited a 34 percent Q4 rise in profit in part to customers spending more on food including a revamped sandwich menu.
McDonald's has always made value part of its strategy in both the food and coffee wars. With the addition of McCafe drinks, the company has added quality and variety to its beverage lineup.
This included adding pumpkin spice latte this fall to compete with a similar drink offering from Starbucks. Next week McDonald's will launch a white chocolate mocha flavored latte.
In addition, in a partnership with Kraft Foods Group Inc. (NASDAQ: KRFT), the company plans to sell McCafe bagged coffee in supermarkets in an effort to build brand awareness and loyalty according to The Wall Street Journal.
It is worth noting that a similar deal between Starbucks and Kraft resulted in a $2.7 billion fine against the coffee company when Starbucks pulled out of the contract early.
Related: Starbucks Will Show Q4 Loss of $2.12 Billion Following $2.7 Billion Fine
About the marketing deal with Kraft, Newell made the endgame clear. "It's about selling more coffee in restaurants," he said.
What is also clear is the fact that both McDonald's and Starbucks want to blur the lines between their business models in an attempt to attract customers. Starbucks wants more people coming to its coffeehouses to eat and McDonald's wants more of the same people coming to its restaurants to drink coffee.
Not that either chain wants to give up their core identity. In a CNBC interview Starbucks CEO Howard Schultz, speaking about chains like McDonald's and Dunkin' Brands Group, Inc. (NASDAQ: DNKN) Dunkin' Donuts, said, "They're in another business — they're fast-food."
Thursday, McDonald's Thompson stood his ground as well, asserting, "We're not trying to be something we're not."
At the time of this writing, Jim Probasco had no position in any mentioned securities.
View Comments and Join the Discussion!
Posted-In: CNBC coffee coffeehouse Don Thompson Dunkin' Brands GroupNews Events Media Best of Benzinga