Carl Icahn Sends Out Another 'Dear Tim' Letter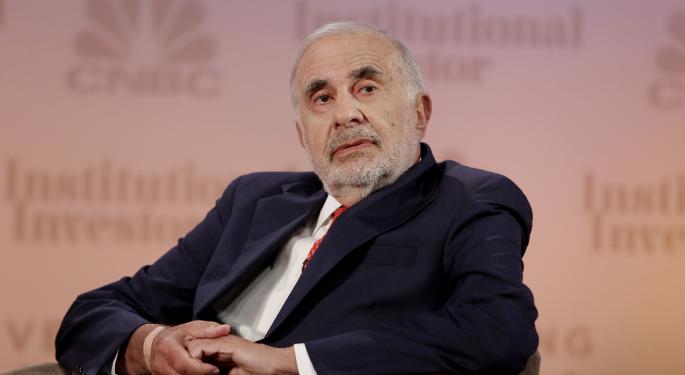 Activist investor, Carl Icahn, tweeted Wednesday that he had sent another letter to Apple (NASDAQ: AAPL) CEO Tim Cook and that the contents of the letter would be published on Icahn's new website, the Shareholders' Square Table Thursday.
True to form, the letter was posted and more or less continues where Icahn left off Oct. 1, following a meeting with Cook in which Icahn made a strong case for a big buyback, which at the time Icahn referred to as a "no brainer."
Related: Carl Icahn and Tim Cook: Meet, Eat & Tweet
In his latest communique, Icahn started by outlining the history of his position in Apple which went from about 3.9 million shares to 4.7 million, or an increase of 22 percent from the time Icahn first met Cook to the present day.
Icahn then reaffirmed his belief the company should institute a $150 Billion buyback, laying out his arguments. They include Icahn's belief that "Apple is the world's greatest consumer product innovator," that the stock suffers from "irrational undervaluation," and that the current $60 billion share repurchase over three years is inadequate.
Icahn also pointed out that Apple has $147 billion in cash on its balance sheet and will generate $51 billion EBIT in 2014, another argument in favor of a larger buyback. He acknowledged that his proposed $150 billion buyback would be "unprecedented" but maintains it would also be "appropriate and manageable."
On the arithmetic side, Icahn suggested a tender at $525 per share, resulting in a 33 percent hike in EPS. Looking forward Icahn said he expects share price to appreciate to $1,250 over a three year period (assuming Wall Street rewards the resulting 7.5 percent EBIT growth with an 11x EBIT.
Icahn closed by pointing out that Apple's current board of directors does not include anyone with a "track record as an investment professional," let alone anything approaching the expertise he (Icahn) has demonstrated.
The clincher (deal) came at the very end of the letter. Icahn said, "I hereby agree to withhold my shares from the proposed $150 Billion tender offer. There is nothing short term about my intentions here."
The posting of Icahn's letter to Cook took place on the investor's new website described unashamedly as:
"a platform from which we can unite and fight for our rights as shareholders and steer towards the goal of real corporate democracy."
Prior to the release of the letter, former Apple CEO John Sculley told CNBC he doesn't think Cook should succumb to Icahn's push for increased dividends and a larger buyback.
Market reaction to Icahn's letter was mostly underwhelming. Apple's stock opened Thursday at $525 and, after dropping briefly to $522.45, as of midmorning hovered near its opening price.
At the time of this writing, Jim Probasco had no position in any mentioned securities.
Posted-In: Apple buyback Carl Icahn CNBC EBITNews Events Media Best of Benzinga
View Comments and Join the Discussion!