Experts Comment On Market Reactions To Larry Summers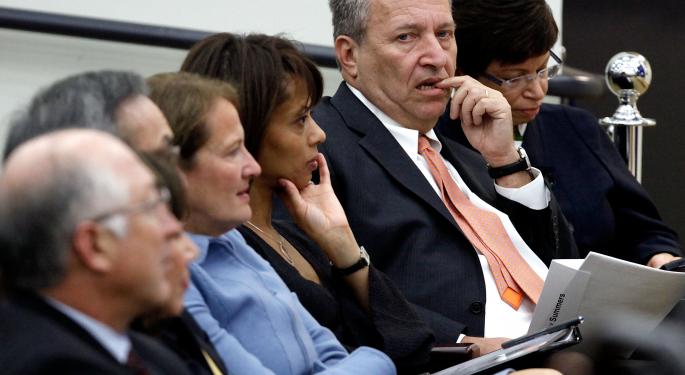 IHS Chief Economist Dr. Nariman Behravesh and Federated Investors' Chief Equity Strategist Phil Orlando went over the possible market reactions to Larry Summers removing his name for chair of the Federal Reserve, just before the Federal Open Market Committee meeting this week, on CNBC's Squawk Box Monday morning.
"The market, I think, had two areas of concern. One was that from a process standpoint, Dr. Yellen was not even vetted, that Larry Summers seemed to be the foregone conclusion from the president's standpoint. Second point is that Yellen, who is one of the architects with Bernanke and the rest of the Fed, is expected to be a more dovish person, maintain continuity in terms of policy," said Orlando.
"There was risks that Dr. Summers would take the policy in too quickly, and that would potentially hurt the markets or the economy."
Orlando said that there was fear that Summers would simply pull quantitative easing, and that Yellen's decision to would pull accommodations would be data dependent.
Related: Summers Withdrawal Weighs The Dollar Down
Behravesh added that with Yellen there will be continuity.
"The markets, in that sense, are breathing a sigh of relief saying, 'Okay, we're going to get this sort of continuity, a phasing out of QE. We can debate about the timing.' But I think it's that sense of we know what to expect, and of course markets, as you know, don't like uncertainty," said Behravesh.
Behravesh said that process will be much more comfortable assuming Yellen becomes chair of the Fed. Despite the economy "looking a little perky," he doesn't foresee any accommodation reductions coming soon.
Orlando concluded by saying that his camp has been "mentally conditioned for a $10 billion taper," and that it won't "destroy the market."
At the time of this writing, Jason Cunningham had no position with the mentioned entities. Visit Jason on Twitter @JasonCunningham.
Posted-In: Ben Bernanke CNBC CNBC's Squawk BoxCNBC Politics Federal Reserve Media General Best of Benzinga
View Comments and Join the Discussion!