'Distribution' In 'Trouble' Says The Daily Beast's Daniel Gross On Time Warner Cable/CBS Standoff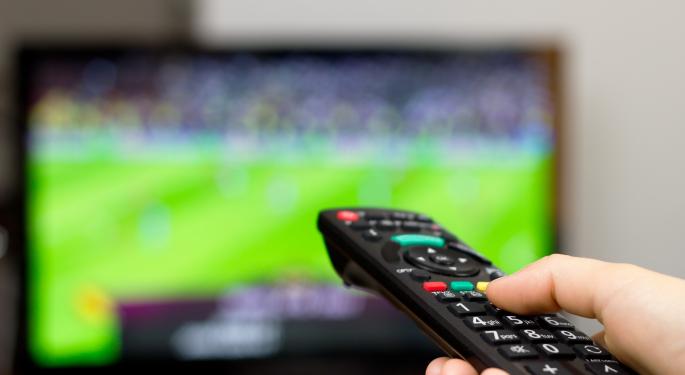 Columnist and global business editor at Newsweek and The Daily Beast Daniel Gross analyzed the current state of the CBS (NYSE: CBS) and Time Warner Cable (NYSE: TWC) dispute on CNBC's Squawk Box Monday morning.
"I think distribution [Time Warner Cable], which we all thought was king, is in trouble. They've lost 750,000 video subscribers in the last five quarters. That's 6 percent. This is a company with $26 billion in debt, capital expenditures running at $3.5 billion a year, a big interest bill. You can't afford to be losing revenues the way they are," said Gross.
Related: Pivotal Research Group's Brian Wieser Sees Dispute Working Out For CBS
Gross noted that it's a common belief that the dispute won't go past the beginning of the NFL's regular season in September.
"It may be resolved, but they are losing their customer base, I mean this is a real, they are losing [120,000]-130,000 subscribers per quarter and there's this, I think, quiet revolution in the way people watch television, which is one of the reasons I think there hasn't, you know," said Gross.
"It's the middle of august, so all the people, all the influential people at Time Warner Cable, are at their apartments in New York, or are at their summer homes, so they're not missing anything, but there this revolution in the way people access content. They could be watching their CBS programing in any one of five or six different ways, and that's why I think you're not hearing more of a scream."
Gross concluded by saying that when thinking long-term, CBS has to figure out "if they're in a world where people are cutting their chords," because if so "they're going to have to be able to play in all of those areas," including that CBS is seeing "from their ratings, and from their viewership habits, where there's DVRs, Hulu, etcetera, that cable box is not the path to viewership that it used to be."
Posted-In: CNBC News Rumors Futures Topics Hot Markets Tech Best of Benzinga
View Comments and Join the Discussion!