Chobani Overtakes Yoplait In The Yogurt Market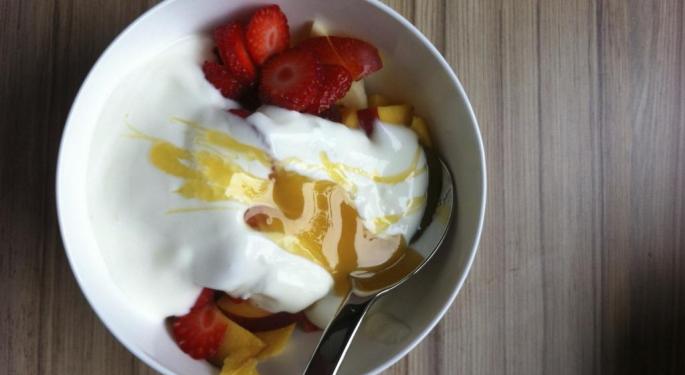 The biggest yogurt brand doesn't come from one of the major food companies like General Mills, Inc. (NYSE: GIS). That title goes to the startup Chobani.
According to a Bloomberg report, Chobani became the biggest yogurt brand in 2016 after it unseeded General Mills' Yoplait. It seems hard to imagine how a 12-year-old startup managed to beat out food giants who boasts decades of experience and substantial resources. So how exactly did this happen?
John Grubb, a food consultant with Sterling-Rice Group, told Bloomberg that major food companies are too complacent about their legacy brands and can't properly react to fast moving upstarts, like Chobani. Even when the major brands do react to a new competitive threat, the products suffer "from a lack of culinary distinction."
Consumers also have started showing a distrust of big food companies and view brands like Yoplait as being authentic.
Chobani's Growth
Chobani realized nearly $2 billion in sales throughout 2016 as consumers clearly signaled they prefer Chobani's healthier Greek yogurt products as opposed to the closest competitor, Yoplait, whose yogurt is loaded with sugar.
In fact, while 2016 was Chobani's best year in history, rival General Mills cited weakness in its Greek yogurt brand for an 18 percent drop in yogurt sales in the current fiscal year.
What's next for Chobani? Some are speculating an initial public offering is the next logical step for the fast growing company.
See Also:
General Mills: What Went Wrong?
View Comments and Join the Discussion!
Posted-In: Bloomberg Chobani Food Companies food stocks John Grubb YogurtMedia Best of Benzinga