How This Successful Trader Used A Background In Languages To Break Into The Options Market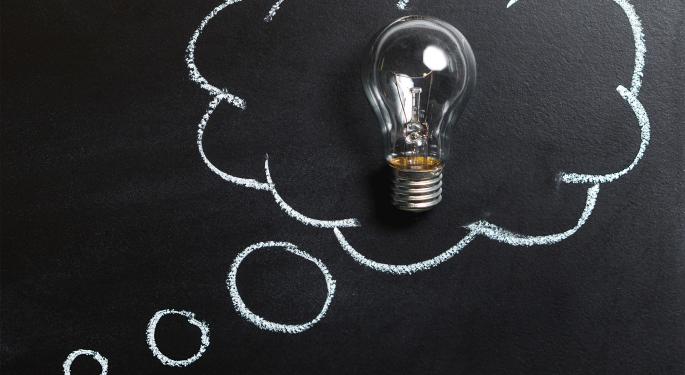 Like many investors, Danielle Shay Gum, director of options trading at Simpler Trading, started in a different job and found her way to trading in the search for ways to make money from home and to do something different.
No Experience Necessary
While it may be helpful to have a background that's relevant to trading, it's unnecessary and shouldn't be a barrier to playing the markets.
"The background that I have is in languages, so I like to think of reading the charts and learning about trading as a different language," Shay Gum said during Benzinga's daily PreMarket Prep trading show.
"The hardest part was the math ... but I just focused on learning the pattern, looking for repetition, doing what works for me, avoiding what doesn't work and having really strong discipline. That was how I found success earlier on."
Trading Strategy
Shay Gum said she never approached the markets as a long-term investor, but rather stepped directly into "aggressive" directional options trading.
"Over the years I've focused on honing a strategy focusing on trading the top-rated products in the top sectors in an aggressive manner on a short-term basis," she said.
Her setup uses a combination of momentum plays, trend watching, Fibonacci clusters and using pullbacks to enter and then trade to the upside. Shay Gum stays in trades for around two days to two weeks, and she looks for the rotating strength in the market rather than playing the short side. If she does short, it's done with futures such as NASDAQ, DOW, and S&P.
The options trader said she focuses on earnings season and conducts research in the weeks prior to prepare for profitable trades.
"I like to start about six weeks prior to earnings and I look to identify strong tickers in strong sectors that have a pattern of turning higher into their earnings report, then I start off buying on a pullback around 34 EMA, 50 period simple, somewhere in that area, depending on where I have my fib clusters, and look to buy both in-the-money and out-of-the-money options in the earnings series to maximize on price."
Learn From Losses
A loss can be a learning experience, Shay Gum said.
"What I did my first two years of trading was selling out of the money put, and it works nine times out of 10, but there was one time about two years into my trading career [when] I basically lost four months worth of work in one weekend on that strategy," she said.
Ever since then, Shay Gum said she's stuck to selling at the money premium in one-to-one risk-reward situations.
Making A List
Traders can learn from their mistakes, become comfortable with trading, conquer the learning curve and begin to notice that some options follow a pattern over and over.
"I call them the 'Five Stars' — those are the ones I really trade over and over again," Shay Gum said.
She has 27 on her list, and they rotate. If the option breaks a 50 period simple, the trader takes it off the list in the short term.
Daily Schedule
Shay Gum is always at her screen: she starts her mornings with analysis before taking a midday break, with an emphasis on shifting her mindset away from trading while on break. The options trader then comes back to her desk to trade into the close.
Learning how to trade options can be very daunting and intimidating at first, but the risk and time can be well worth the reward. It's an option to consider for prospective investors who want a lifestyle change, another source of income or just another hobby, options should definitely be an option to consider.
One piece of advice Shay Gum has for budding traders: Stick with it.
"At this point in my life, I can't imagine doing anything else … the beginning can be pretty rough, but if you can stick with it, find good mentors [and] people who know what they're talking about, you can make it through."
Listen to the full interview beginning at the 33:45 mark below:
PreMarket Prep is a daily trading show hosted by prop trader Dennis Dick and former floor trader Joel Elconin. You can watch PreMarket Prep live every day from 8-9 a.m. ET here. The replay can be found on Benzinga's YouTube channel, and the podcast is on iTunes, Google Play, Soundcloud, Stitcher and Tunein.
Related Links:
How Anne-Marie Baiynd Is Trading The Market Sell-Off: Fade The Bounces
Posted-In: Danielle Shay Gum PreMarket PrepOptions Psychology Success Stories Markets Interview General Best of Benzinga
View Comments and Join the Discussion!