Bannon, Manafort, Scaramucci, And Wolff: One Crazy Week In Washington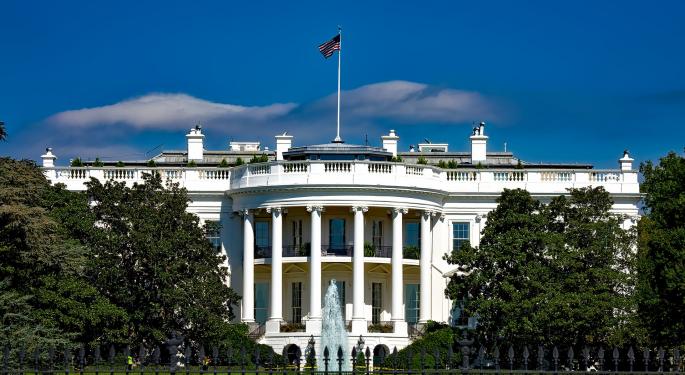 Where to begin?
If you're just now catching up on 2018 politics, take a deep breath. There's a lot to take in.
Here's a quick recap of Washington's wild first week of the year:
Bannon Bonanza
It started with a preview of Michael Wolff's "Fire and "Fury," in which former White House chief strategist Steve Bannon allegedly renounced his faith in President Donald Trump.
"He's not going to make it [to a second term]," Bannon was quoted as saying in the book. The former presidential adviser supposedly said Trump has a 33-percent chance of resigning and equal chance of being impeached as a result of special counsel Robert Mueller's investigation. "He's lost his stuff."
Additional quotes branded Trump's eldest son "treasonous" and "unpatriotic" for pre-election contact with Russia.
Trump rejected Bannon's commentary on his administration and election strategy, as well as the author's claim to have interviewed POTUS.
"Steve was rarely in a one-on-one meeting with me and only pretends to have had influence to fool a few people with no access and no clue, whom he helped write phony books," Trump said in a statement, adding that Bannon had "lost his mind."
I authorized Zero access to White House (actually turned him down many times) for author of phony book! I never spoke to him for book. Full of lies, misrepresentations and sources that don't exist. Look at this guy's past and watch what happens to him and Sloppy Steve!

— Donald J. Trump (@realDonaldTrump) January 5, 2018
Michael Wolff is a total loser who made up stories in order to sell this really boring and untruthful book. He used Sloppy Steve Bannon, who cried when he got fired and begged for his job. Now Sloppy Steve has been dumped like a dog by almost everyone. Too bad! https://t.co/mEeUhk5ZV9

— Donald J. Trump (@realDonaldTrump) January 6, 2018
Trump's lawyer threatened Bannon with legal action for libel and breach of confidentiality agreements, and he sent cease and desist letters to Wolff and publisher Henry Holt and Company.
Wolff nonetheless rushed publication and promoted the book Friday on "The Today Show," while Bannon reiterated his support for the president, whom he called a "great man."
The Russia Probe Revisited
Paul Manafort, Trump's former campaign chairman who's now indicted on money laundering charges, filed a lawsuit against Mueller, challenging the special counsel's authority, the legality of his appointment and the relevance of his charges to the 2016 election.
The investigation into Russian meddling also led Republican congressmen to call for Attorney General Jeff Sessions' resignation.
And Other Wild Occurrences
Rumors circulated that Anthony Scaramucci might soon return to the White House communications staff. They were ultimately denied by the subject.
And Trump taunted North Korea with his bigger, stronger nuclear button.
North Korean Leader Kim Jong Un just stated that the "Nuclear Button is on his desk at all times." Will someone from his depleted and food starved regime please inform him that I too have a Nuclear Button, but it is a much bigger & more powerful one than his, and my Button works!

— Donald J. Trump (@realDonaldTrump) January 3, 2018
And intimated his role in averting aviation deaths in 2017.
Since taking office I have been very strict on Commercial Aviation. Good news - it was just reported that there were Zero deaths in 2017, the best and safest year on record!

— Donald J. Trump (@realDonaldTrump) January 2, 2018
And the Clinton family's Chappaqua property caught fire, sparking conspiracies of politically fueled arson.
Related Links:
NAFTA: Trump's Next Target After Tax Reform?
Posted-In: Anthony Scaramucci Jeff Sessions Paul ManafortFutures Politics Markets Media General Best of Benzinga
View Comments and Join the Discussion!