What We're Talking About This Year At The Thanksgiving Dinner Table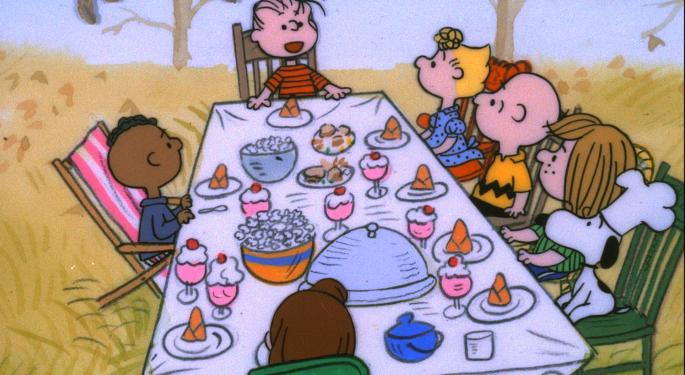 Every year, many of us gather around the dinner table and overindulge in a Thanksgiving feast. Between scoops of stuffing and pours of gravy, there's time to catch up on what the family has been up to since last year.
What is there to talk about this year? Some new, some old … and some things as old as pumpkin pie.
What You're Talking About
All that bitcoin your younger cousin bought last year? He might not be so eager to bring it up again this time.
Your aunt might put some vinyls on her old record player and reminisce about the joint-filled days of Crosby, Stills & Nash. But she might not realize the marijuana industry is now worth billions, with beer companies like Corona looking to capitalize on the action.
Remember all that talk about kneeling and concussions? The NFL is on pace to set a record for total touchdowns scored in a season, with games being decided in the fourth quarter. The result has been a huge increase in television viewership, something the NFL never really had any trouble with.
And of course, the president has said some things. Half the dinner table might hate it. Half the table might love it. It might be best to have those conversations before you start sipping too many spirits.
What We're Talking About
The Benzinga dinner tables might feature some lesser-known topics of conversation.
On two different occasions — the Global Fintech Awards in May and the Fintech Summit in November — we brought together some of the leading minds in financial technology, machine learning and other tools being used to automate and revolutionize the world as we know it.
In between those conferences, we held the Cannabis Capital Conference, one of the the premier gatherings of cannabis entrepreneurs and investors in North America. There's a lot to be learned about the growing industry, so be sure to check out the next one.
The Benzinga Pro platform took another big step in 2018 by introducing a live chat room, another feature in our growing community for serious traders. Want to pick the brains of BZ analysts or fellow traders? Take a free trial and see what it's all about.
We gained some new content partners in the freight industry and the cannabis industry, enlightening our readers on a few niche industries they might not be too familiar with.
Give Thanks
All of this and more are enough to be thankful. But as is almost always the case around the holidays, it's also a time for introspection: what do you really have to give thanks for this year?
You might be thankful for a new baby joining the family. You might be thankful for a beautiful, if not always perfect, marriage.
More than anything, you might be thankful for clean water. For clean air. For simply being alive.
Amid another year of mass shootings, wildfires, political upheaval and divisive rhetoric, the holidays are again a time to appreciate all that we still have, no matter how big or small it may seem.
"A Charlie Brown Thanksgiving" photo courtesy of ABC.
Posted-In: Benzinga Cannabis Capital Conference Benzinga Fintech Summit Benzinga ProCryptocurrency Psychology Opinion Markets General Best of Benzinga
View Comments and Join the Discussion!