Here's Why The Number Of Cryptocurrency Hedge Funds Could Triple In 2018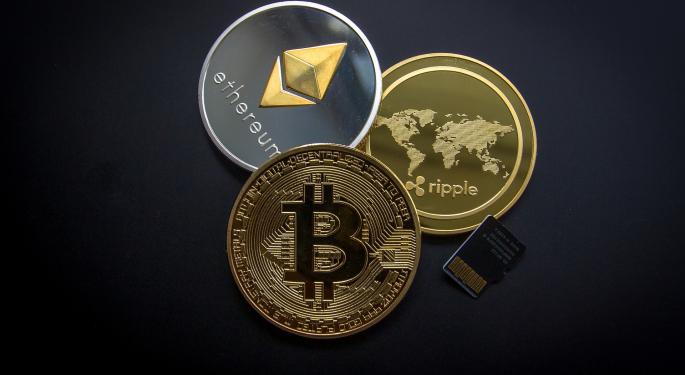 The dramatic rise of cryptocurrency is leading to the creation of crypto hedge funds.
The number of hedge funds focused on cryptocurrency and blockchain stands at 150, and that number is expected to double or even triple within the next 12 months, Agecroft Partners CEO Don Steinbrugge told Benzinga.
Many crypto hedge funds are taking a venture capital approach and are looking to fund new entrants into the sector, new coin offerings and invest in companies that provide services to the industry.
Still A Long Way To Go
Although cryptomania continues to flourish, the amount of money flowing from hedge funds is still minuscule.
In a $3-trillion hedge fund industry, only $3 billion is allocated toward cryptocurrencies and blockchain technology, representing one-tenth of a percent of the total industry. Steinbrugge projects the number will increase fivefold in the next 12 months.
Still, crypto valuations are too high and retail investors should be careful, as fierce competition will ultimately put downward pressure on current frontrunners, Steinbrugge said.
"People should be very careful investing in cryptocurrency — they should view it as gambling. We are very bullish on crypto long-term, but a lot of the valuations have been driven by greed and unsophisticated investors who have jumped in after seeing how much these securities have gone up recently and are projecting it is going to continue."
A big misconception regarding bitcoin's rise surrounds its limited supply and demand assumptions, but bitcoin is seeing significant competition from alt-coins, Steinbrugge said.
At the end of 2017, 35 cryptocurrencies ended the year at over $1 billion in value.
"There is not a limited supply of cryptocurrencies. The more money that goes into competitors means the more demand limits for bitcoin," he said.
Still Evolving
Institutional money will flow into blockchain technology and cryptocurrency, but many institutions are worried about the valuations, Steinbrugge said.
"All these securities have been correlated. Institutions will be very interested in crypto when that decouples — when you have winners and losers. Right now it is just viewed as a bubble and at some time it will go down in value."
The market is evolving, and money that's been made in blockchain and crypto is being invested back into the sector, leading to increased competition and the creation of new coins and service providers, the hedge fund expert said.
"Those who can identify the future leaders can make a lot of money. Those who are investing in cryptocurrency just because it went up are basically gambling."
Related Links:
First Blockchain ETFs Debut: Here's What You Need To Know
View Comments and Join the Discussion!
Posted-In: Agecroft PartnersCryptocurrency Hedge Funds Top Stories Exclusives Markets Interview General Best of Benzinga