3 Big Companies That Dominate The Organic Foods Market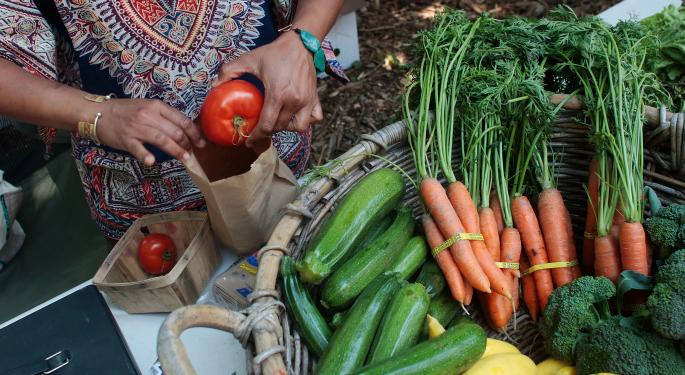 It's no secret that millennials, the current dominant drivers of market direction, are interested in food that is both fresh and healthy.
To remain competitive, corporate giants have to follow the organic food trend.
Related: 3 Reasons Why Crowdfunding Is The Investment Tool For Millennials
For most conglomerates, that doesn't mean changing the products they already have, but rather buying organic food producers that have been around for a while.
Companies with market caps of more than $5 billion, like WhiteWave Foods and General Mills, have acquired multiple organic food producers over the years, giving them a fair portion of the organic market share.
The Wall Street Journal recently published a chart showing who owns what in the organic packaged foods markets. Here's a breakdown of which publicly-traded companies own the most market share.
1. WhiteWave Foods Company
WhiteWave Foods (NYSE: WWAV) owns two giants in the organic goods space. The first is Horizon Organic, which holds 4.2 percent of the organic market share (the most of any single brand). Horizon traditionally makes milk, cheese and other dairy products, but has expanded its product offerings to include snack crackers and macaroni and cheese.
WhiteWave also acquired Earthbound Farms earlier this year. This California-based organic food producer mainly offers fruits, vegetables and salad greens, but also offers herbs and snacks like cookies and granola. Earthbound has about 1.2 percent of the organic market share, giving WhiteWave a combined 5.4 percent of the total market share.
Exciting news! WhiteWave announced an agreement to acquire Earthbound Farm, a leading organic brand. Learn more: http://t.co/fv4om7mEq2

— WhiteWave Foods (@WhiteWaveFoods) December 9, 2013
2. Hain Celestial Group
Although Hain Celestial Group (NASDAQ: HAIN) owns the most companies on the list, it doesn't necessarily have the biggest market share percentage. What it does have is the most diverse set of organic product offerings and a combined market share of 4.7 percent split between four companies.
The first Hain's company is Earth's Best, which makes organic food products for infants, toddlers and children, along with all-natural home-cleaning products. Earth's Best has 2.6 percent of the market share.
Related: This Detroit Startup Could Change The Pasta Industry
Next on the list of Hain's-owned companies is Health Valley, maker of low-sodium soups, in addition to nutrition bars, cereals and snack crackers. Health Valley owns 1.2 percent of the market share.
Hain's also owns Arrowhead Mills, which maintains .6 percent of the market share. This Texas-based company started by growing corn and wheat, but has since expanded its products to include pancake, waffle, cake and brownie mixes, nut butters and a variety of gluten-free products.
The last company owned by Hain is Garden of Eatin'. With more than 20 varieties of natural tortilla chips, Garden of Eatin' owns 0.3 percent of the organic market share.
3. General Mills
While General Mills (NYSE: GIS) is mostly known for its cereals, baking goods and snacks, it also owns a couple companies with a decent amount of the organic market share. Cascadian Farms balances out sugary cereals from General Mills with healthy, organic cereals and granola bars. The Washington-based company also offers frozen fruit, vegetables and potatoes, as well as fruit spreads, juice concentrates and relish.
Cascadian Farm maintains one percent of the organic market share.
The other General Mills company on the organic food radar is Muir Glen, maker of organic, artisan tomatoes. This Denver-based food producer offers tomatoes in a variety of different forms: diced, fire-roasted, crushed and whole. Tomato-based products like ketchup, salsa and pasta sauce are also available. Muir Glen holds 0.7 percent of the organic market share, giving General Mills an overall 1.7 percent.
4. The Others: Little Guys With Big Market Shares
There is also a myriad of small, privately-owned organic food producers who own a good amount of the market share. Nature's Path Foods (3 percent), Amy's Kitchen (2.2 percent) and Newman's Own (2.1 percent) also made the list.
View Comments and Join the Discussion!
Posted-In: Organic foodsCommodities Restaurants Success Stories General Best of Benzinga