Benzinga's February Cannabis Capital Conference Kicks Off With Keynote By Curaleaf's Boris Jordan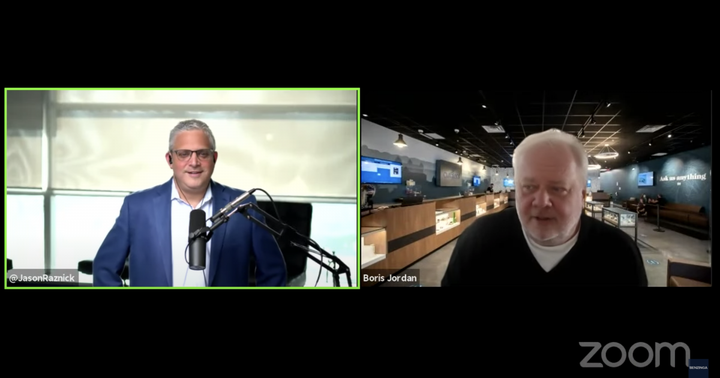 Benzinga's February Cannabis Capital Conference kicked off today with an introduction by CEO Jason Raznick followed by the keynote presentation from Boris Jordan, executive chairman of the board of Curaleaf. Raznick moderated. 
Curaleaf is currently the largest U.S. multi-state cannabis company. It operates in 23 states with 101 dispensaries under the brands Curaleaf for wellness and Select for adult use. The company expects over a billion dollars in revenue in 2021. 
A Differing Mindset
Raznick started the discussion by referencing Jordan's playbook The Dot Com Era. He asked how Jordan's former experience purchasing 8 data centers in Europe at an unpopular time may have influenced his aggressive mindset leading Curaleaf as the coronavirus pandemic hit. 
"When there's no capital available, that's when you have to invest and grow," said Jordan. "Many of our competitors retreated; we decided to use that as an opportunity to expand." 
Raznick pointed out that due to Jordan's investment timing strategies, Curaleaf has been able to buy at 10 times less than its competitors.  
Things haven't been all roses for Curaleaf, but Jordan's steady approach seems to be paying off. As Raznick brought up the vape crisis, Jordan responded, "You have to be patient, you have to be careful and you have to continue to invest." 
Steady As It Goes
With regard to expanding globally, Jordan's steadiness came into play again. He commented, "We're still predominantly focused on the U.S. But we do not want to stop our growth." 
Jordan concluded that while Curaleaf has a designated team to research international expansion options, "It has to be the right opportunity." 
When the hot topic of national legalization came up, Jordan said that while the company believes small progressions like the SAFE Banking Act could be passed within the year, Congress may not have enough votes to legalize this year or maybe even next year. 
"It's possible, it's possible that we could see legalization in these four years," Jordan cautiously predicted. 
While Curaleaf expects a slower timeline for the national legalization of cannabis, Jordan commented that Curaleaf has already been preparing for interstate commerce. "We have to be ahead of the game, we like to be ahead of the game, so we are starting to form partnerships." 
Curaleaf plans to do a national launch with multiple products later this year. To stay up-to-date on Curaleaf's growth and product line, visit https://curaleaf.com/.
To access Benzinga's Cannabis Capital Conference today and tomorrow, visit https://www.benzinga.com/events/cannabis/virtual/#reg-sec
© 2020 Benzinga.com. Benzinga does not provide investment advice. All rights reserved.
---