Why Being An Advocate Matters In The Cannabis Industry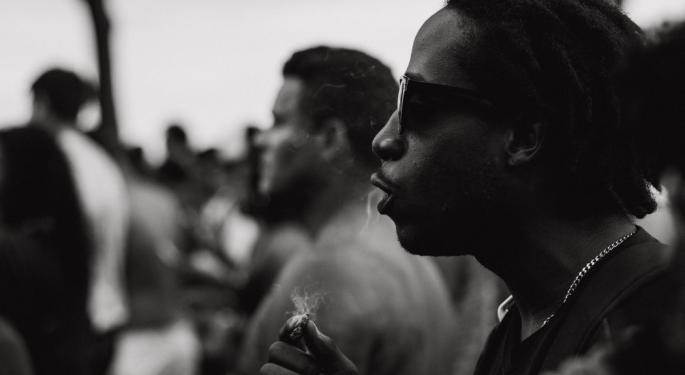 This article was originally published on NisonCo, and appears here with permission.
I didn't care about politics. I didn't feel a need to get involved with the problems of the world. Afterall, weren't my own problems enough? That all changed in early 2015 when I went through some big transitions in my life. I transferred to the University of Rhode Island where I picked up sociology as a major, and I joined Students for Sensible Drug Policy (SSDP). Sociology opened me up to all of the inequalities that exist across the world. The classes and texts opened up my eyes to a world of struggles that folks face, from economical challenges to racial issues and more. They also taught me what privilege is, including the privileges I have in American society as a white woman.
I learned an overwhelming amount of information about the inner workings of American society. Thanks to my teachings in sociology and my participation in SSDP, I began to truly understand the impacts of internalized beliefs that are deeply ingrained in our society. Inequality exists in everything that we do. It exists in our trips to the grocery store by what we're able to put in our carts. It exists at our high schools, made visible by the amount of police present. These inequalities completely shape our experiences and our lives.
Now that I had access to all of this information, I needed to do something. I needed to help people to be able to access the information that I had access to since I had the privilege of going to college, becoming a sociology major, and having the time to join an extracurricular activity.
I decided to become an advocate. Advocacy breaks down barriers. It helps us to stand in solidarity with groups of people who are historically shamed, stigmatized, or otherwise marginalized members of society. Advocacy elevates voices of people who deserve to be heard. It demonstrates that we are a collective that is focused on supporting fellow human beings. Becoming an advocate is not easy. It requires intense focus and a willingness to unlearn ideas that you were taught your entire life.
I spent countless hours during my time at college learning about how structural inequalities like economic inequality and racial inequality shaped the United States. I learned about mass incarceration and its direct connections with the War on Drugs, such as cannabis arrests disproportionately affecting people living in lower income communities, as well as black and brown people. I utilized this knowledge to continue my advocacy work at Youth RISE, largely focusing on the drug war and how it affects young people. Getting involved in advocacy work has allowed me to travel across the world to learn from folks of all continents and backgrounds and share in their struggles, while also absorbing that information and bringing it back to teach others.
In the classroom, I taught my classmates about the detriments of the drug war. In my day-to-day life, I taught my friends and family about the inequalities that persist throughout American society and beyond. I have also been able to talk to legislative representatives about initiatives such as legalizing cannabis and syringe exchange programs.
Spreading this knowledge as far and wide as possible is key to making change. In terms of the current state of the United States, it is clear that advocacy is working to help make necessary change on the legislative level – but also in people's hearts. Advocacy encourages growth and ensures that people can become better informed and work together to build a better future.
If you are interested in learning more about becoming an advocate or if you are interested in gaining more knowledge, please check out the resources below!
Learn. Grow. Support. This is what advocacy is all about.
Organizations to Check Out:
Helping Educate to Advance the Rights of Deaf Communities ("HEARD") "The only organization in the nation that supports deaf, hard of hearing, deafblind, deafdisabled, and disabled ("deaf/disabled") people at every stage of the criminal legal system process, up to and including during and after incarceration."
The Autistic People of Color Fund "Provides direct financial support to autistic people of color through individual microgrants between $100 to $500."
Black Aids Institute "Is deeply committed to exposing the systems and roots of oppression used around the world and in the US to particularly marginalize Black people as a whole."
Black and Pink "Prison abolitionist group that supports LGBTQIA and HIV+ prisoners."
Voices Of Community Activists & Leaders (VOCAL-NY) "A statewide grassroots membership organization that builds power among low-income people affected by HIV/AIDS, the drug war, mass incarceration, and homelessness in order to create healthy and just communities. We accomplish this through community organizing, leadership development, advocacy, direct services, participatory research and direct action."
Support. Don't Punish "A global grassroots-centred initiative in support of harm reduction and drug policies that prioritise public health and human rights. The campaign seeks to put harm reduction on the political agenda by strengthening the mobilisation capacity of affected communities and their allies, opening dialogue with policy makers, and raising awareness among the media and the public."
Youth RISE "We aim to mobilize youth from across the world by involving global youth leaders in our endeavours and creating initiative groups with the aim of reaching a wide number of young people who would previously have not been engaged in drug policy advocacy or harm reduction."
Students for Sensible Drug Policy "Mobilizes and empowers young people to participate in the political process, pushing for sensible policies to achieve a safer and more just future. SSDP does this while fighting back against counterproductive policies – in particular, those that directly harm students and youth."
Prison Policy Initiative "The Prison Policy Initiative is known as a go-to source for timely, actionable data about our criminal justice system. We work to grow our movement by bringing in new supporters and making existing allies more effective. Our insightful data analyses and powerful graphics are designed to reshape tomorrow's debates around mass incarceration and over-criminalization."
Drug Policy Alliance "Together we work to ensure that our nation's drug policies no longer arrest, incarcerate, disenfranchise and otherwise harm millions – particularly young people and people of color who are disproportionately affected by the war on drugs."
Recommended Readings:
Are Prisons Obsolete: Angela Davis
The New Jim Crow: Mass Incarceration in the Age of Colorblindness: Michelle Alexander
How to be Anti-Racist: Ibram X. Kendi
If They Come in the Morning: Voices of Resistance: Angela Davis
So You Want To Talk About Race: Ijeoma Oluo
Gates to Freedom: Angela Davis
We Should All Be Feminists: Chimamamnda Ngozi Adichie
The Uses of Anger: Women Responding to Racism: Audre Lorde
Recommended Podcasts:
Recommended Movies/Shows/Documentaries:
13th
Crime + Punishment
When They See Us
Just Mercy
Dear White People
I Am Not Your Negro
Read the original Article on NisonCo
photo via unsplash
Benzinga's Related Links:
View Comments and Join the Discussion!
Posted-In: advocacy industryCannabis Politics Markets General Best of Benzinga