A Snapshot Of America's Medical Marijuana Markets: Connecticut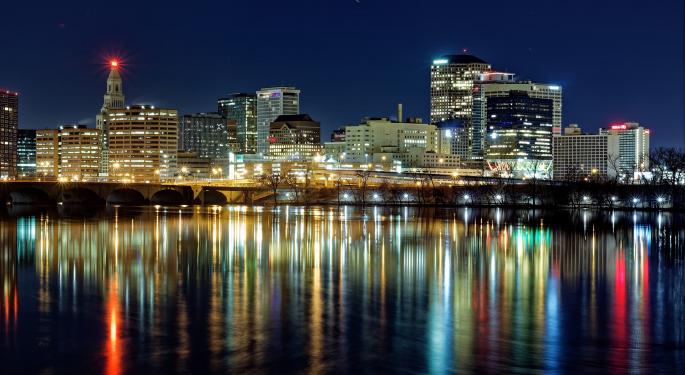 Like several of its neighboring Northeastern states, Connecticut has teetered on the verge of legalizing adult-use cannabis laws in recent years.
The state Senate passed HB 5389 in 2012, legalizing medical cannabis. In the years since, the state of 3.6 million residents has seen patient enrollment reach upwards of 42,000 as of July 5, 2020.
The Constitution State currently operates 14 dispensaries and four licensed producers.
In 2018, state medical spending reached $83 million, according to data from Arcview Market Research and BDS Analytics. That figure is expected to dip to $71 million by 2024, with adult-use — if passed — reaching $265 million.
Not So Satisfying Medical Market
Though in operation for several years, Connecticut's medical market leaves some in the space underwhelmed, according to some in the state's market.
Cannapreneur Partners co-CEO Todd Sullivan operates out of nearby Massachusetts, where he keeps a close eye on several markets, including Connecticut. The serial entrepreneur, who recently added Shark Tank investor Kevin Harrington as an advisor and ambassador, doesn't believe Connecticut's laws adequately serve any aspect of the supply chain.
"It's funny because Connecticut was a relatively early adopter of medical cannabis, but today the laws don't adequately serve patients, promote job growth, close gaps in the state budget or inspire investment opportunities," Sullivan told Benzinga.
He also believes qualifying conditions are too limiting by covering just debilitating conditions.
"The medical market is far too limiting, which only hurts patients, hampers business growth and stagnates investment opportunities and capital needed in order to move the market forward in a healthy or responsible way," Sullivan added.
In June, the state significantly opened up access by adding chronic pain to its conditions list. It's forecasted the inclusion could double the state's enrollment figures.
The recent addition follows similar action in October 2019 that saw five conditions, including Tourette syndrome and intractable neuropathic pain, he added.
Qualifying conditions aren't the only concerns for those operating in the space. Kebra Smith-Bolden, a cannabis nurse who oversees six CannaHealth medical cannabis certification locations, detailed various improvement areas.
Smith-Bolden said the elimination of a $100 registration fee and the allowance of delivery services would be welcomed changes. Home cultivation was a particular point as well.
"I would like to see patients afforded the ability to grow their own medicine with reasonable limits," Smith-Bolden said. She recommends a seven to ten plant cap per patient and a program aimed at teaching plant cultivation.
Because the market is underserving patients, the industry lags, according to Sullivan.
Still, Sullivan will continue to monitor the state, but would rather focus on markets "that have taken the time to truly understand the value of opening up the marketplace for not only patients, but to adults as well, to promote businesses, add jobs and generate tax dollars."
The Future of Adult Use Remains Uncertain
A March 2020 poll of residents saw over 63% supporting the end of cannabis prohibition. That said, Smith-Bolden and Sullivan believe Connecticut will take some time before implementing adult-use laws.
CannaHealth's Smith-Bolden cited the COVID-19 pandemic for delaying the discussion and potential vote by creating a shortened 2020 legislative session. The cannabis nurse believes it will take three or four years before recreational laws are adopted in the state.
Cannapreneur Partners' Sullivan didn't give a time table. Instead, he stated that more lawmakers need to become educated on the issues.
"Too many are failing to see the value of having an adult-use program in terms of job creation and tax dollars that would funnel into the state's economy with an expanded adult-use program," Sullivan said of state lawmakers.
Most recently, in March, Gov. Ned Lamont did renew efforts to put through legislation. However, nothing advanced to Lamont's desk for his signature.
"We remain hopeful, but it seems unlikely that the adult-use bill will pass at this point unless more lawmakers do their homework and get educated," Sullivan said.
Related Links:
Curaleaf Acquires 3 Arrow Alternative Care Dispensaries, Becomes Vertically-Integrated In Connecticut
Curaleaf Posts Record Earnings, Takes Over Three Connecticut Dispensaries
View Comments and Join the Discussion!
Posted-In: ArcView Market ResearchCannabis Government Health Care Exclusives Markets Interview General Best of Benzinga