'Psyched': Compass Closes $80M Series B, Danish Scientists Discover Method For Producing Psilocybin From Yeast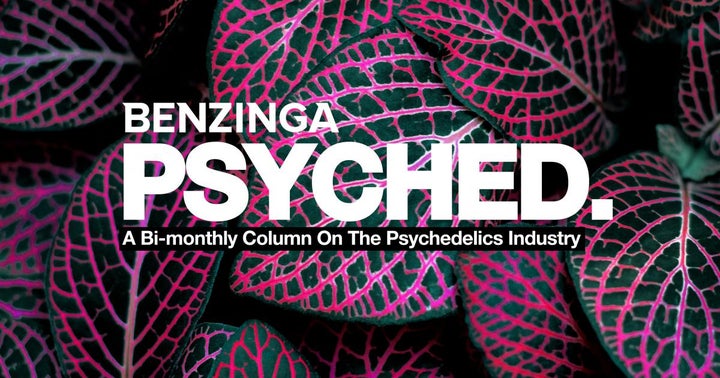 Welcome to Psyched, a bi-monthly column covering the most important developments in the industry of medicinal psychedelics. We hope you follow us periodically as we report on the growth of this exciting new industry.
CaaMTech Launches Research Collaboration With National Institutes of Health
Psychedelics research company CaaMTech announced on May 7 it has begun a Cooperative Research and Development Agreement with the Designer Drug Research Unit at the National Institute on Drug Abuse (NIDA).
The goal of the agreement is to research synthetic tryptamine-based compounds. Psilocybin, DMT and ibogaine are considered naturally occurring tryptamine-based compounds. This research is aimed at their synthetic counterparts.
"We are eager to work with NIDA to eliminate ambiguity in psychedelic research through quantitative science with precise amounts of rigorously characterized compounds," said Dr. Andrew Chadeayne, CEO of CaaMTech.
Under the agreement, CaaMTech will provide the research institutes with purified tryptamine-based compounds from its own compound library, as well as advice and data support.
Using these compounds the Designer Drug Research Unit at NIDA will assess the pharmacological target profiles and efficacies, pharmacokinetic profiles, behavioral efficacies, and physiological effects of synthetic tryptamine-based compounds in in vitro and in vivo tests.
Scientists from Denmark University Find New Method of Producing Psilocybin from Common Yeast
A research group at DTU Biosustain, the Center for Biosustainability from the Technical University of Denmark released a study proving a novel method of producing and extracting psilocybin from yeast.
Psilocybin is commonly extracted from psilocybe mushrooms. This new method could result in a simpler and more cost-effective way of producing the compound.
"It's infeasible and way too expensive to extract psilocybin from magic mushrooms and the best chemical synthesis methods require expensive and difficult to source starting substrates," said Nick Milne, former Postdoc at DTU Biosustain and CSO and Co-founder of Octarine Bio.
According to Milne, there's a need to bring down the cost of production for psilocybin and to provide a more consistent supply chain, if the compound is expected to become widely available for patients.
Although the production of psilocybin from bacteria is not a new notion, the scientific group presented the solution of using Saccharomyces cerevisiae -the common yeast used for home baking- as simpler and less expensive than other bacteria formerly used for the process, like E. Coli.
"Our interest is not only to make kilogram scale production of psilocybin but to use the biological machinery to make new derivatives that aren't available today," said Nick Milne.
The group stated that the research still needs to overcome new challenges in order to be able to take this method of production to a large scale.
Compass Pathways Secures $80 Million Series B Round For Psilocybin Research
COMPASS Pathways, a mental health care company under the portfolio of Atai Life Sciences, announced on April 27 the successful closing of a Series B investment round of $80 million.
The funds will be used to expand the company's ongoing research program for treatment-resistant depression therapy with psilocybin.
The company said it's currently executing a large-scale psilocybin therapy clinical trial in 20 sites across nine countries in Europe and North America.
"This fundraise shows that our investors recognise this urgent need for innovation in mental health," said George Goldsmith, CEO and co-founder of Compass Pathways.
Aside from Atai, some of the round's investors include the McQuade Center for Strategic Research and Development, Founders Fund, Able Partners, Camden Partners Nexus, Perceptive Advisors, Skyviews Life Science, and Soleus Capital.
New York Legislator Introduces Bill To Decriminalize Psilocybin
Linda Rosenthal, a democrat assemblywoman from New York, introduced a Bill on May 4 meant to decriminalize psilocybin across the state.
A10299 proposes the elimination of the psilocybin compound from the state's list of scheduled substances.
Rosenthal is known for her support of cannabis legalization. The Bill's language is not comprehensive, in that it doesn't discuss the possibility of legalizing psilocybin mushrooms, just the psilocybin compound. Under this bill, psychedelic mushrooms would continue to be illegal and they also include psilocin, another Schedule I substance.
Although decriminalization is just a small step towards the goal of legalizing and regulating the compound for medical use, the fact that the bill was introduced by a legislator instead of an activist group marks a strong start for the legalization of psilocybin in The Empire State.
Psychedelics Documentary To Launch on Netflix Featuring A-List Celebrities
"Have A Good Trip: Adventures in Psychedelics" is an upcoming Netflix (NASDAQ:NFLX) documentary written and directed by Donick Cary and produced by Mike Rosenstein. The film will debut on Netflix on May 11.
"Have A Good Trip explores the pros, cons, science, history, future, pop cultural impact, and cosmic possibilities of hallucinogens," said the movie's official statement.
The film features interviews and reenactments by Ben Stiller, Adam Scott, Nick Offerman, Sarah Silverman, Ad-Rock, Rosie Perez, A$AP Rocky, Paul Scheer, Nick Kroll, and Rob Corddry.
"What started as a fun idea — get celebs to share their trips and then re-enact those with animation and live action shorts — turned into much more," says director Donick Cary, who previously worked as a writer for "Late Night with David Letterman" and executive producer for "The Simpsons", "New Girl," "Bored to Death," "Silicon Valley," and "Parks and Recreation."
While the documentary focuses more on the anecdotes than the science, it can be viewed as a positive step towards getting psychedelics into the public conversation.
Photo by Valentin Salja on Unsplash, edited by Natan Ponieman.
© 2021 Benzinga.com. Benzinga does not provide investment advice. All rights reserved.
---