5 Ways Cannabis Companies Use PR To Succeed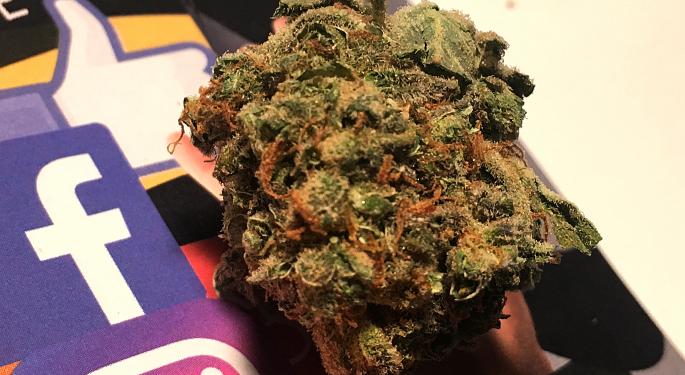 As competition in the legal cannabis industry intensifies, participants are finding marketing and public relations key to staying at the front of the pack.
PR And Marijuana
Branding allows a company to communicate their identity to customers, and PR helps cannabis companies net media coverage, reach customers, build a reputation and even attract investors.
"Public relations is at the core of any brand or marketing strategy. It matters not how sophisticated and engaging you consider your brand story. The public has its own mind, and it is their perception of your culture and value proposition that ultimately determines success," said Evan Eneman, co-founder and former managing partner of Snoop Dogg's fund Casa Verde Capital, co-founder of ELLO and founder of Fiorello.
Branding As A Differentiator
If there's a single reason branding is essential in the cannabis sector, it's that each company is more or less selling the same product, experts told Benzinga.
Most successful companies have great names that are easy to remember: think Leafly, MedMen (OTC: MMNFF) or Flowr.
"As the cannabis industry matures, branding will become more and more important. It is starting to be a given that people expect the product to be high quality — that's just assumed," said Leafwire CEO Peter Vogel. "To differentiate in a crowded, competitive marketplace, companies are going have to focus more on building a recognizable and consistent brand that will stand out on the shelves."
A quality product is only half the battle for a cannabis company, said Cynthia Salarizadeh, managing partner of KCSA Strategic Communications and CEO of AxisWire.
"The other half is getting attention and building trust," she said. "To do this, you need to utilize the media to generate awareness. Cannabis can be a tricky landscape to navigate for press coverage. Engage intelligent and strategic communications through experts in this field."
Media Coverage Is Essential
Journalists covering cannabis industry can't always stay on top of everything and be informed of every new company or new product that enters the market. That's where PR reps come into play.
"Cannabis companies need to hire publicists who are passionate about weed themselves," said Jonathan Hay, a publicist and music producer who's now working on the hip-hop albums "The Hoodlum Comedy Club" and "Jail Tattoos."
"If your publicity firm doesn't get cannabis culture, it won't be able to come up with creative ideas to strategically market your marijuana product, either."
Reaching Customers
In the age of social media, it is paramount for a cannabis company to have dynamic Facebook (NASDAQ: FB), Instagram, and Twitter (NYSE: TWTR) accounts that are constantly updated and always interacting with potential customers.
Yet the gray areas are many with cannabis and social media, and the space requires professionals with the know-how to navigate social media platforms without being banned or suspended.
Cannabis companies must constantly monitor social media in order to see how their brand is perceived and be ready to "mitigate the considerable risk presented by the dissemination of false, misleading or unflattering information," said ELLO and Fiorello's Eneman.
"Today's complex digital landscape virtually guarantees that information about your company — good or bad — will emerge in unpredictable ways. Social media, blogs and message boards represent just a few of the non-traditional media outlets that could be influencing public opinion of your brand."
Related Link: Facebook And Instagram's Anti-Weed Stance Frustrates Cannabis Entrepreneurs
Publicist Hay suggested that diligent demographic research with "old-school" focus groups is still important.
"Companies need to focus on the holistic approach of using natural remedies for medical pain management. Creativity is required. If you are a company and you got the budget, go big or go home," he said. "Get Drake or Tekashi 6ix9ine so that your campaign will immediately make a cultural impact. It's as simple as a social media share from one of them, specifically on Instagram, that can break your product all across the world overnight."
Reputation-Building
Billionaire investor Warren Buffett once said: "It takes 20 years to build a reputation and 5 minutes to ruin it."
Few, if any, cannabis companies are 20 years old. That means they have the opportunity to start building their reputation now.
"It is essential to take a proactive approach to collaborating with media outlets to shape public understanding of your company and the value you provide," said ELLO's Eneman. "A healthy PR relationship helps distinguish you from the competition and raises your profile among a broad audience."
Press releases are only one piece of a PR strategy. When cannabis reporters are looking for expert sources and find them through PR reps, it's another piece — so-called "earned media."
"Media coverage not only helps gives your company exposure to a wide targeted audience; it can also increase your level of credibility to clients," Tess Woods of Tess Woods PR told Benzinga.
"The media links can in turn become great marketing tools to increase visibility and build the platform of your executives as leading industry thought leaders."
Attracting Investors
Reputation is important not only in generating sales, but in attracting investors.
What is commonly known as socially responsible investing, or SRI, has surged in recent years.
A survey of 80 investment managers with $550 billion in aggregate hedge fund assets revealed that 40 percent had already hired or were in the process of hiring an SRI specialist, according to Financial Times. Moreover, those surveyed said the demand for SRI from clients increased 50 percent this year.
"Modern investors are media-savvy, fiercely competitive and thirsty for any information that provides an edge. It is essential to implement and maintain a policy of transparent, forthcoming communication to guide the perception of your company," said ELLO's Eneman. "Taking control of the narrative surrounding your company, whether good or bad, helps engender fundamental trust within the investor community and can provide a variety of long-term benefits."
To sum it up: branding is just one aspect of how a public relations campaign can help grow a cannabis business. Media coverage, reputation-building and customer communication are equally important, and cannabis companies are finding the hiring of PR specialists worth the cost for these reasons.
Javier Hasse contributed to this report.
Posted-In: Cynthia Salarizadeh Evan EnemanCannabis Education Markets Media Interview General Best of Benzinga
View Comments and Join the Discussion!