Friday The Thirteenth Brings Various US Reports And An FOMC Speaker
Friday the thirteenth. Some say it is an unlucky day. It happens that this Friday the 13th, a lot of reports will be released at 8:30 AM ET. FOMC Committee Member and Federal Reserve Bank of Boston President Eric Rosengren will also be speaking. With all this activity, there may be some movement in the markets.
The reports being released include Consumer Price Index (CPI), Core CPI, and Retail Sales along with several others. Almost all of the reports are forecasting an increase from previous numbers, with only Core CPI remaining unchanged. Taken from the perspective of the consumer, CPI measures the changes in the price of goods and services. It is a key indicator of purchasing trends and inflation. Trading the news can be profitable if the right strategy and proper risk management is employed.
Strategies to consider are Iron Condors utilizing Nadex Spreads and Binary Butterflies. The Iron Condor allows the market to range and then pull back, which is how the market can react to news. The Binary Butterfly would be advantageous should the trader determine the market might remain in a channel in reaction to the news.
An Iron Condor is set up by simultaneously buying and selling two spreads with the floor of the sold spread meeting the ceiling of the bought spread. The market can range between the spreads and pull back or simply remain approximately where it was at entry. Profit is made when the market settles between the two spreads.
The following image details the setup of an Iron Condor.
For a larger image, click HERE.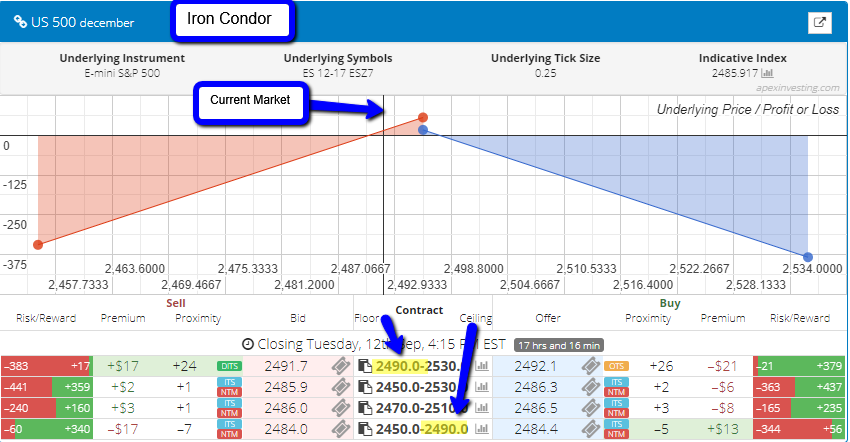 A Butterfly is similar to an Iron Condor wherein two contracts are simultaneously bought and sold on the same instrument with the same expiration time. One is bought below the market and another one is sold above the market. As long as the market remains between the two contracts, both are profitable.
The image below shows some examples of Binary Butterflies.
Click HERE for larger image.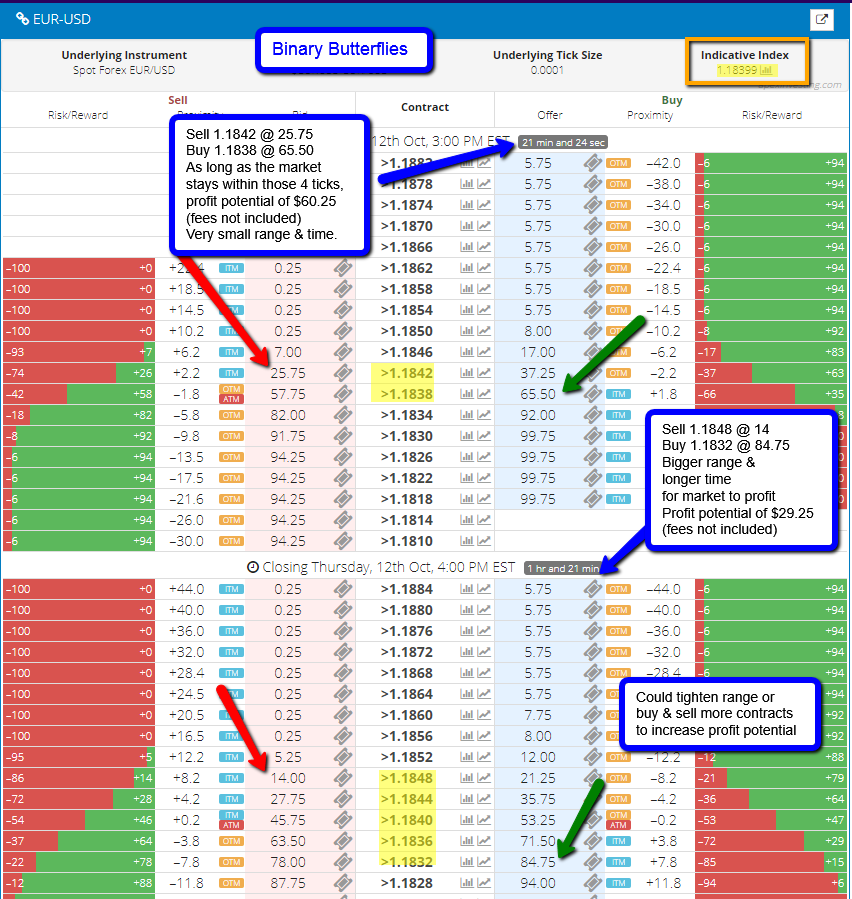 News has the potential to move the market. However, it is important to never force a trade. Once a trade is entered, protect any profits and cut any losses by adhering to strict risk management rules. Always know where the trade will be exited before it is entered. Have clearly defined stop losses in place as well as the points at which to take profits.
All day trading education is free at Apex Investing Institute.
The preceding article is from one of our external contributors. It does not represent the opinion of Benzinga and has not been edited.
Posted-In: Binary Options Education Eurozone Futures Commodities Options Forex Markets