News Trade Opportunity When U.S. Purchasing Managers Index Released
The Institute for Supply Management will release the U.S. Purchasing Managers Index Thursday at 10:00 a.m. ET. The numbers are based on a survey of 400 purchasing managers in the manufacturing industry asked to rate the level of business conditions. Businesses must react quickly to changes in market conditions. Therefore, this report is considered a leading indicator for economic health.
Based on previous market reaction to this monthly scheduled news event, the average move for EUR/USD is around 30 pips. With this news, the market tends to make a move and then pull back, which makes for a perfect Iron Condor strategy opportunity. The strategy can be set up using two Nadex EUR/USD spreads for a profit potential of $30 or more combined between the spreads.
One spread is bought below the market with the ceiling where the market is trading at the time, and one spread is sold above the market with the floor where the market is trading at the time. To keep the risk realistic and the trade to a 1:1 risk reward ratio, stops should be placed where the market would hit 60 pips above and below. Using the Apex spread scanner designed to trade Nadex spreads, one can quickly find the right spreads for the strategy. See below for a layout of the spread scanner.
To view a larger image click HERE.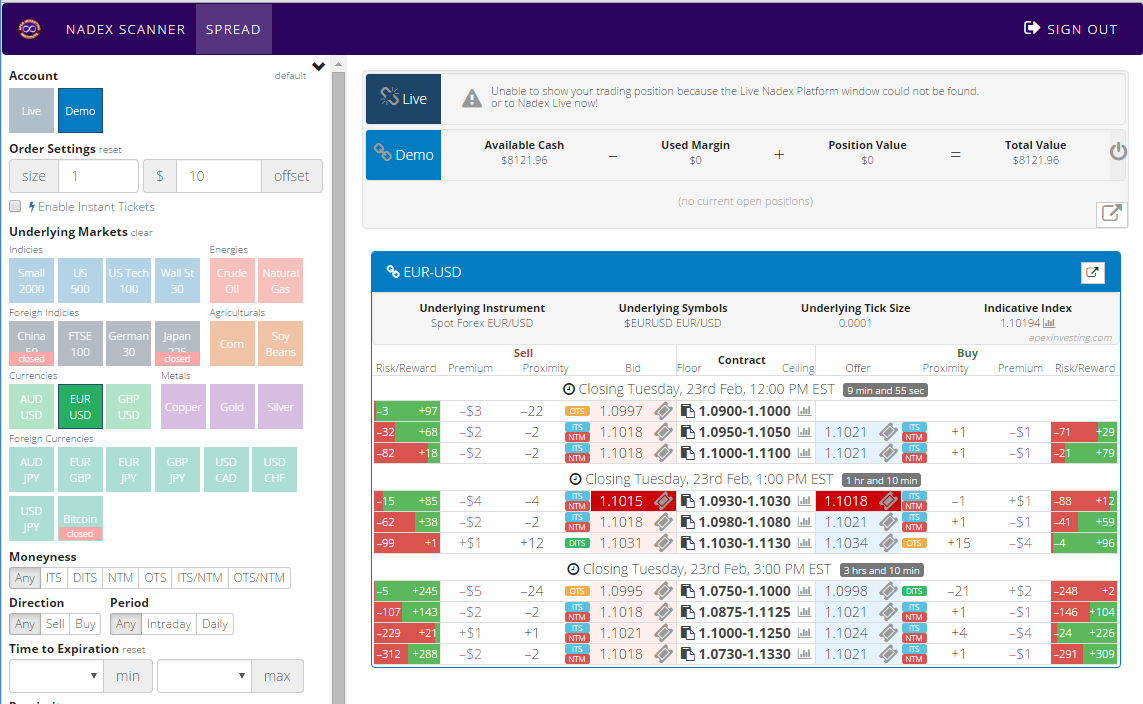 This trade can be entered at 9:00 a.m ET for 11:00 a.m. ET expiration. The trader simply uses the filters to bring up the EUR/USD spreads expiring at 11:00 a.m. ET. To find the right spreads, look in the risk/reward columns on the sell and buy sides, and find a spread for each side with $15 or more reward. Then, simply verify all the ceiling/floor parameters and enter the order.
Maximum profit is when the market makes its move, pulls back and is at center between the spreads at settlement. If the market is anywhere between the breakeven points, the trade will make a profit.
For free education on day trading and free access to the spread scanner, visit Apex Investing.
Posted-In: Binary Options News Education Eurozone Futures Commodities Options Forex