Trading In The 'Dark Zone' And Why P/L Is Not Necessarily Accurate
There is a time during your trading day that happens every hour when trading Nadex Spreads and Binaries.
It's called "The Dark Zone." It usually happens during the last two minutes before expiration. If you have ever held a trade through expiration, you have experienced The Dark Zone. It can be a very scary time, if you don't know a few things that are taking place at that time.
Those details will be addressed in a few moments, but to get to that point, let's look at a trade done live on the Diagnostic Trading Hour, a live TV show hosted by Darrell Martin on TFNN.com.
On the show, leading up to doing the trade, a couple of markets that might have potential trades that fit the criteria were looked at. Ten minute bars were used on these charts.
To help in deciding on the best trade, the momentum volatility predictor trend lines or MVP, was used.
In order to place the trade, confirmation was needed by having the bar break the low of the previous bar. There was a potential trade on Gold. Next, the chart was checked and the binary scanner was pulled up to see what was available. There were a couple of strikes that might work: One to sell at 1302 and another to sell at 1305.
The market was trading at 1304.5, so 1302 was ruled out. This strike price was too far away from where the market was currently at, there was no value to go with it and time was short. The trade is filled for $31, expecting the market will stay at or below 1305.
Take profit is set for $11, which will give a $20 profit. The best buy back would be at $4, but there wouldn't be any liquidity, so it would be best to take profit and then get out, freeing up your money for the next trade.
By looking at time and sales, you can see what effect these things have on the trade. When you check the charts, you can see that Gold has been in a serious downtrend from this morning. There is a magnet level which makes you a little more cautious and ready to hop out, if needed.
The trade has three minutes left.
At this point, many traders would just get out, before the trade enters The Dark Zone. Suppose you opt to stay in. The liquidity is gone during the last two minutes. You glance at P/L, (Profit/Loss), and it says the trade is down $63. But is it really? It looks like you have a massive loss! Look at the image below.
To View image click HERE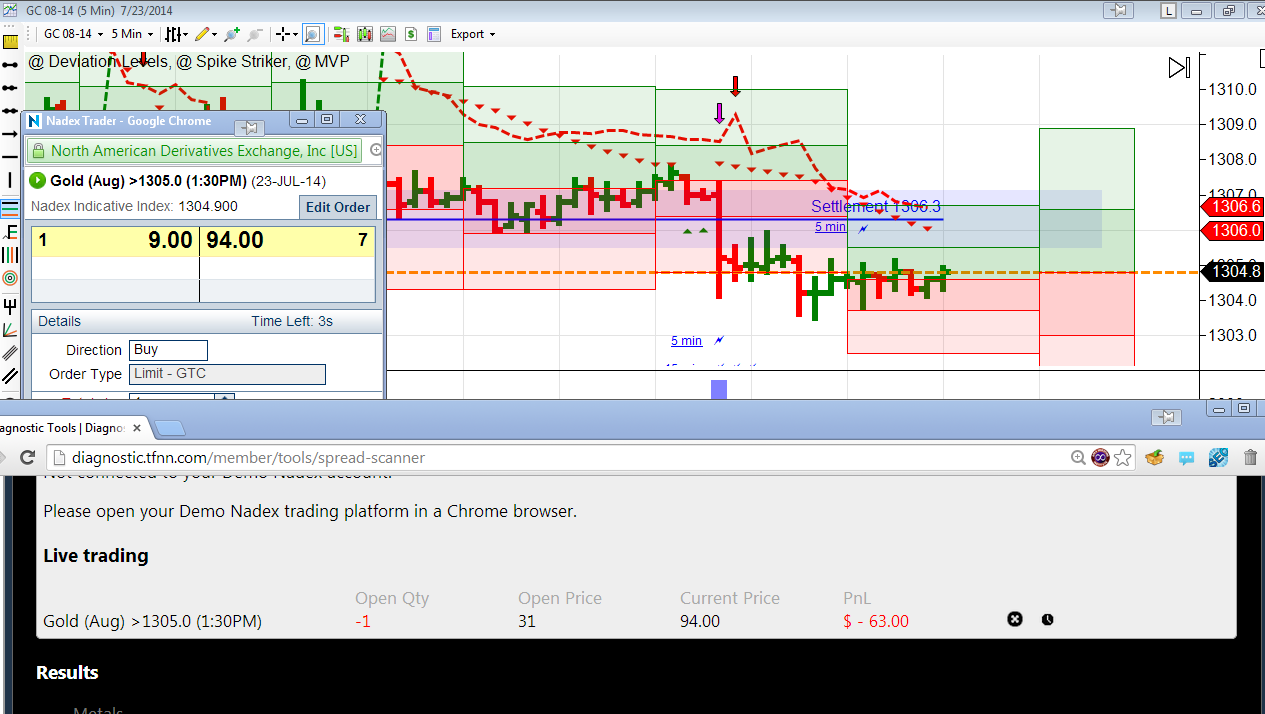 It shows that the buy price is $94, which means that the other buyers are trying to sell at $94. This could be that scary situation where your heart races and you think you've lost it all! But that may not be accurate.
The reason that it looks like you have this P/L loss is because it is calculating the buy price on what is in there, not on what is really happening. If you look at the chart and the ticket in the above image, you will see that the trade is actually ITM at that moment.
To avoid another scary situation in The Dark Zone, let's cancel the take profit order. If the take profit order is just left hanging out there, some buyer can snatch it up for a free $11 that no trader really wants to give them. Once The Dark Zone is entered, there's little chance of getting the order filled in a beneficial way.
While in The Dark Zone, with the trade still there, those two minutes can seem like an eternity! It's definitely ITM, but will it settle in your favor? You wait on pins and needles to see how it turned out. Or if you've managed your risk, you're not on pins and needles. Just waiting. You know how much you can lose and you're comfortable with that amount.
Check out this screen shot to see how the trade played out.
To view image click HERE.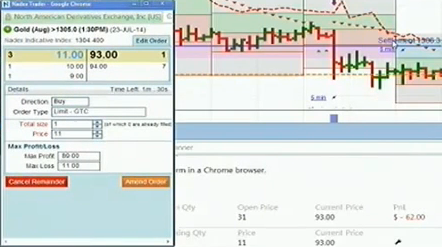 The payout amount was $100, but did the trade really make $100? Not counting fees, when the trade was entered, $69 was put down because the contract was sold for $31. When the contract settled, the $69 was given back and the profit was $31.
This wasn't a perfect trade, but it was an excellent example to explain that the amounts listed in P/L, can be misleading, especially during The Dark Zone.
If you would like to learn more about understanding P/L and The Dark Zone, go to www.apexinvesting.com. Apex Investing Institute Offers free education, and free access to the Nadex Binary and Spread Scanner Analyzers. In a supportive learning community of seasoned as well as up-and-coming traders, traders of all levels can learn how to trade Nadex binaries and spreads as well as futures, forex, stock and options, and gain an edge for successful trading overall. Member traders are invited to trade in the rooms, take advantage of trade signal services, have key indicators and access the Apex Forum, which content is updated daily and includes over 7000 members.
The preceding article is from one of our external contributors. It does not represent the opinion of Benzinga and has not been edited.
Posted-In: apexinvesting binary binary charts binary options binary scanner binary signalsBinary Options Success Stories