How To Never Get Stopped Out Of a Trade Using Nadex Spreads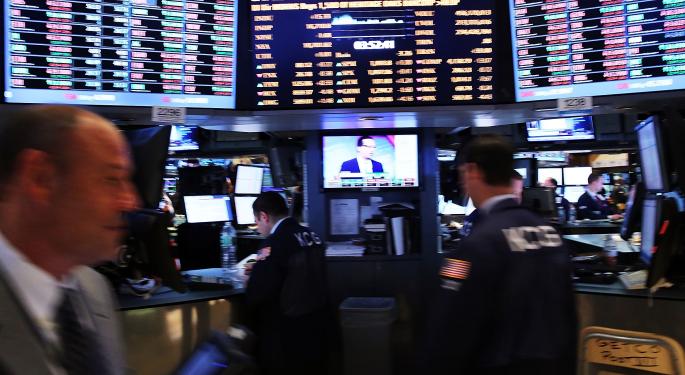 Have you ever experienced market whipsaw?
Say that, while looking at this GBP/USD chart, you see a trend line -- the market's trending down, you think the market's going to bounce right off that trend line and keep trending down. You go for a target down where you saw a lot of volume, and you put your sell on to target the 1.558 level.
Practicing good risk management, you put your stop loss on like a good trader. You hate getting stopped out so you even give the market plenty of room, with a fairly large stop of 65 pips. Now this doesn't have to be an FX pair; it can be anything: a stock, futures, just so that it's a market that moves up and down.
To view this image clickHERE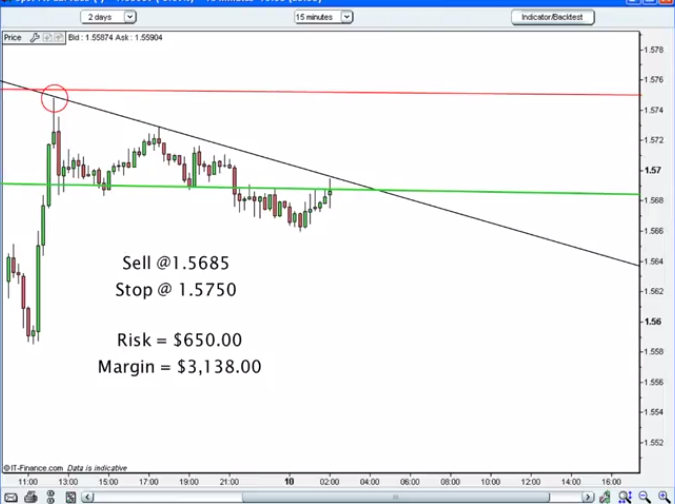 You sold it at 1.5685 and put your stop at 1.5750. So your risk is $650 and the margin for the account to do this trade is $3138.  Then the market does this.
To view this image clickHERE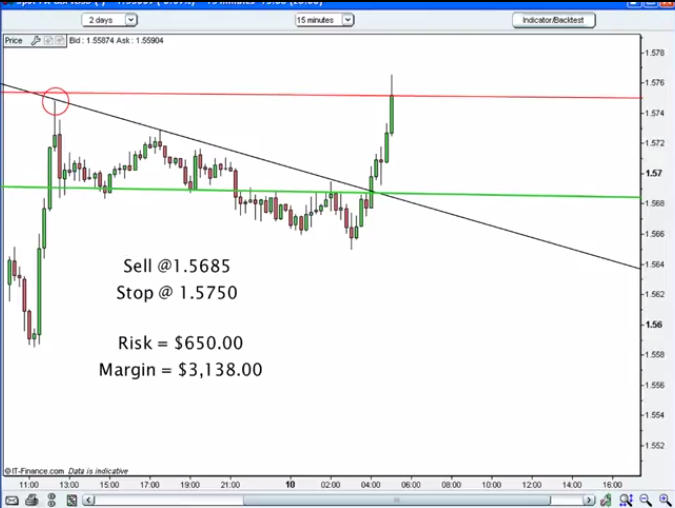 Has that ever happened to you? If you have traded at all, then the answer is most likely, yes. Now, the entire time the market is going up against you, you are contemplating whether you should move your stop, thinking the last time you did that, it didn't work, but then the last time before that, it did, and it's a vicious circle in your head.
You decide to leave it, and get stopped out, but then you think, should you go long now? You decide to do nothing now, then it does what is shown below, and you watch it, sitting on your hands.
To view this image clickHERE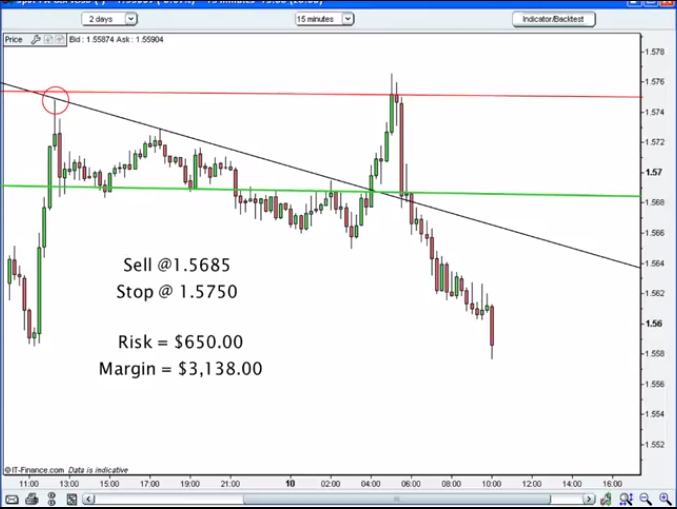 Now, you are thinking, "I knew I was right! I should have stayed in."
Next time though, if you move your stop or you don't have one, of course that's when the market will just keep going against you.
That's what market whipsaw is. Nadex spreads eliminate market whipsaw because they give you more time to be right.
What is a Nadex spread? It's like anything else you are used to trading, if you think it's going to go up, you buy, if you think it's going to go down, you sell. They look like a box when you draw them on your chart. Spreads have a floor and a ceiling, and since you can't lose or profit past the floor and ceiling, your max possible loss, is capped and defined up front, before you even enter.
Related: What Is A Nadex Spread?
Below is a spread drawn on the same chart, for 10 contracts sold at the price of 1.5665. It is an 8-hour Nadex spread, with a ceiling of 1.5700 and a floor of 1.5450. Because you sold the contracts, your total risk is the distance between the ceiling and your price, or .0035.
On Nadex the lowest increment on a market is equal to 1 tick/pip. Pip in this case, because it's an FX pair, and every tick/pip is valued at $1. Therefore, .0035 is 35 pips multiplied by 10 contracts equals 350 or $350 risk and margin.
Your possible max profit is the distance between your price and the floor or .0215. In Nadex pips that would be 215, or $215 multiplied by 10 contracts equals a possible max profit of $2150.
To view image clickHERE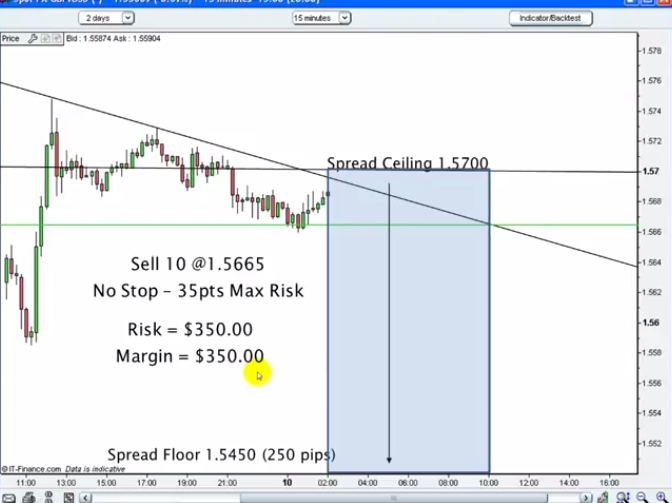 Now in this case, in the Nadex spread, you have until expiration time for your trade to be profitable. So when the market goes up, you don't get stopped out, there is no stop. Your total max loss would still only be $350 with 10 contracts, because you cannot have additional loss past the ceiling.
But why would you exit? After all, you have 8 hours for this spread to be profitable. Staying in the spread, the market turned and continued its path down and you got to profit. The Nadex spread eliminated your market whipsaw.
Now looking at the chart below, you can see the spread expired at 1.5589. The distance between your price and the expired price is .0076, or 76 Nadex pips on 10 contracts that's a profit of $760.
To view image clickHERE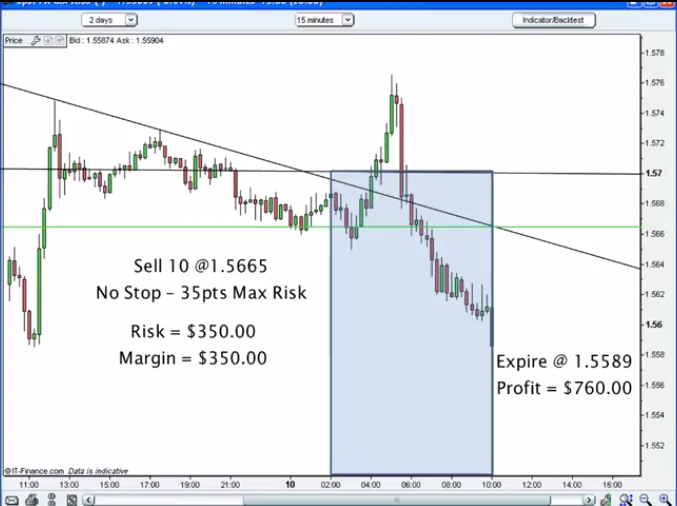 As you can imagine, there are various strategies and ways to trade spreads. They can be traded in any market condition; they can be used to trade the news, to hedge other trades, or just to trade directionally. They can be traded around the clock on many different markets.
For more information on Nadex spreads and how to trade them and get access to the free spread scanner, go to www.apexinvesting.com. To practice trading spreads on a free demo account go to www.nadex.com and click on trading demo trading account.

Apex Investing Instiutute offers free education, effective tools and a room community of seasoned as well as up and coming traders. Together in a supportive environment, along with tools to trade with ease and convenience, traders of all levels can learn how to trade Nadex binaries and spreads as well as futures, forex, stock and options, and gain an edge for successful trading overall. To learn more about how to trade binary options in-depth and for binary options signals, trading strategies, tools and trade rooms see ApexInvesting.com, a service provided by Darrell Martin.
Posted-In: Binary Options Education Futures Commodities Options Forex Markets Reviews