How Amazon Actually Helps Keep The US Postal Service Alive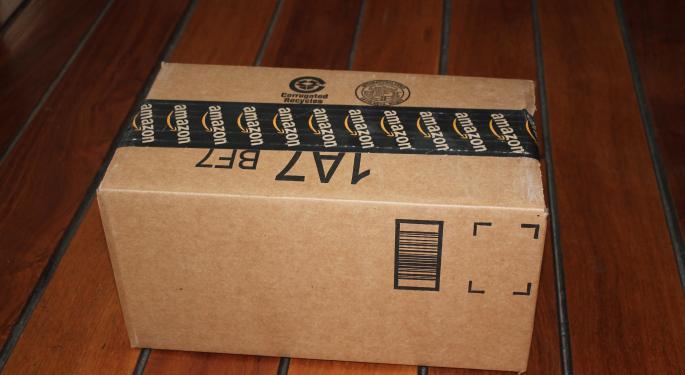 An Axios report emerged Wednesday of Trump's "obsession" with Amazon.com, Inc. (NASDAQ: AMZN) , and on Thursday, the president reiterated his long-held "concerns."
I have stated my concerns with Amazon long before the Election. Unlike others, they pay little or no taxes to state & local governments, use our Postal System as their Delivery Boy (causing tremendous loss to the U.S.), and are putting many thousands of retailers out of business!

— Donald J. Trump (@realDonaldTrump) March 29, 2018
Recent reports have suggested Amazon's packages are keeping the U.S. Post Office in operation.
"Not only do Amazon packages cover their own costs," a source involved with the partnership told Benzinga, "but they help keep the overall service alive."
Federal law requires that the U.S. Postal Service's package service must break even, meaning deliveries must generate enough revenue to cover the costs, and packages must contribute at least 5.5 percent of total institutional costs. Last year, packages constituted 28 percent of the total, with the segment increasing 12 percent year over year.
"Without packages, the U.S. Postal Service would have to raise prices on all other mail services," the source said.
The relationship between Amazon and the USPS is reviewed annually by the Postal Regulatory Commission, which approves costs and pricing.
The Axios report also included an interesting tidbit of the president's thinking:
"The whole post office thing, that's very much a perception he has...It's been explained to him in multiple meetings that his perception is inaccurate and that the post office actually makes a ton of money from Amazon."
A USPS spokesperson declined to comment on Trump's comment.
Be the first to get this news with Benzinga Pro. Sign up for your free two-week trial here.
Taxes
Amazon is known to collect and remit taxes in every required jurisdiction.
"[Amazon has] long supported Congressional action to solve the patchwork system of state and local laws," the source told Benzinga.
Retail
Trump's comments on retail-sector impact were also challenged by a recent Progressive Policy Institute report suggesting the e-commerce sector is adding jobs faster than the general retail sector is losing them.
In the decade following 2007, e-commerce added 355,000 jobs while general retail lost 51,000, resulting in a net gain of more than 300,000.
At time of publication, Amazon shares were trading in the green at $1,432.
Taylor Cox contributed reporting.
Related links:
Here's Why Amazon Is 'Winning The Right Way' Despite Trump's Concerns
Amazon Moving Retail Wars To An Unexpected Battleground: Physical Stores
Posted-In: Donald Trump U.S. Postal Service USPSGovernment News Regulations Top Stories Exclusives Best of Benzinga
View Comments and Join the Discussion!