What You Need To Know About Larry Kudlow, Trump's New Economic Advisor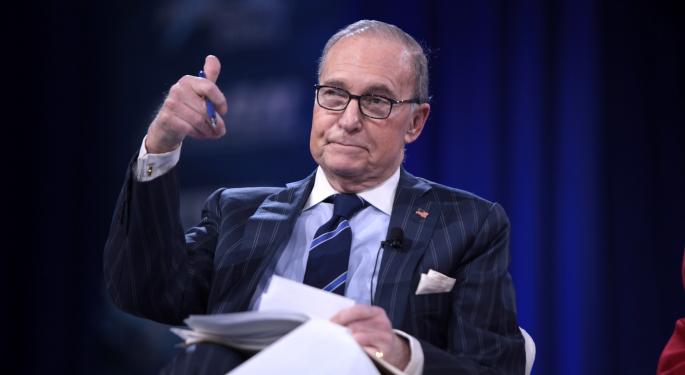 CNBC viewers are certainly familiar with President Donald Trump's new chief economic advisor, Larry Kudlow.
Kudlow has been a regular contributor to CNBC for years and even hosted his own show called "The Kudlow Report" from 2005 to 2014. But while trader's may know Kudlow's straight-shooting commentary, here's an overview of his business background and what he brings to the Oval Office.
Kudlow Resume
Kudlow is a New Jersey native with a degree in history from the University of Rochester. He has worked in the private sector as a bank supervisor for the Federal Reserve Bank of New York and has served as the chief economist and senior managing director at Bear Stearns.
Kudlow was the associate director for economics and planning during President Ronald Reagan's first term in office. He helped craft the administration's economic and budget policies.
Kudlow began appearing regularly has a host on CNBC starting in 2001. In 2005, Kudlow became the host of "Kudlow & Company," which was later renamed "The Kudlow Report."
In His Own Words
Kudlow already conducted a series of interviews this week in which he has weighed in on important economic issues. Kudlow said the U.S. needs to take a tough stance on China.
"I must say as somebody who doesn't like tariffs, I think China has earned a tough response not only from the United States," he said on CNBC. "A thought that I have is the United States could lead a coalition of large trading partners and allies against China, or to let China know that they're breaking the rules left and right."
Kudlow also expressed his believe that President Trump favors a strong dollar.
"A great country needs a strong currency," he said. "I'm not saying the dollar has to go up 30 percent, I'm just saying let the rest of the world know that we are going to keep the world's international reserve currency steady."
Kudlow has advised Trump on economics in an unofficial capacity since the 2016 election. At the 2017 Best of Breed Conference in October, Kudlow summarized the types of discussions he had with Trump.
"You are right on target with your tax cuts, sir. You are right on target with your rollback on regulations. I am very worried about you on trade. Tariffs are taxes. They hurt consumers. But on the 15 percent corporate tax, immediate repatriation, 100 percent write-offs, on expensing new investment, I am all there," Kudlow said.
Expert's Take
Other economic experts have weighed in about what investors can expect from Kudlow as well. B. Riley FBR chief market strategist Art Hogan said Kudlow will likely try to talk Trump out of starting an all-out trade war.
"He's a very thoughtful man. He certainly believes that free market capitalism is the best path to prosperity," Hogan said Wednesday.
Economic analyst and former chief economist for The Heritage Foundation, Stephen Moore, has said one of Kudlow's biggest strengths is his ability to communicate.
"One, he is a great communicator of economics, one of the best in the country, especially for the free-market ideas that Trump is mostly espousing," Moore said this week. "And two, Larry has really great relationships with members of Congress, certainly on the Republican side but also among Democrats who may disagree with him but like him."
Related Links:
After Trump's Announcement Of Steel, Aluminum Tariffs, The Sell-Side Reacts
Elon Musk's Thoughts About China, Tariffs And Import Duties: 'Like Competing In Olympic Race Wearing Lead Shoes'
Image credit: Gage Skidmore, Flickr
View Comments and Join the Discussion!
Posted-In: CNBCGovernment Education Futures Politics Economics Markets General Best of Benzinga