How Millennials Can Celebrate Halloween Within Their Budgets
Regardless of how old you are, Halloween can be a day (and night) of spook-tacular fun. Between the parties, candy, costumes and decorations, it can easily also be ghoulish on your bank account.
Particularly for young adults who are straddling multi-generational celebrations – partaking in more adult-catered festivities and kid-friendly haunts – it is easy to spend a few benjamins on October 31 celebrations.
Below are just a few ways you raise your Halloween carousing from dead as a doornail to wickedly spectral.
Get Creative With DIY Décor Around The Home
Turn your home into the neighborhood's creepiest house with a few basic supplies. DIY decorations can be just as thrilling as store-bought, will inevitably be unique and can get the whole household involved in the holiday spirits.
Make Spooky Silhouettes: Use Butcher's paper or craft paper (priced around $10 for 250 feet) to cut out silhouettes, which can easily be attached to windows with masking tape. With blinds or curtains closed behind the paper cutouts and an interior light left on, all of your windows can be transformed into shadowed pictographs.
Cost: Around $10 for 250 feet, $2 a roll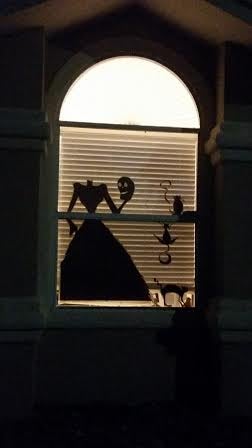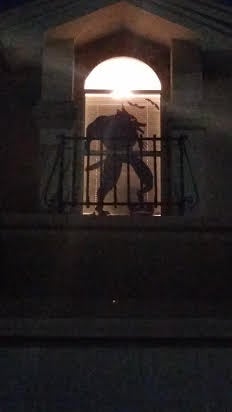 Image Credits: Rebecca Sheppard
Light The Way: Illuminate your driveway and sidewalks with paper bag luminaries, lit with flameless candles.
Cost: $1.00 for 40 count brown paper lunch bags, 36 flameless tealights for $15.
Haunting Melodies: Set the mood with drifting, haunted music from inside your home. Instead of the screeching, wailing soundtracks, search for streaming tracks of old recordings, record scratches and skips and fuzzy noises included.
Cost: Free through YouTube or similar websites, or downloadable on iTunes.
Eerie Eyes: Give your trees and bushes some terrifying eyes. Just tape a glow stick into an empty toilet paper roll with two cut circles. Place around your yard and watch your property eerily glow.
Cost: 200 glow sticks for as little as $10, "free" empty toilet paper rolls (just save the ones you already use).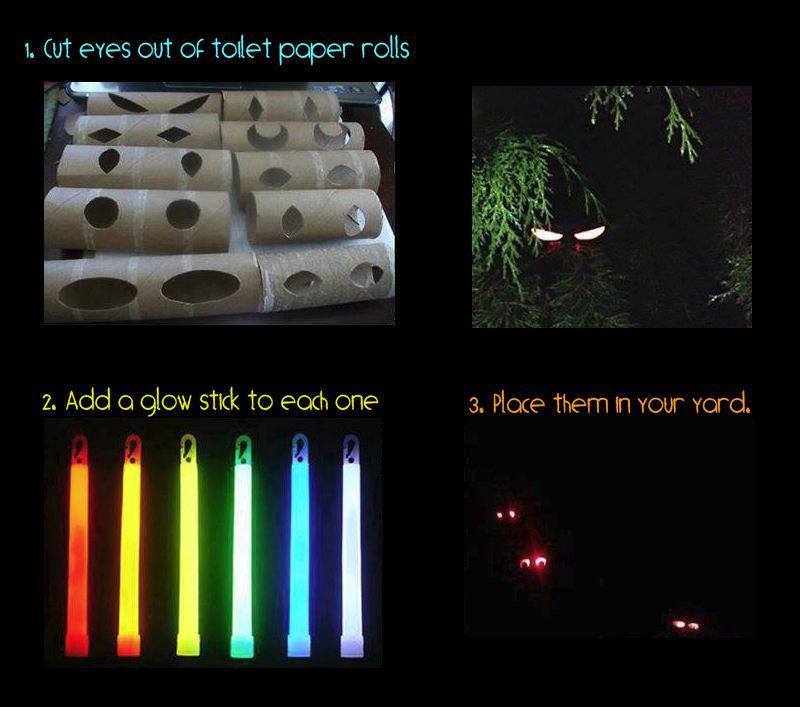 Image Credit: Just Post
Related Link: Frightening Fact? Many Millennials Plan To Spend More Than $70 On Halloween
Ghostly Costumes That Barely Cost
Even if you have gone all out in the past and purchased a ready-made costume, chances are the costume, regardless of price was of rather poor quality. Made only to last a wearing or two, costumes can lay a serious beating to your Halloween budget.
Look In Your Closet: The key to making a fabulously inexpensive costume is to use what you already have at your disposal and ramp up the creativity. Look on the Internet for ideas and go wild. It's amazing what a little bit of eyeliner and white cream-base makeup can do to turn donning a red dress and scarf from Saturday night into Frida Kahlo, a pair of black pants and tank top into Gene Simmons.
Go To Goodwill Or Thrift Stores: Check out vintage clothing or oversized items. Pay a minute portion of the typical retail price for pieces that practically beg to be part of the Bride of Frankenstein's bridal party or a haggard zombie.
Use Accessories: Have a white blouse, black skirt and red bow tie? Instant Mary Poppins if you carry a black umbrella. Black suit and sunglasses? FBI or Men In Black agent.
It might take some extra time and creative juices, but with cardboard boxes and some paint (a box of nerds candy, an order of fries, a best seller book, an old school robot, etc.), the plethora of possible costumes is astonishing. Make your costume designing a fun activity and you're sure to enjoy it more than anything you could pick up willy-nilly at the local party shop.
Related Link: Switch Witch: Small Family Business Brings Fun And Health To Halloween
Spooky Snacks
No Halloween event is complete without food. You don't need to buy fancy cakes or cookies or black candied apples to set the ambiance.
Plate Your Snacks With Purpose: By just arranging a veggie tray into a jack o'lantern, your carrots and dip can grin back and your olives can become a bat among the broccoli.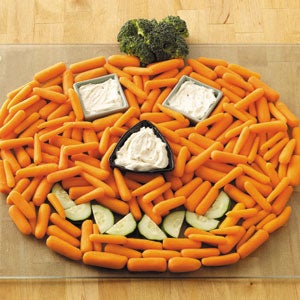 Image Credit: Taste of Home
Make A Pumpkin Cake Instead Of Buying One: Just flip a bundt cake on top of another, lather with orange frosting, and add some chocolate nibs. Two cake boxes and the necessary ingredients will cost easily a third of the price of a store bought treat.
Whip Up The Perfect Potion: Sherbet and plastic spiders, bugs or worms can make any punch bowl into a ghastly drink.
With a little creativity, any ordinary dish can become festive. Make a plan, be willing to improvise and have fun.
The most important part of celebrating on a budget is to embrace the experience – make the decorating and creating as much of an event as the actual night. When budgeting is seen as a challenge or game instead of a limitation, you can turn it into a lifelong habit.
Image Credit: Public Domain
Posted-In: Budget DIY Halloween millennials USAATopics Personal Finance General
View Comments and Join the Discussion!