Bobby Bonilla Day: How Bernie Madoff Helped Screw Over The New York Mets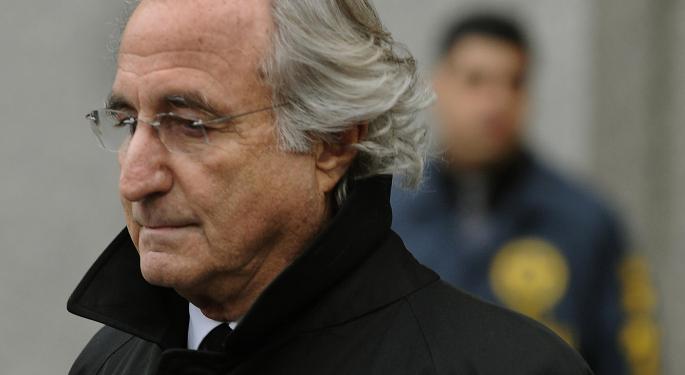 July 1 has been referred to colloquially as Bobby Bonilla Day in many circles.
Bonilla was a six-time Major League Baseball All-Star outfielder. He played for eight teams between 1986 and 2001. That included two stints with the New York Mets from 1992-1995 and 1999. The Mets are still paying him for his services.
Since 2011, Bonilla is to receive $1.2 million from the Mets every year through 2035. He actually made more today than some of the sports world's biggest stars.
Happy Bobby Bonilla Day! pic.twitter.com/4XGTrxu577

— Ashok Moore (@AshokaESPN) July 1, 2015
This is a result of an unusual deferred payment systems the Mets setup in 1999.
"It surely is a rather unusually structured buyout of a contract and certainly bears a term that is unlikely to be seen in the future," Darren Heitner, a sports and entertainment attorney, told Benzinga.
As CBS Sports laid out, "The deal was signed by the Marlins in 1996, but Bonilla was traded to the Dodgers in the 1998 blockbuster that involved Gary Sheffield and Mike Piazza. Bonilla was later flipped to the Mets. He then only played 60 games in 1999...so the Mets saw fit to get rid of him before the 2000 season instead of paying him $5.9 million that year."
This is pretty sweet deal for Bonilla. While it did require some forward thinking on his behalf, Bernie Madoff also played a big role.
Mets owner Fred Wilpon was making pretty nice returns from Madoff's hedge fund, so deferring the $5.9 million (plus interest) probably didn't seem like that big of a deal. Enter Ponzi scheme.
Madoff was sentenced to 150 years in prison in 2009; Wilpon nearly sold the Mets, a franchise he's owned a part of since 1986.
The New York Times reported in 2012, that a court-appointed trustee suing Wilpon had "evidence of the men's implausibly unyielding faith in Bernard L. Madoff's steady investment returns, and the men's dependence on those returns to help finance their businesses and deepen their personal wealth."
Unfortunately like many others, Wilpon and the Mets will be paying for their mistakes for quite some time.
Bonilla, the highest-paid player ($6 million a year) in the MLB for three years, gets to celebrate his own day.
View Comments and Join the Discussion!
Posted-In: Bernie Madoff Bobby Bonilla New York MetsSports General Best of Benzinga