The Most Dominant Two-Sport Athletes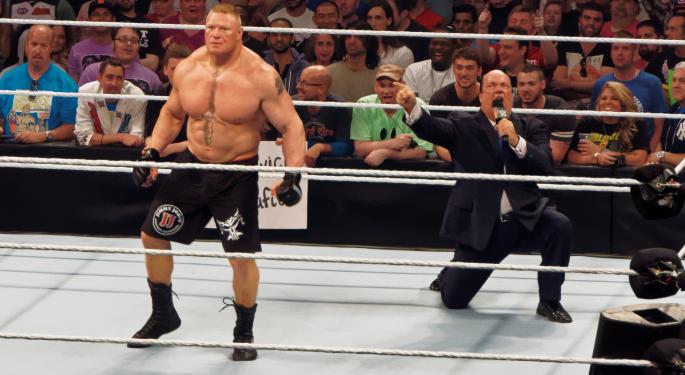 Since Brock Lesnar successfully defended his WWE Universal Championship at SummerSlam, the question is just hanging out there for fans of wrestling theater: Will he return to cage fighting and take back his UFC title?
Part of the WWE storyline involved comments Lesnar's people made that if he should lose the wrestling title, he was going back to the UFC. Presumably he'll hang in there with this wrestling thing.
'The Beast'
Lesnar's first foray with World Wrestling Entertainment, Inc. (NYSE: WWE) ran about two years from 2002 to 2004. Weary with the constant travel, he left the company and tried out for the Minnesota Vikings before embarking on a career in mixed martial arts.
During his 2008-2011 run with UFC, Lesnar won its heavyweight championship and was the biggest box office draw in history (since surpassed by Conor McGregor). He rejoined WWE in 2012 and has become one of its biggest drawing performers.
While many question whether WWE should be considered an actual sport, Lesnar's athletic ability in the ring is matched by few.
As Lesnar decides whether to go back to UFC, maybe it's time to suspend disbelief and compare his dominance with a few other athletic freaks who found superstardom in more than one athletic venue.
Related: The Most Successful WWE Superstars Of All Time
Bo Jackson
An All-Star in Major League Baseball and the National Football League, Jackson for a brief time was an even bigger star than the NBA's Michael Jordan. A three-sport star at Auburn University, (he excelled in track-and-field), he won the 1985 Heisman Trophy.
Jackson was drafted by the Tampa Bay Buccaneers but refused to play for them, convinced they were trying to sabotage his baseball career. He played most of his career for the Kansas City Royals and was known for his spectacular home runs. He later joined the NFL's Los Angeles Raiders.
During his four seasons in the NFL, Jackson rushed for 2,782 yards and made 16 touchdowns with average yards per carry of 5.4. He also caught 40 passes for 352 yards and two touchdowns. Jackson's 221 yards on Nov. 30, 1987, just 29 days after his first NFL carry, is still a record for "Monday Night Football."
In his eight baseball seasons, Jackson had a career batting average of 0.250, hit 141 home runs and had 415 RBIs, with a slugging average of 0.474. His best year was 1989, with his effort earning him All-Star status.
Deion Sanders
In the NFL, Sanders was a deadly cornerback known for spectacular interceptions and run-backs, but he also excelled as an occasional wide receiver and was a threat as a kick- and punt-returner. The Florida State All-America played for four NFL teams, winning Super Bowls with the San Francisco 49ers and the Dallas Cowboys.
He was also the only man to go to both a Super Bowl and a World Series. In four games of the 1992 World Series, Sanders batted 0.533 with four runs, eight hits, two doubles, and one RBI while playing with a broken bone in his foot. Despite Sanders's performance, his Atlanta Braves ultimately lost to the Toronto Blue Jays in six games.
Sanders played nine years in baseball for a total of 641 games with four teams, including the New York Yankees. He played 14 years in the NFL, starting his career in both sports in 1989. He made the Football Hall of Fame in 2011, his first year of eligibility.
Jim Thorpe
One of the most dominant athletes of the century. A member of the Native American Sac and Fox Nation, he won the 1912 pentathlon and decathlon at the U.S. Olympics. He played football both professionally and in college. He was a two-time All-American in football and signed with the New York Giants and played MLB for six seasons.
He played pro football for the Canton Bulldogs and led them to three championships. He played for six teams in the NFL and even barnstormed the country as a professional basketball player on a team made up of Native Americans.
His story was a traffic one. Athletes didn't make nearly as much back then as they do now. He lost all his Olympic medals after it was ruled he had violated the strict amateurism rules at the time by playing semi-pro baseball.
Thorpe, whose parents were both half Caucasian, was raised as an American Indian. A victim of racism throughout his career, it was suggested his Olympic medals were pulled because of his color.
Thirty years later in 1983, the International Olympic Committee returned his medals.
Image credit: Miguel Discart, Flickr
View Comments and Join the Discussion!
Posted-In: Bo Jackson Brock Lesnar Deion Sanders Jim Thorpe SummerSlam ufcSports General Best of Benzinga