Banks Sit on Money and Raise Lending Standards, Just Like During The Great Recession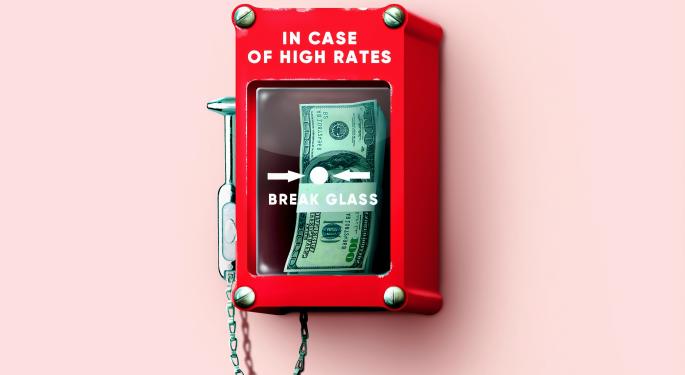 Traditional finance is dead. Let it die.
There is absolutely no reason that you should have to wait for the money that you need in a global pandemic. Especially if you've spent your time and emotional capital building relationships with financial institutions only to get the cold shoulder when you actually need them. Why does our $20 trillion society joke about banks only loaning money to folks who don't need it? It's funny until it's true for you and your family — when someone has a serious health problem or the breadwinner loses their job.
Banks are already tightening the spigot on credit even though they have received billions of dollars to lend. The Federal Reserve has even promised to limit bank risk on these loans. Banks continue to sit on the money and raise lending standards, just like they did during the Great Recession.
I think we can also agree that $400 per week for the rest of the year from the federal government is not enough. Trump was smart enough to step in front of Congress with an extension on the eviction ban and a payroll tax holiday. People still have to pay their bills at some point, though.
A New Financial Infrastructure
Fortunately, we have a new financial structure that is rising to replace the old. Up and coming companies realize that people are opting out of the traditional nonsense. We are all tired of the horror stories of filling out hours of paperwork and waiting for weeks to get the wrong answer.
Even though we are in a pandemic, financial liquidity has never been stronger. The stock market seems to be just fine, with the NASDAQ now at all-time highs. The Fed has promised to do anything to prevent a depression, including buying corporate bonds (read: bailing out failing companies) and keeping interest rates as low as possible (read: bailing out banks and rich borrowers).
But how can you get your hands on some of that liquidity? Banks seem to make it their business to keep it from you. What is the end-run around the greed of the traditional financial structure?
Getting Personal with Personal Loans
Like I said before, out with the old, in with the new. You need to deal with a financial institution with the following characteristics:
No fees: If you are dealing with a financial institution with tons of little fees, this is a company with an antiquated business structure. Origination fees, prepayment fees, and late fees are things of the past.
Personal service: If you are getting treated like a number, then you are in the wrong place. It is a privilege to lend money, not a job. Great bankers don't just lend to rich people who don't actually need financial assistance. They use their expertise to actually help the folks who do.
A good interest rate: Truly professional bankers are not looking to capitalize on people who are going through tough times. If you determine that a banker is raising your loan interest rate because of your situation, get out of there as fast as you can. Make sure that you know what the going market rate is before you sit down with any banker, by the way.
Flexible terms: The loans that you need during a pandemic come fully equipped with unemployment protection, flexible term periods and accessible payment methods. You should be able to access payment methods that fit your schedule — paying back a loan should not be an uncomfortable experience.
One-stop-shop: You need a financial institution that you can build a relationship with for all of your banking needs. Do you trust your bank with your personal loans, your mortgage and your student loans? Do you get investment advice for your retirement plans and those speculation plays into crypto? Your financial life is a holistic enterprise. If you need 4 different banks for 4 different products, you will probably get crossed wires that will set your goals back.
Your Next Financial Move
If you are looking for a personal loan without all of the nonsense from traditional finance, SoFi has you covered. You get fee-free service with competitive annual percentage rates on loans. What's more, we can check your rate without negatively affecting your credit score.
While the business structure of traditional finance relies on hidden fees, SoFi relies on personal service. SoFi has products for everything from school to housing, so repeat business is the name of the game — not nickel and diming customers.
If you are having trouble during COVID, SoFi is in your corner. Visit the website and get in touch with one of the dedicated financial experts. Time is of the essence. Work with a financial institution that understands what it takes to do business in today's world of instant finance and personal service.
View Comments and Join the Discussion!
Posted-In: Politics Opinion Personal Finance General