The Burkman-Wohl Press Conference Didn't Go Quite As Planned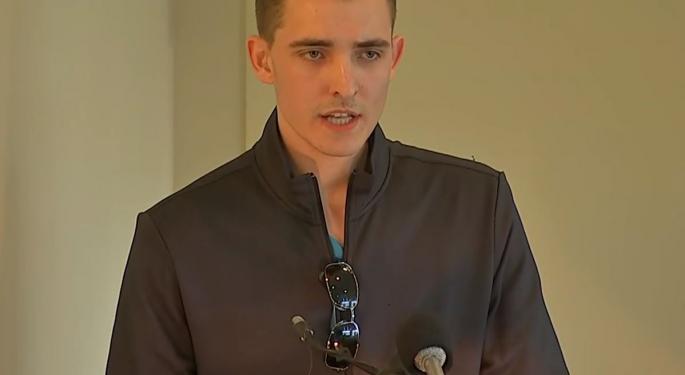 Twenty-year-old Twitter pundit Jacob Wohl and conservative lobbyist and radio host Jack Burkman — both of whom are known for spreading right-wing conspiracy theories — held a press conference Thursday at a Holiday Inn which had been announced as the unveiling of an alleged rape victim of Special Counsel Robert Mueller, who is investigating whether Russia interfered in the 2016 presidential election.
What Happened
Instead of presenting the alleged victim or any evidence that an assault took place, Burkman and Wohl told reporters that the woman had changed her mind about going public with her claims after arriving in Washington and becoming fearful for her life. They also disagreed about the spelling of the woman's name.
Why It's Important
A company called Surefire Intelligence is tied to a recent scheme that involved offering women $20,000 to make false claims that Mueller committed acts of sexual misconduct in the workplace in the 1970s, according to NBC News.
NBC said it found several links between Surefire Intelligence and Wohl: his s email address is used in the company's website's domain registration, and a darkened photo of Surefire managing partner "Matthew Cohen" on Surefire's LinkedIn page appears to be Wohl.
Wohl, who has been a vocal supporter of President Donald Trump and has been retweeted by the president on multiple occasions, has a rocky past as a money manager.
Wohl and his former company were the target of a cease-and-desist order by the Arizona Corporation Commission in 2016 accusing Wohl of violating the Securities Act by selling unregistered securities.
Wohl also received a lifetime ban from the National Futures Association after the agency ruled that Wohl and his hedge fund NeX Capital Management used promotional materials that were "unbalanced in their presentation of profit potential and risk of loss."
At one point in Thursday's press conference, a reported asked Wohl and Burkman if they were "both prepared for federal prison" for their connections to the alleged bribery scheme, to which they replied they were not.
"There were no offers of payment, there was no wrongdoing, there was no bribery, there was nothing illegal or untoward or unethical that took place here," Wohl said.
What's Next
Burkman said that the alleged victim has promised to appear at a subsequent press conference later this year, and Wohl said they are currently "in the process" of filing a police report related to the woman's allegations.
In the meantime, Bloomberg has reported that Mueller is expected to release key findings from his investigation of Trump shortly after the midterm elections next Tuesday.
Related Links:
Report: FBI Investigating Claims Against Robert Muller With Connections To Jacob Wohl
Jacob Wohl, The Teenage-Hedge Fund Manager, Ordered To Cease And Desist
Screenshot courtesy of NBC News.
View Comments and Join the Discussion!
Posted-In: Bloomberg Jack Burkman Jocob Wohl NBC News Robert MuellerPolitics Media General Best of Benzinga