Technical Look At eBay Inc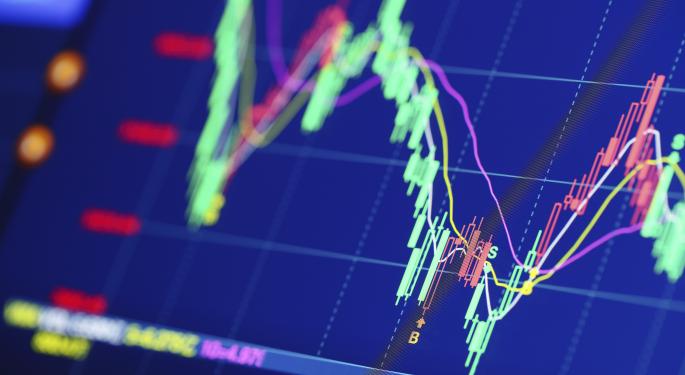 On Tuesday, Carl Icahn exerted his influence on Wall Street once again.
With the announcement that eBay Inc (NASDAQ: EBAY) is spinning off PayPay, Icahn dictated the actions of yet another major company.
Rally Overdone In Premarket Trading
The Street's immediate reaction to the news in premarket trading boosted the issue to a new all-time high of $59.84.
This level eclipses the former high for the issue, made on the last day of February at $59.70. The stock made a solid attempt to clear that level in March but was turned backed on three different occasions.
Shares only exceeded their former all-time high (made in December 2004) by $0.50, though, before collapsing under $50.00 to $48.14 in early June.
Long-Standing Support
Interestingly, the $50.00 level has provided support for the issue several times over the last 20 months. Had an investor identified that key support level back in December 2012, they would have turned in a solid profit on seven different occasions, assuming the trades were based on a monthly time frame.
The two most recent instances, in fact, came in June and July.
Related Link: Experts, Investors Applaud eBay Inc-PayPal Split
In June, eBay swooned to $48.14 before recovering. That level coincides with its lowest level over the aforementioned time period when it bottomed at $48.06 in November 2013.
In July, the "buy the dip" came in just under the $50.00 level and was put in place at $49.74. This provided the foundation for eBay's most recent rally.
If an investor had been using that level since Icahn began talks with the company for changes in February, they would've had a total of three times to purchase the company under $50.00.
Well-Defined Resistance
If an investor instead favored trading the ranges in eBay as opposed to "buy and hold," they could have bought at $50.00 and sold more than $56.00 five different times over the same time period.
The phenomenon would have occurred again this month, but large buyers came in ahead of the $50.00 level, making $50.04 the low for September.
The euphoria over the announcement was short-lived following the immediate pop from $59.00 to $59.84 once it resumed from its trading halt. After succumbing to profit-takers, eBay dipped under the $59.00 mark minutes after making its high and was unhappy to retake the level, let alone its former all-time high of $59.21.
What Has Really Changed With Its Fundamentals?
As investors began to realize that eBay is still eBay and PayPal is still PayPal, they began to take more chips off the table from the stock's highly uncharacteristic move. For an issue that averages an intraday trading range of roughly $1.00 to catapult by $7.00 in premarket trading, it's likely quants and high-frequency traders (that base decisions on historical standards) deemed the move to be unsustainable.
By the opening of the regular session, eBay had drifted down to the mid-$56.00 range and was only able to muster a rally off the open to $56.90 before reversing course.
So far, shorter-term, short-side players have congregated at $56.00, protecting the $55.95 low shortly after the open.
Looking Forward
At this time, eBay is consolidating just above its low for the day at the $56.25 level and has ended its trading based on 15-minute brackets between $56.20 and $56.31 since 10:00AM.
It's possible this sets the stage for another major move.
For range traders, here was yet another opportunity to dump the issue in the midst of its extended trading range. Many may be pondering the likelihood of shares once again revisiting the $50.00 level to initiate a long entry.
For investors anticipating continued upside, eBay may certainly return to levels seen in premarket trading, but it is not going to be so easy. With the news already out, rallies in the issue may be muted as it returns to its normal trading pattern.
Disclosure: At the time of this writing, the author had no position in the equities mentioned in this report.
Stock chart: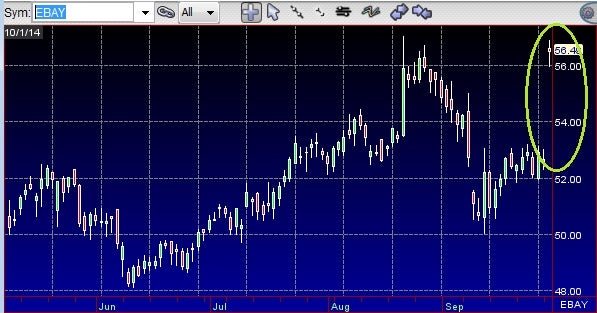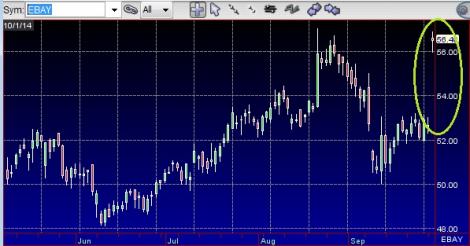 View Comments and Join the Discussion!
Posted-In: eBay spinoff eBay technical analysis PayPal SpinoffTechnicals Trading Ideas