Lemelson Takes Down World Wrestling Entertainment, Inc. And Brings It Back Up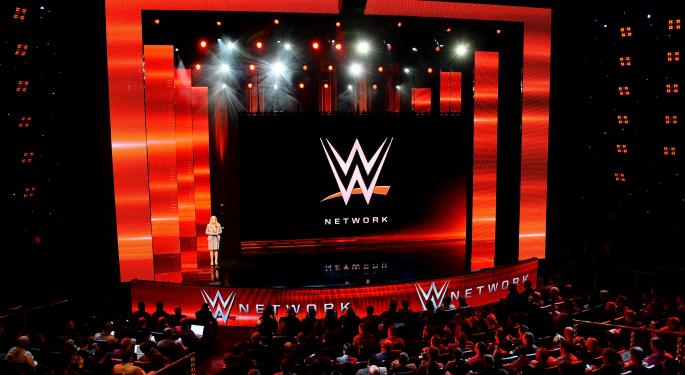 It is one thing to have a large short position that works out favorably, but it is whole other thing to cover that position for a profit, turn around, get long and have that work out as well.
Believe it or not, that is exactly what Reverend Emmanuel Lemelson of Lemelson Capital Management has accomplished in the shares of World Wrestling Entertainment, Inc. (NYSE: WWE).
Making His Bear Case
On March 17, Lemelson stated his case for the company being overvalued. His basic premise was that the financial performance has been trending down for multiple years, and excessive dividends and losses may potentially erode its financial profile. Furthermore, he believes the execution by the management has been sub-par and consistently underdelivers.
Related Link: How Apple Inc.'s Watch Unveiling Is A Great Example Of Selling The News
Although the market did not immediately react to the article, it did weave and bob around the $30 level for a few weeks before it suffered a huge decline on April 7 from $28.02 to $23.90. The sharp decline occurred even though the company announced that Wrestlemania 30 broke the record for the highest grossing entertainment at the Mercedes-Benz Superdome over the previous the weekend.
Perhaps this is a classic example of "selling the news."
Stock Declines After Earnings Beat
On May 1, the company reported first quarter 2014 results that beat Wall Street estimates by a nickel ($0.11 versus $0.16). However, the EPS from the same quarter last year was down a whopping 375 percent. This news pushed the issue under $20, a level it has not seen since.
More Pain After Deal With NBC Cable
On May 15, a multi-year deal with NBC Universal Cable Entertainment for WWE's flagship programming came in well below Wall Street expectations, and the issue was nearly cut in half the following day from $19.93 to $11.27.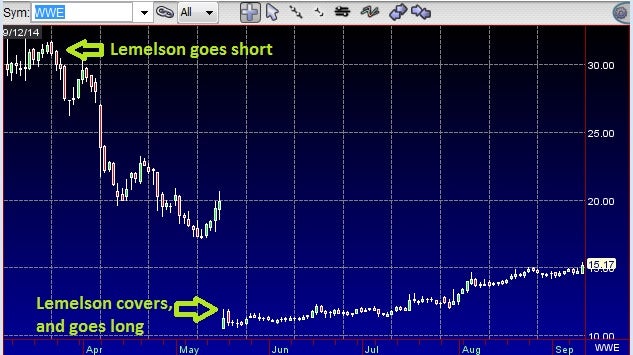 This precipitous decline was exactly what Lemelson had been anticipating and used the drop to not only cover his short position, but also to reverse his position and go long. As any trader or investor can attest to, covering and reversing on a profitable position is extremely difficult and doesn't always work out their favor.
Makes His Bullish Case
Surprisingly, Lemelson announced on May 16 his stake in WWE and called on the board to pursue new management or ownership.
He followed up on his bullish prognostication on June 19 while being interviewed on Benzinga's PreMarket Prep.
He reiterated that the underlying business had value, but the current management had been negligent, and drastic changes were called for, including the possible sale of the company.
At the time of his initial announcement, the shares closed at $11.27. On the day of his June 19 interview, the shares ended the session slightly higher at $11.74, which was not far from the panic-selling low of $10.55 that occurred on May 16.
Company Makes Changes
Fortunately for shareholders, the company took action and made changes similar to Lemelson's suggestions. Although there were no major shifts in management and it was not put for sale, the company did reduce its staff by 7 percent and took other appropriate measures to reduce costs.
These actions have unlocked some of the true "intrinsic" value in the company, Lemelson told Benzinga.
WWE, with its monopoly in the sector, toned down its content a bit and became a bit more kid-friendly. It has even fostered a new generation of fans, in Lemelson's opinion. Despite its move to lighter content, Lemelson admits he will not be tuning in any time soon.
Looking Forward
Lemelson's response to his success: "Glory be to God."
In Thursday's session, the stock has reached its highest level since that disastrous day in May, climbing over $15 and trading as high as $15.38.
When pressed for a upside target for the issue, Lemelson stated he does not like to place hard targets on his investments. Instead, he prefers to reevaluate his stake in WWE as more fundamental information becomes available.
In the old days, when Smith Barney spoke, people would listen. In today's market, when Lemelson speaks, investors may want to listen up as well.
Check out Lemelson's most recent interview on Benzinga's premarket morning show:
View Comments and Join the Discussion!
Posted-In: comments Emmanuel LemelsonTechnicals Movers & Shakers Trading Ideas General Best of Benzinga