Ray Dalio's Principles & Top 7 Most Undervalued Stocks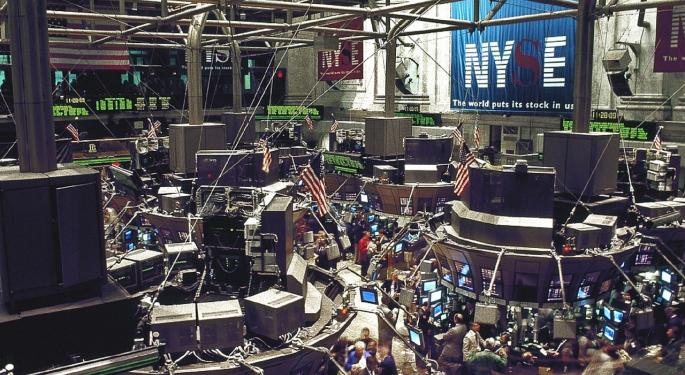 The following originally appeared on Finbox.io
Most investors are well aware of the investing prowess of Raymond Dalio. He's the billionaire investor, hedge fund manager, and philanthropist that founded the largest hedge fund on Wall Street (Bridgewater). However, investors may not be aware that today Dalio released Principles, an expanded and revised edition of the manifesto he published in 2011.
To celebrate the new release, we wanted to discuss the original 2011 manifesto and also review Dalio's stocks reported in Bridgewater's recent Form 13F SEC filing to understand what he's investing in today.
The Original Principles
"Principles are ways of successfully dealing with reality to get what you want out of life."
With original Principles, the 123-page manifesto gave readers a glimpse into the billionaire's philosophies about living life and managing people and organizations.
According to the book's new website, the original Principles has been downloaded over three million times. You can download the old PDF of Principles here. In the text's abstract he explains:
"Above all else, I want you to think for yourself—to decide 1) what you want, 2) what is true and 3) what to do about it. I want you to do that in a clear-headed thoughtful way, so that you get what you want. I wrote this book to help you do that."
Principles is a required read for all Bridgewater employees which hints at how core he believes these guidelines are to their investment strategy and resulting performance. Soon, Principles will be available in print. It's available on Amazon for pre-order and purchase.
"Truth, more precisely an accurate understanding of reality is the essential foundation for producing good results."
Ray Dalio also gave a recent TED talk that discussed how he converted his principles into a computer algorithm that now helps him make decisions:

Bridgewater's Latest Form 13F Filing
One of the better-kept secrets in investing is a form called the 13F-HR that all institutional investors who manage over $100 million in assets must submit to the SEC. In the Form 13F, managers have to disclose their holdings giving intelligent observers a sneak peek into their strategy and investments.
Last month, on August 10th, 2017 to be exact, Dalio's firm Bridgewater Associates filed their quarterly Form 13F regulatory filing. We reviewed the 13F filing to get a sneak peek at holdings in Bridgewater's massive portfolio.
Portfolio Overview and Statistics
Bridgewater's stock portfolio totals nearly $11 billion according to the latest filing.
Quarter-over-Quarter Turnover (QoQ Turnover) is a measure used to gauge the level of trading activity in a portfolio. QoQ Turnover is calculated by taking the lesser of the total value of new securities purchased or the total value of securities sold over the last quarter and dividing it by the total value of holdings.
Bridgewater's QoQ Turnover for the latest quarter was over 25%, so the firm appears to trade a significant percent of its portfolio each quarter.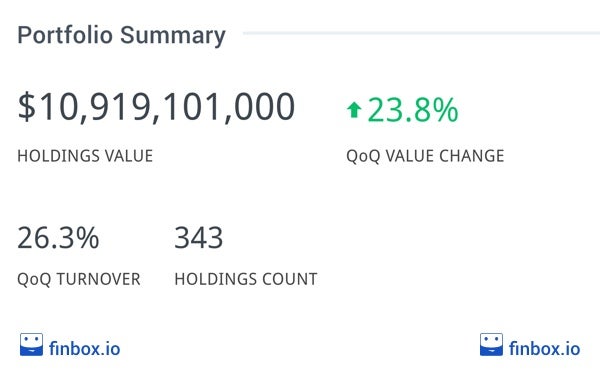 Bridgewater's Largest Holdings
The Ideas section of finbox.io tracks top investors and trending investment themes. You can get the latest data on the holdings discussed below here. The following table summarizes Bridgewater's Largest Holdings reported in the last filing:
| Ticker | Name | Holding ($mil) | % Of Portfolio |
| --- | --- | --- | --- |
| VWO | Vanguard Emerging Markets ETF | 3,221.1 | 29.5% |
| EEM | iShares MSCI Emerging Markets ETF | 2,339.8 | 21.4% |
| SPY | SPDR S&P 500 ETF | 2,320.5 | 21.3% |
| IEMG | iShares Core MSCI Emerg. Mrkts ETF | 345.2 | 3.2% |
| EWZ | iShares MSCI Brazil ETF | 213.8 | 2.0% |
The firm's largest positions were mostly ETFs with the Vanguard Emerging Markets index fund (
VWO
) ranking at the top of the list and accounting for 29.5% of the portfolio. Since we were mostly interested in the businesses Mr. Dalio and his team find most promising in the current market environment, we also created a ranking of holdings excluding ETFs:
| Ticker | Name | Holding ($mil) | % Of Portfolio |
| --- | --- | --- | --- |
| SWN | Southwestern Energy Company | 50.1 | 0.5% |
| ESRX | Express Scripts Holding Company | 39.1 | 0.4% |
| M | Macy's Inc | 35.7 | 0.3% |
| INTC | Intel Corporation | 32.4 | 0.3% |
| BBBY | Bed Bath & Beyond Inc. | 31.7 | 0.3% |
| DVN | Devon Energy Corporation | 28.2 | 0.3% |
| CHK | Chesapeake Energy Corporation | 26.1 | 0.2% |
Bridgewater's Top 7 Most Undervalued Holdings
To determine which stocks are trading below their intrinsic value, aka "fair value" we used the finbox.io Fair Value estimates. We also wanted to blend in some indication of which stocks might be ready to make a move up soon because they're popular with Wall Street analysts. We calculated an average using the finbox.io fair value upside and analyst upside to create a blended upside which we then used to rank the most undervalued holdings. Here are the Top 7 stocks based on our calculations:
| Ticker | Name | Upside (finbox.io) | Upside (Analyst Target) | Blend Upside |
| --- | --- | --- | --- | --- |
| TAHO | Tahoe Resources, Inc. | 66.8% | 54.2% | 60.5% |
| UAL | United Continental Holdings, Inc. | 76.6% | 36.1% | 56.4% |
| SWN | Southwestern Energy Company | 53.4% | 44.4% | 48.9% |
| SBGL | Sibanye Gold Limited | 61.0% | 33.7% | 47.3% |
| RRC | Range Resources Corporation | 23.5% | 61.5% | 42.5% |
| BTG | B2Gold Corp | 26.3% | 47.6% | 36.9% |
| AUY | Yamana Gold Inc. | 41.7% | 28.0% | 34.8% |
Tahoe Resources is a mining company and intermediate precious metals producer founded by Kevin McArthur, former CEO of Glamis Gold and Goldcorp. The company has silver and gold mines in Canada, Guatemala and Peru. The
company's Piotroski Score
is 8. Scores between 7-9 are considered great, 4-6 are considered moderate, and scores below 4 are considered poor. Over the last twelve months, the company has grown revenue to 885 million, up 33.8% year over year. Tahoe Resources is currently trading at a 0.6x price to book multiple which is below its five-year average of 1.9x.
The company's shares last traded at $5.49 as of Monday, September 18th, approximately 37.5% of its 52-week high and down 41% year-to-date.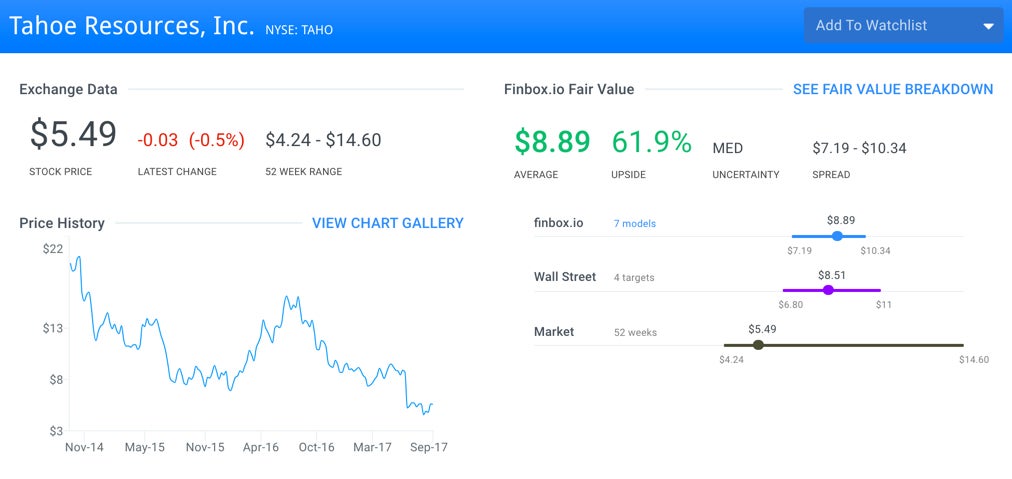 United is an airline holding company headquartered in Chicago. At $59.80 per share and 300 million shares outstanding, the company's implied market capitalization is $17.9 billion. United is currently trading at a 2.1x price to book multiple, well below its five-year average of 7.2x. Growth is expected to pick up. United's forecasted to report around $38 billion (+4.1%) in revenue for fiscal year ending Dec 31, '17 and $39.6 billion (+4.1%) for the fiscal year ending Dec 31, '18.
United's stock last traded at $58.11 as of Monday, September 18th and is up 14% over the last year. However, shares are down 20% year-to-date.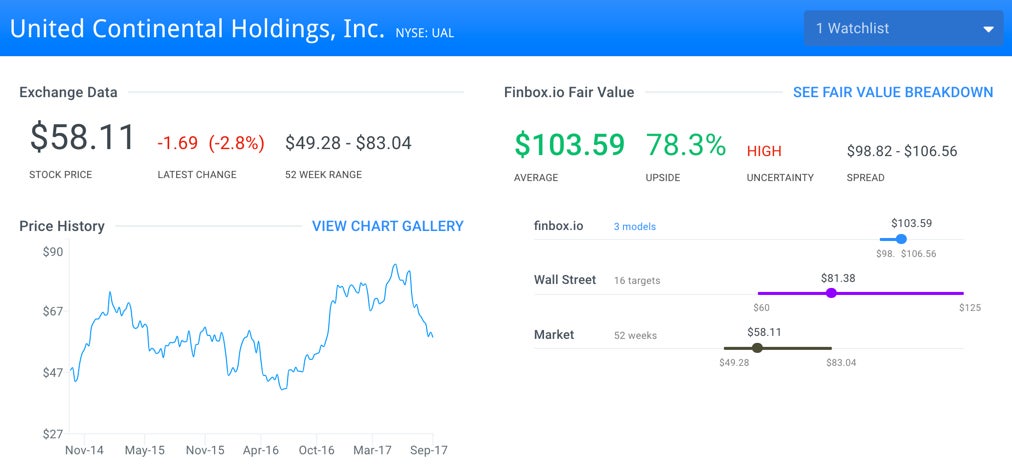 Southwestern Energy is an American natural gas and petroleum exploration and production company headquartered in Houston, Texas. Over the last twelve months, the company has grown revenue to $2,992 million, up 17.9% year over year. The company's price to book multiple of 1.7x is below the average of its peers of 1.9x.
The company's shares last traded at $6.03 as of Monday, September 18th, approximately 39.2% of its 52-week high. The stock has been crushed as of late: down 44% year-to-date, 56% over the last year and 84% over the last three years.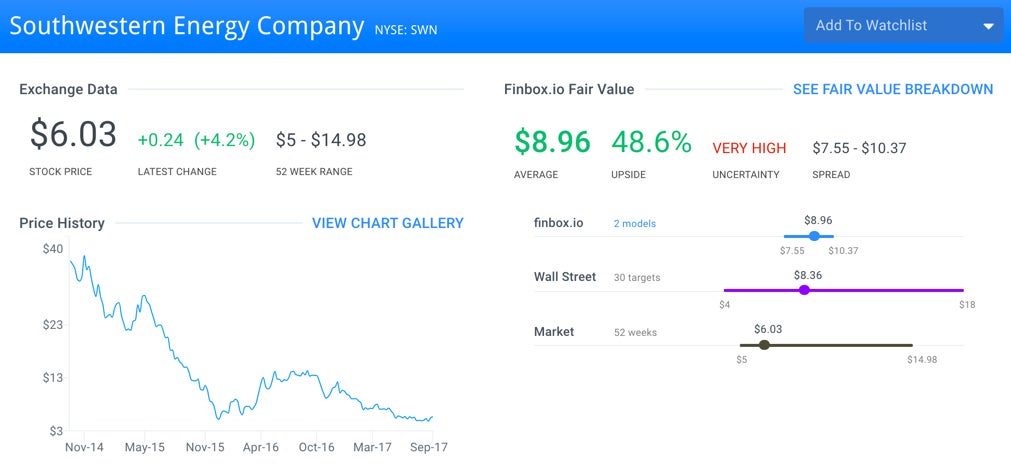 The listed data above is as of September 15, 2017. For the latest updates, please see
Ray Dalio Idea page
.
Conclusion: Leverage All Resources Available
Most can agree that with thousands of stocks traded on U.S. exchanges, doing thorough research on each one is nearly impossible for smaller investors. Leveraging the resources of the largest hedge funds on Wall Street can be a powerful way to narrow down the list.
In the full Ray Dalio portfolio review, we break down his holdings further by stocks he's buying / selling, highest dividend yields, fastest growing, lowest valuation multiples, highest Piotroski score and more. Check it out for free
here
.
Photo credit: public domain
Posted-In: Bridgewater Finbox.io Ray Dalio Southwestern Energy Corporation United AirlinesHedge Funds Movers & Shakers General
View Comments and Join the Discussion!