3 Important Aspects Of Wells Fargo & Co's Startup Accelerator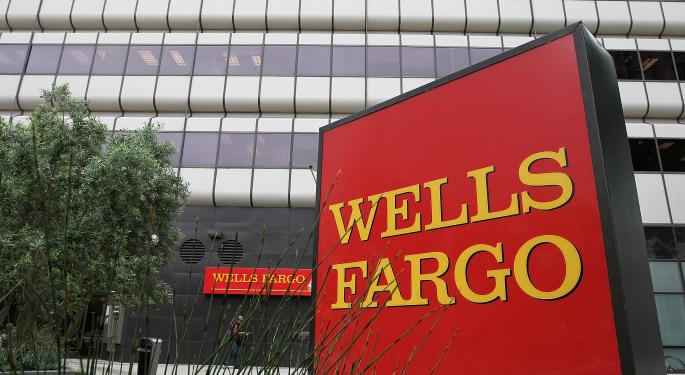 Much is being said about Wells Fargo's (NYSE: WFC) new startup accelerator.
There are only three main aspects about it that everyone should know, and Steve Ellis, Wells Fargo executive vice president and head of wholesale services, took the time to tell Benzinga what those are.
This Is A Way To Bring In Outside Technologies
The big idea is to spur innovation within Wells Fargo itself, Ellis said, by looking outside the company. He said Wells Fargo has already backed millions of small business and spent a lot of time investing in technology to better the consumer experience.
"I think it would be very beneficial to our busy startups," Ellis said. "It feels like a win-win."
Related Link: This Startup Is Eating Adobe And IBM's Lunch
Former Wells Fargo commercial lender Joseph Lizio told Benzinga that he thinks Wells Fargo started the accelerator simply to get more business accounts.
"If they partner with you to help your business grow, then they stand a good chance in influencing you directly or indirectly to open accounts with them or moving accounts over to them," Lizio said, "so that they can charge you fees, fees and more fees."
William Volz, Wayne State University professor of business law and ethics, disagrees. Volz is an executive director of the Blackstone Launchpad, a team of entrepreneurs, inventors and business professionals that encourages WSU students to create startups in Detroit.
Volz said that Wells Fargo is too big to care about starting accounts with small startups.
"My sense is that on a macro vision that it's a way to try to breathe innovation and creativity into one of these gigantic enterprises," Volz said. "I think it's generally a way to do it relatively cheaply."
Is your #startup focused on creating enterprise or #fintech solutions? Apply for our #StartupAccelerator by 10/01: http://t.co/RXTqbziPxK

— Wells Fargo (@WellsFargo) August 21, 2014
More specifically, this is a way to replace traditional research and development departments. It gives Wells Fargo the chance to cherry pick from the pitches of dozens of small companies, Volz said, and decide if the company might have use for any of the applications.
"They'll let these small operations be the innovators," he said. "And because these small innovators are always desperate for capital, this is a chance to zoom in where they want to."
There Is No Demo Day
While most startups have their own Demo Day (an event that gives startups the opportunity to give a short pitch to a large group of potential investors), Wells Fargo's accelerator does not. There's a good reason for that, according to Ellis.
"We're not about coming in, looking for ten minutes and then figuring it out," he said. "I'm not a fan of that approach."
Instead, Wells Fargo offers a six-month long mentoring program that acts sort of like a bootcamp for startups. At the end, the company will make a direct equity investment of $50,000 to $500,000 in each of the startups.
Related Link: 3 Simple Steps To Take Your Startup From $0 To $10 Million
This allows the conglomerate to bring these startups in and talk to them to find out who they are and what they're really trying to accomplish. Wells Fargo wants to learn about the people and what they do, Ellis said, and that's not possible in 10 minutes. He emphasized the importance of getting to know the people behind the startups.
"People really make things work," he said. "Always have. Always will."
The Focus Is On Startups In The FinTech Space
The startups Wells Fargo is looking for will deal with operations related to banking and finance, Ellis said, dealing with things like security, privacy issues and customer service.
Wells Fargo is accepting applications for its current round until October, but it already has three companies selected for the bootcamp.
Two of the companies Wells Fargo has already dedicated to are involved with security. One is Zumingo, a service that utilizes location and network data to increase security. The other is EyeVerify, which uses eye-scanning technology in place of passwords. These things could be especially imperative after significant security breaches at companies like JP Morgan.
Wells has also already picked Kasisto, which is more focused on customer service through improving communication with financial institutions on mobile devices.
Applications for the accelerator will be accepted twice a year.
View Comments and Join the Discussion!
Posted-In: accelerator comments FintechBZEntrepreneurship Top Stories Startups Tech General Best of Benzinga