PreMarket Prep's Exclusive Tuesday Morning Tesla Trade Was A Big Winner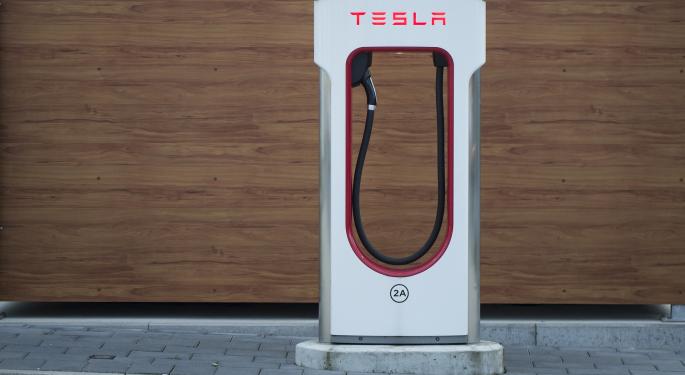 Tesla Inc (NASDAQ: TSLA) has become the latest Wall Street mania stock, making huge moves on a daily basis despite a lack of any meaningful fundamental news from the company. Tesla seems to be trading mostly on momentum and technicals these days, and Benzinga's PreMarket Prep co-host Dennis Dick made a winning technical call on the volatile EV stock on Tuesday morning's show.
The TSLA Trade
Dick said the fact that Tesla's stock was up $250 at one point on Monday, and the fact that it finished the day in the red was itself a red flag.
"We're getting a bounce here this morning. From a technical perspective, I think this is a bounce to be sold," Dick said.
At the time Dick made the call, Tesla was trading at around $1,602 in the pre-market session. The stock ended up opening at $1,556 on Tuesday morning and dipping as low as $1,431 within the first hour of trading.
"Everything right now you're seeing is textbook reversal because what happens the next morning after you get a big reversal day is you have the Johnny Come Latelies that say, "Whoa, Tesla was down yesterday? I want to buy that!""
Watch the full show in the clip below:
<>
Those buyers that are late to the game come in with their orders the next morning, triggering a bounce.
"Usually what happens if we follow the textbook is you'll see follow-through selling shortly after the open where the people who got caught yesterday say thank you very much, I can get out of my stock now. I'm going to move on," Dick said.
Related Link: Tesla Demonstrates Why Short Selling Is So Much More Dangerous Than Going Long
Dangers Of Trading Tesla
While Dick's prediction ended up playing out to a tee, he said traders should be very careful with Tesla given all the extreme trading action in the stock in recent months.
"I have no idea where Tesla is going in the long term. It can go anywhere. It's just a story stock, and the story isn't going away. It's the leader in electric cars. I still love the company. I've never liked the valuation, which is why I haven't been long it for a long time," Dick said.
"The reason I don't want Tesla in my long-term portfolio is because it's too much of a distraction...I can't be worried about Tesla. I've got to babysit that stock."
Dick said long-term Tesla investors can consider riding out the volatility, but traders looking for significant near-term upside may be in trouble.
"If you're in this for a trade and you bought this at $1,400 or $1,500 and you want it to go to $1,794, I don't think you'll get back to $1,794 anytime soon," Dick said.
Tesla traded around $1,523.87 at time of publication.
$Tsla Exclusive trade idea presented on Premarket Prep @TripleDTrader Don't miss these opportunities every morning from 8am-9am (EST)! #Tesla #FadeTrade #Reversal https://t.co/VeXyYwIS8i pic.twitter.com/DY1oDRv0Zr

— Benzinga (@Benzinga) July 14, 2020
PreMarket Prep is a daily trading show hosted by prop trader Dennis Dick and former floor trader Joel Elconin. You can watch PreMarket Prep live every day from 8-9 a.m. ET here. The replay can be found on Benzinga's YouTube channel, and the podcast is on iTunes, Google Play, Soundcloud, Stitcher and Tunein.
View Comments and Join the Discussion!
Posted-In: Dennis Dick PreMarket PrepEducation Exclusives Trading Ideas General Best of Benzinga