Here's How Much Investing $1,000 In MGM Resorts Stock Back In 2010 Would Be Worth Today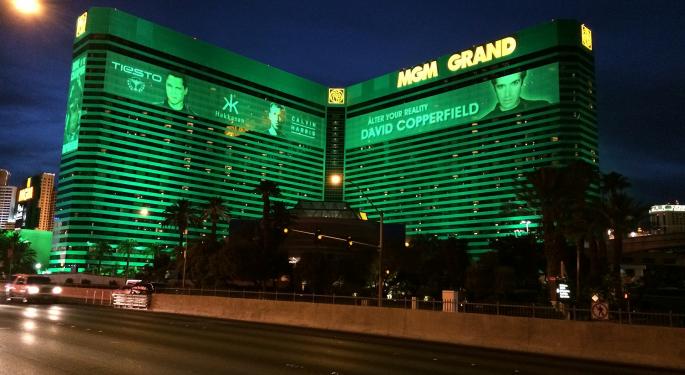 Investors who owned stocks in the 2010s generally experienced some big gains. In fact, the SPDR S&P 500's (NYSE: SPY) total return for the decade was 250.5%. But there's no question some big-name stocks did much better than others along the way.
MGM's Difficult Decade: One underperformer of the last decade was casino operator MGM Resorts International (NYSE: MGM).
The first big headlines of the 2010s for MGM was China's 2014 crackdown on gambling corruption in Macau, China. MGM Resorts has a 56% ownership stake in MGM China and its subsidiaries MGM Cotai and MGM Macau.
In addition, MGM reduced its debt by more than $4 billion in 2016 when it spun off 10 of its U.S. casino properties into a new real estate investment trust called MGM Growth Properties LLC (NYSE: MGP).
MGM shares started the 2010s trading at $9.73 and spent the first three-plus years of the decade trading mostly in a wide range between around $9 and $16. MGM shares then went on a tear starting in 2013, peaking at $28.75 in early 2014 before the Macau crackdown derailed the rally.
From there, MGM spent the two years drifting steadily lower, eventually bottoming at $16.18 in early 2016. The stock finally broke out to the upside in late 2016. MGM ultimately peaked at $38.41 in early 2018, its high point of the decade.
2020 And Beyond: MGM shares were hammered in early 2020 when casinos were shut down due to COVID-19, and the stock dropped to as low as $5.90, its low point of the past decade. While the stock has since rebounded to around $19, it has still delivered underwhelming overall performance over the past 10 years.
In fact, $1,000 worth of MGM stock in 2010 would be worth about $1,700 today, assuming reinvested dividends.
Looking ahead, analysts expect MGM's struggles to continue in the coming months. The average price target among the 19 analysts covering the stock is $18, suggesting 5.7% downside from current levels.
Related Links:
Here's How Much Investing $1,000 In Adobe Stock Back In 2010 Would Be Worth Today
Here's How Much Investing $1,000 In Marathon Oil Stock Back In 2010 Would Be Worth Today
View Comments and Join the Discussion!
Posted-In: Education Top Stories General Best of Benzinga