What To Do When A Stock You Own Is Halted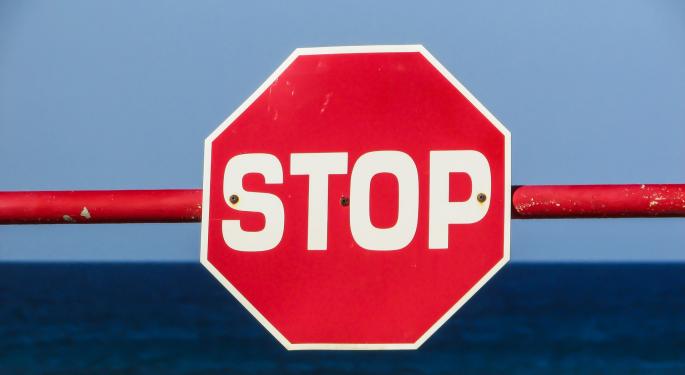 The NYSE-traded shares of India Globalization Capital, Inc. (OTC: IGCC) were halted in late October after the exchange said it had begun the process of delisting the stock. For investors who were blindsided by the news, here's a look at what to expect when a stock is halted and potentially being delisted.
Trading Halt Code
The first thing a shareholder should do once their stock has been halted is identify the reason for the halt. Halts can be enacted by the exchange on which a stock is listed; the Securities and Exchange Commission; or they can be requested by the company itself if a major news event is imminent.
Each halted stock is given a code indicating the reason for the halt, such as T1 for news pending or H5 for non-compliance with listing requirements. This information can be found on Benzinga Pro or websites like NasdaqTrader.com.
Once a stock is halted for pending news, the majority of the time the news will come either via a new SEC filing or a press release from the company or the exchange.
Trading Resumption
Sometimes, the news behind a stock may be unexpected, as was the case with India Globalization Capital. Other times, the stock may be halted due to a news event that is well-known in advance, such as an AdCom panel meeting for pharma stocks. Pharmaceutical and biotech investors always know to expect temporary trading halts when major drug rulings or study data are released. In the event of an AdCom meeting, the halt typically lasts for an entire trading session.
Unfortunately, identifying when a halted stock will resume trading can be a bit of a guessing game. If a stock has been halted for news pending, the news must first be released by the company or the exchange prior to the halt being lifted. Once the news is out, NasdaqTrader.com provides updates for traders about the status of the halt and when the stock will resume trading.
Delisting
In the case of India Globalization Capital, the halt was issued due to a delisting notice by the NYSE.
Since its NYSE delisting, India Globalization Capital has resumed trading on the OTC market. For traders using a broker that allows trading in OTC securities, the only thing that will change will be the ticker. If a broker does not allow OTC-listed stock trading, shares will likely be automatically sold at market price once trading resumes.
Policies vary from broker to broker, so investors who are long or short India Globalization Capital stock can simply contact their broker to ask or confirm how the delisting will be handled.
Related Links:
NYSE Suspends Trading In India Globalization Capital
Posted-In: Trading HaltEducation Top Stories General Best of Benzinga
View Comments and Join the Discussion!