Pastel Paintings And Landmines: 7 Of The Weirdest Top State Exports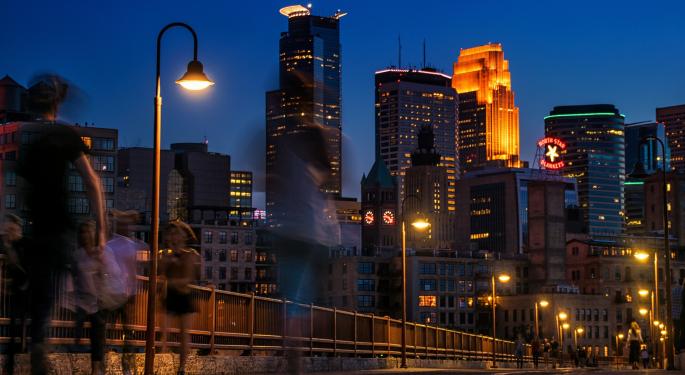 Whiskey's a top Kentucky export, and lobsters rank first in Maine, but that probably doesn't come as a surprise. Many of the U.S.'s top state exports only serve to reinforce state-by-state caricatures.
It's fitting that Rhode Island's 11th-strongest seller is sailboats, that meat reigns in the plains states and that Nevada's second biggest moneymaker is coin-operated games.
But the U.S. balance sheet also has some surprising line items. We're talking standard line items like "animal (not fish) guts." Here are some of the oddest, the grossest and the most startling:
7. Dog And Cat Food
Kansas rakes in $163 million a year in foreign pet food sales. It's No. 8 on the state export list and No. 14 on South Dakota's.
6. Livers, Roes And Milt
It makes sense that Alaska's top 15 exports are fish and minerals. But this particular portion of the fish is responsible for so much dough that it has its own category. The sixth-largest seller brought in $290 million last year.
5. Hand Drawings And Pastel Paintings
New York's second-biggest export earned the state $7.043 billion in 2017. Original sculptures and statuary ($1.197 billion) and antiques older than 100 years ($476 million) ranked Nos. 7 and 15, respectively.
4. Bomb Mines And Ammunition
This broke the Top 10 lists for seven territories. It ranked No. 8 in Oklahoma, No. 7 in Missouri, No. 5 in Arizona and North Carolina, No. 4 in Arkansas and New Mexico and No. 1 in the District of Columbia. D.C. made $336 million on these weapons sales last year.
3. Perfumes And Toilet Waters
The niche market of aromatics made Florida $618 million in 2017. The products comprise the state's eighth-largest export category.
2. Medical Needles And Catheters
There's nothing like a Minnesota catheter. The commodity is the state's top foreign seller and last year brought in $798 million. It also ranked No. 5 in Massachusetts and No. 7 in Mississippi.
1. Bodily Parts And Fluids
If you thought Minnesota couldn't be any weirder, "artifical parts of the body" are its No. 10 export.
"Antisera and other blood fractions" is the No. 3 export in Kentucky, No 4. in North Carolina and No. 12 in Illinois. Between the three states, alone, the product accounted for $2.847 billion in U.S. foreign sales.
"Human blood or animal blood" is a $183-million business in Wisconsin (No. 14) and $33 million in Montana (No. 11).
Related Links:
5 States, 5 Industries Most At Risk When The US Irks Trading Partners
Posted-In: exports Trade U.S. Census BureauEducation Top Stories General Best of Benzinga
View Comments and Join the Discussion!