All The Nvidia Launches Thus Far This Year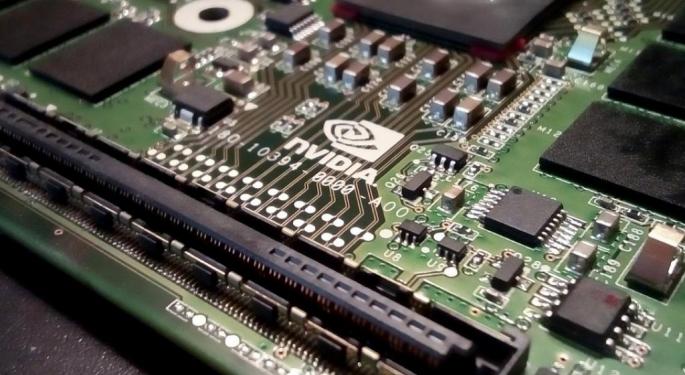 NVIDIA Corporation (NASDAQ: NVDA) shares have been on a massive run since 2016, up 446 over that span percent and closing Friday at an all-time high of $180.11.
The rally hasn't been without reason, as the company has fared very well fundamentally. In 2016, the company reported revenue growth of 38 percent to $6.91 billion and non-GAAP earnings per share grew 83 percent to $3.06.
Fundamental Run
Gaming accounted for roughly 59 percent of the total revenues in 2016, while data center and auto are segments hold out a lot of promise. The company got an unexpected boost in the second quarter from the demand for mining chips by cryptocurrency miners. However, analysts have been vociferously arguing that the boost received from mining chip demand is fleeting.
Meanwhile, Advanced Micro Devices, Inc. (NASDAQ: AMD) is making a big push into the gaming chip market.
AMD managed to beef up its GPU market share to 28 percent in 2016 from 20 percent in 2015, thanks to strong sales of mid-range GPUs priced below $299, the Motley Fool said quoting Mercury Research. However, AMD has set its sight on the high-end in recent times, posing a credible threat to Nvidia.
See Also: All The AMD Launches Thus Far This Year
Bulking Up The Product Stable
Nvidia also has had several product launches this year. Barclays analyst Blayne Curtis said Nvidia has to have cleaner beats and show stronger growth in the segments core to its longer-term story in order to justify its premium valuation.
For this to happen, the company should have viable, competent and compelling products in the wake of the competitive threat posed by AMD and Intel Corporation (NASDAQ: INTC).
All The Launches
Here's a compilation of Nvidia's product launches thus far this year:
Feb. 5: Nvidia introduced a range of Quadro products named the GP100, P4000, P2000, P1000, P600 and P400 , based on its Pascal architecture, for powering new class of supercomputing workstations. Pascal is Nvidia's microarchitecture introduced in April 2016.
Feb. 28: The company unveiled GeForce 1080 Ti, the fastest gaming GPU. This was supposed to be 35 percent faster than the GTX 1080. The company said the GTX 1080 Ti graphics cards, including the Nvidia Founders Edition, would be available worldwide from Nvidia GeForce partners beginning March 10, and starting at $699. The GTX 1080 Ti was designed to handle the graphical demands of 4K and 5K gaming, DX12, HDR and immersive VR. The company began accepting pre-orders on March 2. This was pitched against AMD's Radeon RX Vega card, which was made available only in mid-August.
May 10: Nvidia launched Volta, a powerful computing architecture, which was expected to help advancement in artificial intelligence and high-performance computing. The first Volta-based processor, the Nvidia Tesla V100 data center GPU, was also announced simultaneously. With Volta, Nvidia promised five times improvement over the Pascal architecture.
Rumour has it that Nvidia could launch the GeForce GTX 20-series in the third quarter, as the company seeks to capitalize on the first mover advantage. It's believed the haste in bringing the GTX 20-series to the market is due to margin contraction experienced by the current lineup.
View Comments and Join the Discussion!
Posted-In: GeForce GTX 1080 Ti Quadro VoltaTop Stories Tech Trading Ideas Best of Benzinga