For Traders, The Right Charting Software Is Critical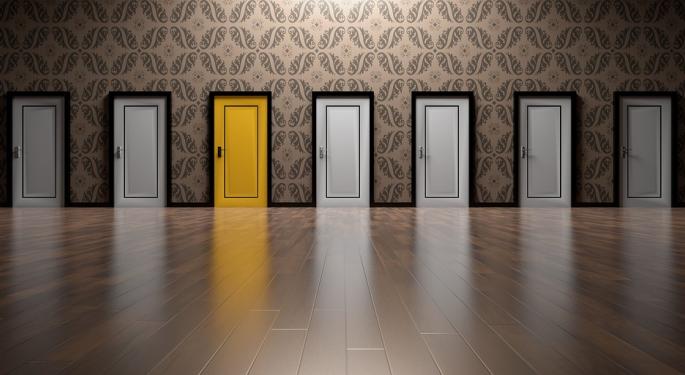 Your choice of charting platform can serve as a foundational component of your overall research process and investment strategy. Effectively tracking a stock's price and intraday range while comparing those figures to other stocks or indexes empowers your trading with core information on a company's performance.
While charting may seem like a basic component of a trader's toolkit, it's worthwhile to take a look at the makeup of this essential trading resource, as well as how different charting tools can provide even more functionality for traders while customizable research platforms like Financeboards offer novel ways of approaching common data.
From Company Information To Technical Indicators
One of the more ubiquitous charting tools available to traders right now is TradingView. It is a name you may already be familiar with, as TradingView charts are a common feature on some of the top trading and research platforms on the web.
At its most fundamental, TradingView's charts offer basic information about a company that can feed into a trading strategy. This generally includes a stock's current and historical value, the amount of shares held by investors at any given moment and the change in share price between trading days.
More sophisticated charts and metrics, like price action, a visualization of the range of prices traders are paying for shares of a stock, or beta, volatility as shown in the variation in a stock's price over a given time period, are also available to view. Users can add, stack and hide various metrics and data feeds to suit a trader's unique specifications.
Parsing through all of TradingView's options for traders can be daunting for those new to the markets. However, there are avenues to customize, simplify or refine each research tool to suit advanced and novice traders alike.
Variations On A Theme
Segmenting these features can provide greater organizational control over how you think about and conduct your research. Take a look below at how Financeboards' Company Information Chart widget provides some of the basic functionality of TradingView's charting software without adding extraneous features.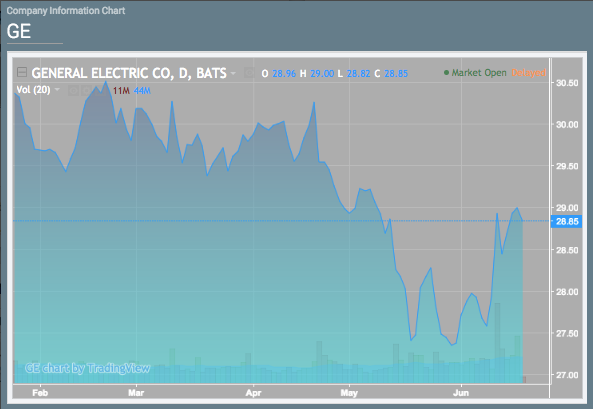 As promised, the chart above simply shows the most basic information on General Electric Company (NYSE: GE)'s stock, with price represented by the line graph, intraday price change show in the bars at the bottom of the chart. Change in volume from the previous day is represented in top right corner in either green or red for positive or negative change, respectively.
Additionally, the widget can also compare two stocks, as shown below with the inclusion of United Technologies Corporation (NYSE: UTX) after clicking the compare function in the dropdown menu next to the stock's name.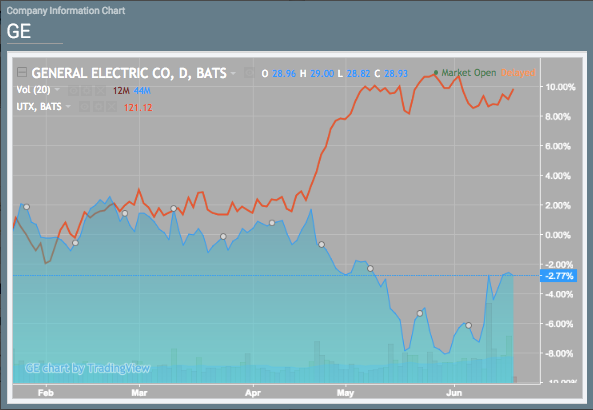 As a basic research tool for discovering a stock's performance, the company information widget can serve as a great starting point in researching trading opportunities. You can then refine your research in separate widgets that can be added and customized to a your homepage. For example, the Technical Chart widget, which provides users dozens of technical indicators, or the Social News and Ideas Chart Widget, shown below, which shows recent price action as well as comments from TradingView users.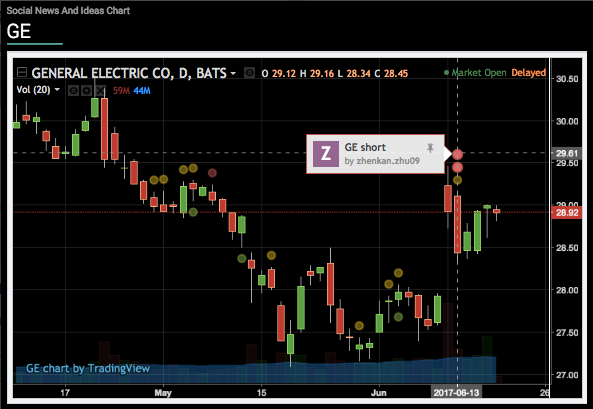 The core distinction in FinanceBoards' implementation of the TradingView software is in its compartmentalization of what a trader might be looking for during any stage of their research.
Being able to easily identify and key-in on those tools and features that are most useful to you, or even discovering new and underutilized metrics in the flood of applications included in the TradingView software, can be an immense help in refining or redefining your trading strategy.
Disclaimer: WooTrader is a sponsored partner with Benzinga. This article was written in conjunction with WooTrader, and may have been subject to their approval.
Posted-In: FinanceBoards TradingView WooTraderEducation Markets Tech General Best of Benzinga
View Comments and Join the Discussion!